MANILA, Philippines – For Gucci's cruise collection 2018, creative director Alessandro Michele brought the house back to home and hearth: the Palatina Gallery at Pitti Palace, Florence. Inspired by the Renaissance and steeped in historic Greco-Roman motifs, the venue was the perfect backdrop to the label's continued love affair with magpie eclecticism; the clothes walked down a velvet-corded corridor filled with wall-to-wall art from Raphael, Botticelli, Caravaggio, and so much more. What better context to enjoy Gucci's wearable art?
Cruise 2018 sums itself up in a 115-strong runway of fresh propositions for Gucci's brand of maximalism: rich embroideries mixed with gilded brocades, lurex knits shot with opulent embellishments and detailing — sequined reptiles, gold laurels and lyres as motif, soft-sculpted drapes and logo-stamped furs. Standout pieces include the house's continued foray into logomania by way of new slogan tees that read "Guccify Yourself" and "Guccification"; a play on the pervasive copycat culture and bootleg reappropriation cascading throughout the runways.
Premiered to a front row of A-list Gucci muses including Jared Leto, Sir Elton John, musicians Soko and Beth Ditto, Kirsten Dunst, Dakota Johnson and so many more, Alessandro Michele presents his signature irreverence for cruise 2018. The YStyle woman this week is inspired by contemporary kitsch and an outsize take on accessorizing. It's high-shine dressing with all the right glitz. Take your cues from Gucci's misfit cast of characters on the runway; be yourself. The road to success may just be found on the path of excess.
NAILS: Gucci cruise 2018
Led by celebrity manicurist Jenny Longworth, Gucci cruise 2018 took nail art a bit further with a look described as "dipped ink" nails. Models had their fingers coated in a saturated black up to a third of the way, then accented with ornate hand jewelry and statement rings. It's classic maximalist Gucci done in a new and vibrant way.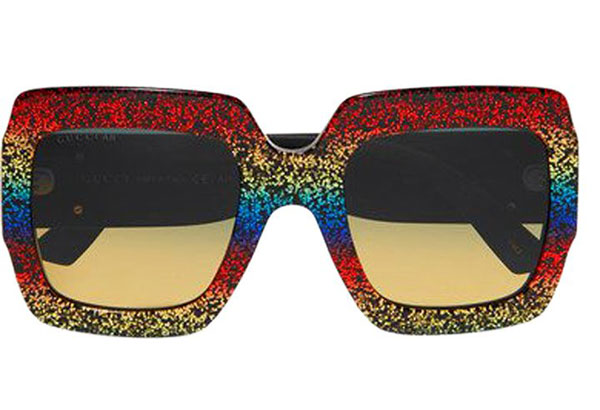 Lifestyle Feature ( Article MRec ), pagematch: 1, sectionmatch:
EYEWEAR: Gucci fall/winter 2017
Geek chic comes to mind when you think about Alessandro Michele's agenda-setting turn at revitalizing the storied house of Gucci. A piece from the fall runway, these glittered rainbow acetates make for a fine addition to your arsenal of magpie eclecticism.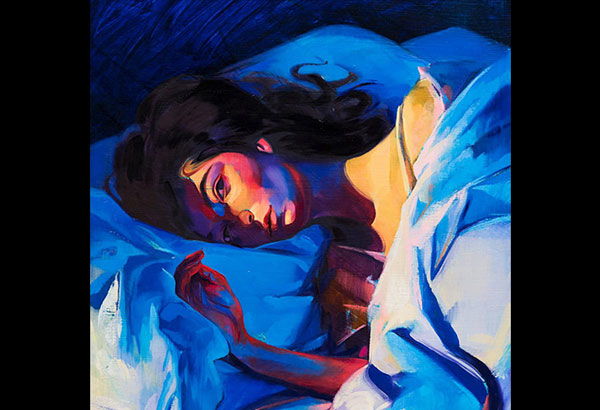 MUSIC: Lorde 'Melodrama'
From the pantheon of musical greats on Gucci's front row — from legend Sir Elton John and the Gossip's Beth Ditto  to French songstress Soko — we're cueing up Lorde's sophomore release "Melodrama" for mid-2017. Twenty-year-old singer Ella Yelich-O'Connor breaks her hiatus from her last release, 2013's "Pure Heroine," with lead single Green Light.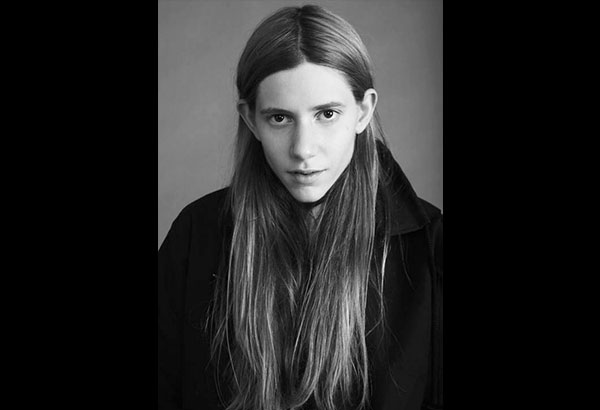 INSTAGRAM MUSE: Coco Capitán or @cococapitan
If you're into Gucci's continuous love affair with logomania and slogan tees for cruise 2018, look no further than @cococapitan on Instagram for more inspiration. Known for her existential scribbles and handwritten musings, the artist Coco Capitán was brought into the Gucci universe by way of last season's collaboration — a series of garments scribbled with phrases like "Common sense is not so common" and "Tomorrow is not yesterday." Outside of her Instagram celebrity, Capitán is a noted fashion photographer with recent published work in Zeit magazine and Self Service and advertising campaigns with Miu Miu, Mulberry, A.P.C., among many others.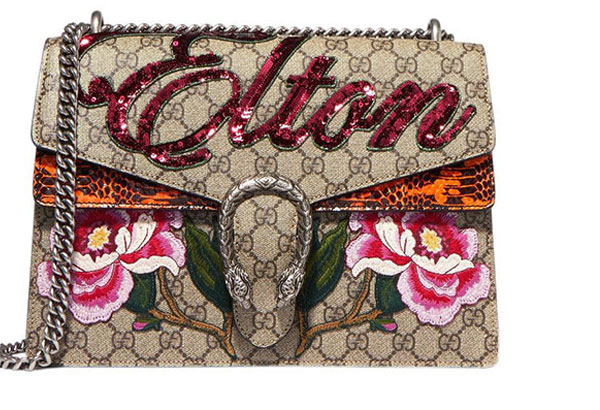 BAG: Gucci spring/summer 2017
Take notes from the Gucci cruise 2018 front row with this Sir Elton John-inspired bag from the spring/summer 2017 collection. A classic "Dionysus" bag from the main collection embellished in pink sequins, crafted in Italy from coated-canvas with orange water snake panels and appliquéd pink roses. A signature tiger closure and a sliding chain make for an excellent finish.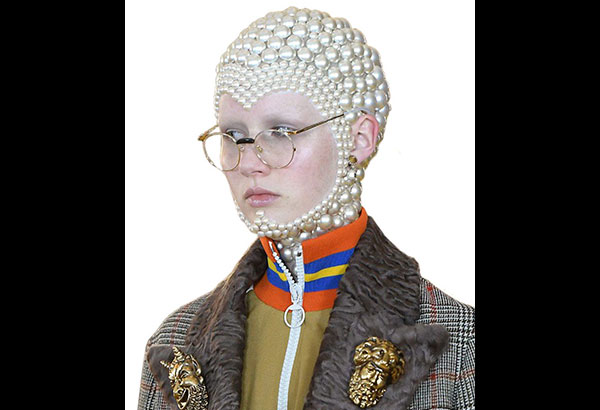 BEAUTY: Gucci cruise 2018
Fantasy and full-on embellishment were on the menu for Gucci cruise 2018. Led by key makeup artist Yadim, golden laurel crowns and serpentine chains wreathed the plaits of some models; tiny pearls instead of eyebrows, bedazzled skull caps for some. Our takeaway? More is more is definitely more.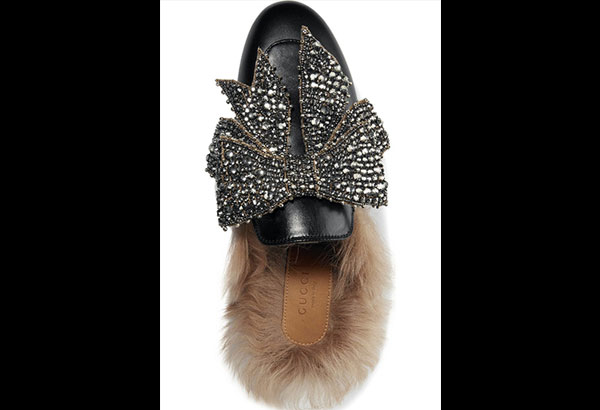 SHOE: Gucci spring/summer 2017
The furred-mule has been the shoe of the season — actually, for at least a couple of seasons now. But we're still into it, albeit with a few updates. Choose this pair from Gucci detailed with smooth black leather topped with a crystal-embellished bow. We suggest wearing this trend now before it wears you out.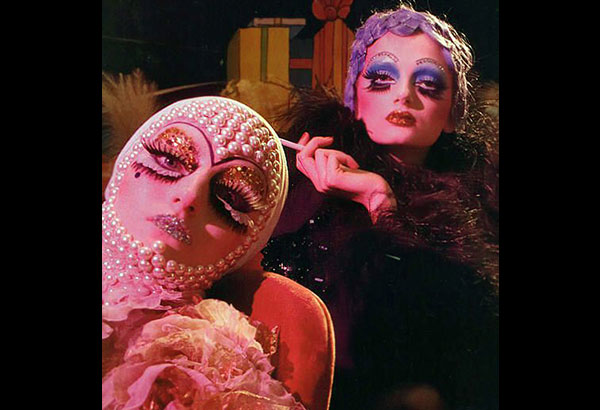 CONTROVERSY: Gucci versus Dapper Dan versus Pat McGrath
In a curious turn towards the "faux real" commentary surrounding the runways, Gucci's Alessandro Michele was called out for sending out a runway look heavily reminiscent of a puff-sleeved logomania piece done by bootleg artist Dapper Dan. Not be left out of the conversation, Pat McGrath posted a timely throwback to a September 2006 pearl-encrusted beauty editorial from Vogue Italia magazine, shot by Steven Klein — a dig at Michele's use of pearl skull caps for his Cruise 2018 runway.
Throughout his tenure at Gucci, Michele has continued to make his own spin on copycat culture — continuing the trend with his "Guccify Yourself" slogan tees for cruise 2018. But this season, is it still homage or appropriation for profit? Our jury's still out on this one.
All Credit Goes There :
Source link
Comments
comments