ICanServe Foundation's Fashion Can Serve 2017 was a resounding success with designers JC Buendia, Ito Curata, Cary Santiago, Vania Romoff, Mia Arcenas and Rosenthal Tee supporting a great cause through the event's fashion show.
The six designers showcased their Holiday 2017 collections to send this year's message of hope and raise support for ICanServe Foundation and its advocacy of awareness and early detection of breast cancer.  Guests enjoyed sumptuous food and drinks prepared by Raffles Makati before the fashion show.
Fashion Can Serve's new message for 2017 is "Why We Fight." The first Filipina to win Asia's Next Top Model Maureen Wroblewitz is the face of Fashion Can Serve this year. Her mother, a former ICanServe volunteer, succumbed to breast cancer.
ICanServe Foundation president Tang Singson said, "Our theme emphasizes the reason why persons diagnosed with breast cancer choose to fight: They do this for their spouses, children and grandchildren." 
ICanServe Foundation chair Libet Virata shared, "Last year's show had the theme 'We Don't Walk Alone,' and the muses walked with a family member or friend who accompanied them on their journey battling cancer.  Our theme this year is 'Why We Fight' and our muses included mother and her young child, or grandmothers and grandchild. We also have some supporters who walk in honor of a family member or friend who passed away."
ICanServe Foundation founder Kara Alikpala said, "There is life during and after cancer. The mere fact you have breast cancer survivors walking down the ramp is showcasing hope and life in motion. Some of the organizers and women in the audience are also cancer survivors brimming with hope and rallying for fellow survivors. The designers on their own spread awareness and information so patients know how to navigate their healing journey."
The event was hosted by Raffles Makati with partners Philip Stein and Jewelmer. Major sponsors included Security Bank, Del Monte Philippines and Manulife. Minor sponsors were PAGCOR, Mundo Design+Build, Ideal Vision Center and Mercedes-Benz.  Media partners included , 2nd Avenue and ETC.
(For more information, visit www.icanservefoundation.org.)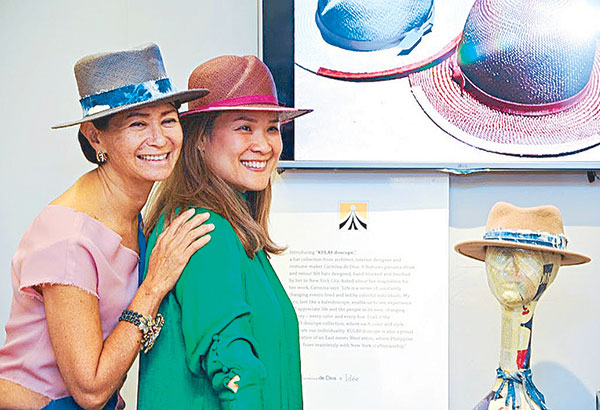 Rica Lorenzo and Carmina de Dios.
Celebrating color & craftsmanship
New York-based Carmina de Dios recently unveiled her Kulay-doscope hat collection at Idée Clothing Store in Makati City. The collection, which consisted of 15 hats exclusively designed for Idée Clothing Store, was quickly sold out.
The Kulay-doscope hat collection is made of Panama straw and velour felt hats designed, hand-blocked and finished in New York City.
Carmina moved to New York in 1995 to study Interior Design at Parsons School of Design. She pursued courses in millinery, sewing, draping techniques, fashion and costume design at the Fashion Institute of Technology. She is currently an assistant to the costume designer at the New York Theatre Ballet. 
Carmina said, "I love creating by hand, which is really the essence of being an artisan. To create is also to transform and this truly inspires me. So, it is really the creative and transformative properties of designing that make this process special for me.  Aside from designing hats, I also design and fabricate costumes. For me, a hat serves as the figurative and literal crowning glory that makes costumes, or basically any attire, complete. Hats have the ability to strengthen and completed one's personal statement. And of course, creating my own lines enables me to bring my design ideas to life and touch lives."
(Idée Clothing Store is located at 2263 Lapanday Center,  Chino Roces Avenue, Makati City.)
(Follow me on Instagram @pepperteehankee.)
All Credit Goes There :
Source link
Comments
comments