MANILA, Philippines — We may picture an adult just as someone working in a corporation to provide for a family — often doing mundane things like attending meetings, buying groceries or driving the kids to school.
But as we enter the new year, we may have to reconsider our traditional view of an adult. Because now more than ever, they are beginning to do more beyond work and family .
Haven't we met an adult who runs a baking business on the side, or who runs marathons on weekends? Or don't we know an adult pursuing a creative passion on top of his profession? How about an adult who just enrolled herself to a master's degree? And of course, those adults who travel the world not just for business but also for leisure and adventure.   
"One of the major drivers for this is self-fulfillment, the feeling of accomplishing more than what you are doing right now," Jo Ann Marie Verdadero-Salamat, a seasoned registered nutritionist and dietitian, told Philstar.com in an exclusive interview. 
Maximum movement
While adults are pursuing their passions and interests, Verdadero-Salamat believes that to be able to do this there is a common need for proper nutrition.
"In order to achieve their new aspirations, adults have to be more conscious about their health," she noted. "And although our parents have taught us that to be healthy, we need to eat nutritious food and drink milk, now it is wider than that. We have all kinds of supplements to choose from, milks to choose from so we really have to be knowledgeable and careful in choosing what is right in our needs—especially with milk."
Lifestyle Feature ( Article MRec ), pagematch: 1, sectionmatch:
For adults, she said that they must drink milk that nourishes not just the bones but also the muscles and joints so they get to enjoy maximum movement.
"As you know the human body's main framework is the skeletal system and reviewing our biology, closely knitted is the muscular system. So the bones move as the muscles contract. A sturdy skeletal system is important to accomplish what we wish but that won't be possible if the other factors of mobility — the muscles and the joints — are not healthy," the nutritionist explained.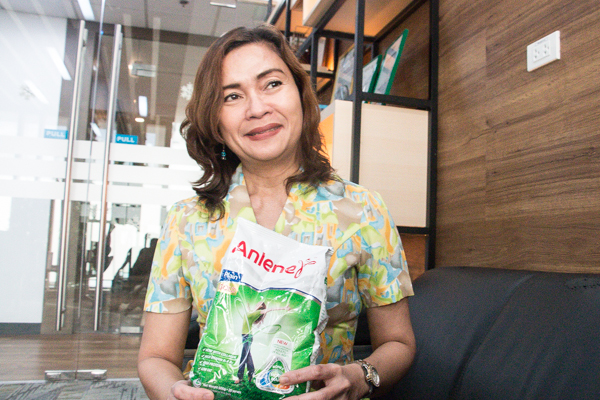 Jo Ann Marie Verdadero-Salamat, a seasoned registered nutritionist and dietitian, advises adults to choose a milk formulation with the right nutrients for healthy bones, muscles and joints. Philstar.com/EC Toledo
More than milk
There is now an adult milk with the right nutrients for healthy bones, muscles and joints. This is Anlene with Movemax formulation.
"Anlene is a high-calcium milk. It also has B Complex, Vitamins C, D, E, and important minerals Magnesium and Zinc, which according to the latest studies are important for bone health," explained Verdadero-Salamat, who also serves as the head nutritionist of Fonterra, the maker of Anlene.
The new Anlene Movemax is also high in protein and it now has collagen which is important for muscular and joint strength. "Collagen is a type of protein whose main function is to make the muscular fibers ductile and really firm. If we lack collagen, our muscles won't be that strong to support our bones," said the nutritionist.
With this holistic approach, adults are assured they have the strength to follow their newfound aspirations or excel in their new endeavors. Whatever they wish to be, their body will not fail them thanks to strong bones, muscles and joints.
#WeAreMore
"Anlene Movemax supports all adults in pursuing more, doing more, and being more, thus the launch of the #WeAreMore campaign. It understands the needs of adults and enables them to live the life they love. Anlene is more than just your regular milk because it is fortified with adult nutrients that will help adults to do more and be more," said Roberta Sadiua-Mundo, senior brand manager at Fonterra Philippines.
"Now it's all about defying the status quo. People nowadays don't allow themselves to be put in a box, merely defined by their career, age, or gender but live what they have aspired for. And Anlene enables these people to live the life they love, go beyond what society or other people dictate of them and inspire others to do the same," she added.
READ MORE:
All Credit Goes There :
Source link
Comments
comments