During a forum last week conducted by the Economic Journalists Association of the Philippines, BSP Gov. Nestor Espenilla Jr. explained to reporters that a moderately weaker peso is part of the economic rebalancing process aimed to gradually shift the economy towards an investment and export-led growth.
"The economy is growing, but consumption is a major part of the driver so there is a need to rebalance it so we are actually driving it to an investment- and export-led growth. It's all part of the adjustment process to promote sustainable economic development. The moderate weakening of the peso is supportive of exporters as it will boost their products' competitiveness and will increase the value of OFW remittances as well as the business process outsourcing sector." – BSP Gov. Nestor Espenilla Jr.
Phl peso vs. the Indian rupee
There are pros and cons of having a weaker peso. Among its benefits is that it makes our BPO sector more competitive. Since revenues are denominated in dollars, while bulk of expenses are based in pesos, a cheaper peso is a boon to Philippine BPOs. This effectively makes our BPO services less expensive compared to competitors.
To illustrate how the BPO sector can benefit from a weaker peso, we will show in the charts below how it has performed in relation to the Indian rupee. This has great significance since India is the Philippines' main BPO competitor.
Note that just a year ago, P1.00 is worth 1.44 Indian rupee. Today, P1.00 is worth 1.25 Indian rupee. The peso's depreciation vis-a-vis the rupee has boosted the competitive pricing of Philippine BPOs vs. their Indian counterparts by around 14 percent in the past year alone.
Peso softens to 11-year low against the US dollar
Since we called the peso's top back in 2013, the peso has continued to depreciate against the US dollar (see Peso Tops Out, May 27, 2013). Recently, the peso reached an 11-year low against the greenback. It hit the resistance level of 51.60 last Aug. 18 before pulling back to 51.08 last Friday. Year-on-year, the peso has depreciated by nine percent against the US dollar.
USD/PHP Weekly Chart (2000 – Present)
Source: Investing.com
Indian rupee bottoms out against the US dollar
In contrast to the peso's weakness, the Indian rupee appears to have bottomed against the US dollar. The rupee closed at 63.855 against the US dollar last Friday at a two-year high. On a year-on-year basis, it has appreciated by five percent. From its low of 68.784 registered in November 2016, it is up seven percent.
USD/INR Weekly Chart (2010 – Present)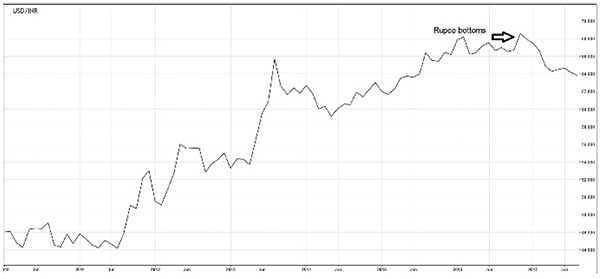 Source: Investing.com
Regaining price competitiveness
From trading at parity with the rupee in 2011, the Philippine peso strengthened by as much as 50 percent to a high of 1.49 by 2013. During that time, we wrote several articles warning of potential harm to our BPO sector and the economy if the peso continues to strengthen against the rupee (see Strong peso – too much of a good thing, July 9, 2012, Is the peso too strong?, Dec. 31, 2012).
After being range-bound from 2013 to 1H2016, the peso started to depreciate against the rupee starting 2H2016. Currently, the PHP/INR rate is back at 1.25. The weaker peso allows Philippine BPO companies to be more competitive in terms of cost vs. Indian BPOs. Given the current trajectory of the PHP/INR rate, it appears that Philippine BPOs will continue to regain pricing competitiveness which potentially translates to higher revenues and increased market share.
PHP/INR Weekly Chart (2010 – Present)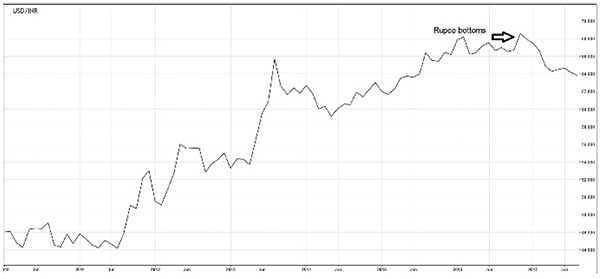 Source: Investing.com
Weaker peso complements next phase of economic development
In a previous article, we said a weak peso is not necessarily bad for the economy (see Peso weakness – good or bad?, July 17). We've shown from our comparison of the peso and the rupee and from the charts above how the weakening peso can help the country's BPO sector.
A weaker peso is consistent with the Duterte government's pro-growth economic agenda which includes tax reform, increased infrastructure spending, countryside development, emphasis on agriculture, creating more jobs and attracting more investments that will result in a stronger and more inclusive growth that will uplift the lives of most Filipinos.
Visit www.philequity.net to learn more about Philequity's managed funds or to view previous articles. For inquiries or to send feedback, please call (02) 689-8080 or email ask@philequity.net.
All Credit Goes There :
Source link
Comments
comments