Louise Joy Brown made screaming headline news when she was born on July 25, 1978 as the world's first "test tube" baby. Louise was actually conceived not in a test tube (as in a science experiment) but in a petri dish (like the one used in a lab for culturing microorganisms).  Louise's mom, Lesley Brown, was reported to have undergone a procedure, later known as IVF (in vitro fertilization, where the egg and sperm are brought together outside the body), as developed by Patrick Steptoe and Robert Edwards who was awarded the 2010 Nobel Prize in Medicine for this. (Edwards stood like a proud dad when Louise got married in 2004 to a nightclub doorman.)
Lesley Brown had blocked Fallopian tubes, a most common cause of infertility in women. Four years after Louise was born, the Browns were doubly happy to welcome her baby sister Natalie who was conceived through IVF, too, becoming the world's 40th child after conception by IVF. In 1999, Natalie became the first human born by IVF to give birth naturally — that is, without IVF.
Louise's birth may have stirred up a hornet's nest of controversy, but there's no denying the fact that it revolutionized the field of reproductive medicine and gave infertile women around the world a fresh breath of hope that someday, they could become mothers.
Not a few Hollywood A-list wannabe moms are reported to have undergone IVF treatments. For instance, there's Sarah Jessica Parker (a.k.a. Carey Bradshaw of Sex and the City) who used a surrogate to give her son adorable little twin sisters. There's Desperate Housewives' Marcia Cross who was so desperate to have a baby after she hit the risky 40 that she didn't think twice about seeking a fertility doctor — she gave birth to twin girls. There's Courteney Cox of Friends who suffered several miscarriages and went through many IVF attempts before she finally had a daughter. And then there's Nicole Kidman who confessed she'd done everything she could possibly do to get pregnant before she finally submitted herself to fertility treatments and had a daughter whom she calls "the miracle of her life." The list goes on and on.
Here at home, not a few women, some of them celebrities, are seeking the help of fertility doctors to have children. Dr. Maw-Sheng Lee, president of Lee Women's Hospital, recently flew into town from Taiwan to visit the babies he had delivered through IVF, find out about their health condition, their academic performance, and social relationship. Find out more about IVF in our Q & A with Dr. Maw-Sheng Lee.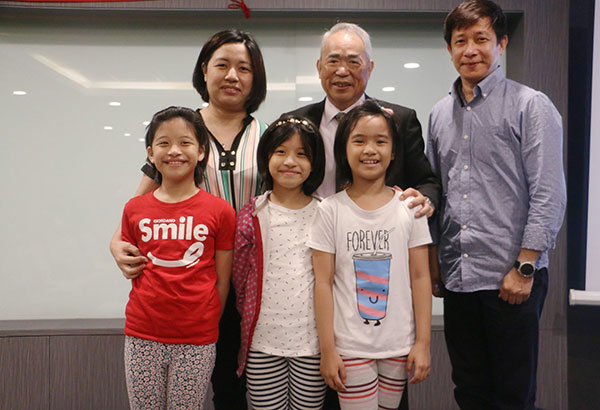 Here they are now: Dr. Maw-Sheng Lee meets with the country's IVF babies and their parents to get to know their health condition, academic performance, and social relationship to help him gather facts for his IVF study to improve artificial reproductive technology.
PHILIPPINE STAR: Since when has Lee Women's Hospital been doing IVF?
Lifestyle Feature ( Article MRec ), pagematch: 1, sectionmatch:
MAW-SHENG LEE: Lee Women's Hospital was established in 1986 and has been doing IVF for 30 years now, with our oldest IVF baby now being 30 years old.
Would you say that your hospital is the best for this kind of treatment?
According to Taiwan government records, Lee Women's Hospital's pregnancy rate is higher than the others. In Taiwan, my hospital is the biggest and best IVF provider with around 3,000 cycles per year.
Has the hospital treated a lot of Filipino women? How many? What were their problems?
More than 700 Filipino couples have sought help from Lee Women's Hospital with over 400 couples having successful IVF, delivering more than 500 IVF babies. The oldest IVF baby here in the Philippines is now 18 years old.
A common problem of these women is their inability to bear children naturally.
Are there women from other parts of the world that you have helped and why do they come to you?
There are many couples all over the world with infertility problems. We have helped over 1,000 families from 36 countries all over the world. A lot of these countries come to us because we are cheaper and have higher pregnancy success rates than other countries.
How competent is the medical staff of your hospital who's doing the IVF procedure?
Lee Women's Hospital has a lot of professional medical staff. In fact, we have a professional doctor for embryology. The embryologist is very important. Many hospitals have embryologists with a master's degree. At Lee Women's Hospital, our embryologists have a doctorate degree — meaning they're more detailed, more careful, and are more knowledgeable in determining the good embryos and improving pregnancy success rates.
How much does an injection cost? Usually, how many injections does it take before a patient gets pregnant?
About US$5,000 per cycle. The number of cycles for a successful pregnancy depends on each patient. For patients who are aged 34 years old and below, the average is two to three cycles for a successful pregnancy. The number of cycles needed increases as the patient gets older, with three to four cycles for a patient aged 34-36.
How long does a patient stay in your hospital for the treatment?
We have two protocols, one short and one long. Some patients need to stay for four weeks to wait for pregnancy to happen while some can stay for just two weeks.
How old are your patients? How old is your oldest patient?
The oldest patient to get pregnant was 50 years old. We usually have older patients who have difficulty getting pregnant. The older the patient, the more difficult the pregnancy.
All your patients can afford the treatment. Do you help those who cannot afford it but desperately want to have a child?
Almost all centers in the world have high prices for IVF. Lee Women's Hospital provides IVF at around 50-percent less than the US or Singapore, with higher pregnancy rates because our protocols are individualized per patient. We also use new instruments and good embryologists.
How are the IVF children in the Philippines doing? How many are they so far?
They're doing very well, and I'm excited to meet a lot of them now. There are over 400 Filipino IVF babies produced in Lee Women's Hospital so far. We follow up the children per year — we weigh them so we know what situation they're in and how they're doing.
Do you get feedback from your former patients? What do they say?
Here's one from Maybelyn dela Cruz, city councilor, Dagupan City: "The whole process of IVF is very difficult as you know. It took us nine years to have a baby in our lives. I had six failed IUIs, three failed IVFs. I'm just so very grateful and feel blessed that we were able to meet Dr. Lee. He gave us hope. He made us not give up. He gave us that reassurance that our dream of having a family — a complete family — is still attainable."
Do all these IVF children grow up healthy? Or do they have health problems?
Almost all the babies are generally healthy. The common complication is prematurity because sometimes, twin pregnancies have a higher risk for premature babies. Some IVF patients even have triplets. If the patient is more than 35 years old, we transfer three embryos, so it's possible to have triplets.
By the way, don't you plan to put up a hospital or even a clinic dedicated to IVF in the Philippines?
Yes, the first stage is to set up an IVF office here. The second stage will be an IVF clinic in Manila.
I also want to teach more Filipino doctors — bring them to my hospital to learn the new technologies and new techniques for IVF because the Philippines is a big country and we need a lot of doctors to perform the procedure here.
* * *
Visit http://ivf.ivftaiwan.com/ for more information. Or email ivftaiwan@gmail.com.
All Credit Goes There :
Source link
Comments
comments