Keb Cerda recently  launched his designer toy and new paintings in a show titled Splat!, curated by Ruel Caasi, at Secret Fresh Gallery in San Juan City.
During the launch, Cerda  showed his latest war imagery as recorded in vintage photography. For this show, he took the cue from paintball games where the gloss and sculptural qualities of the moving fluid become colorful highlights of monochromatic scenes of battles.
Cerda's toy soldiers are highly collectible designer toys launched by Secret Fresh. The gallery has also produced designer toys for the likes of Mark Justiniani, Joy Mallari, Geraldine Javier, Alfredo Esquillo, Lynyrd Paras, Ronald Ventura, National Artist for Visual Arts BenCab, Luis Lorenzana and Elmer Borlongan.
I started collecting Cerda's works four years ago and have seen this young and very talented artist become better and better. I am also glad to get his toy soldiers.
(Secret Fresh is located at G/F, Ronac Art Center, Ortigas Ave., Greenhills, San Juan City. For more information, visit facebook.com/secretfresh and @secretfreshgallery on Instagram.)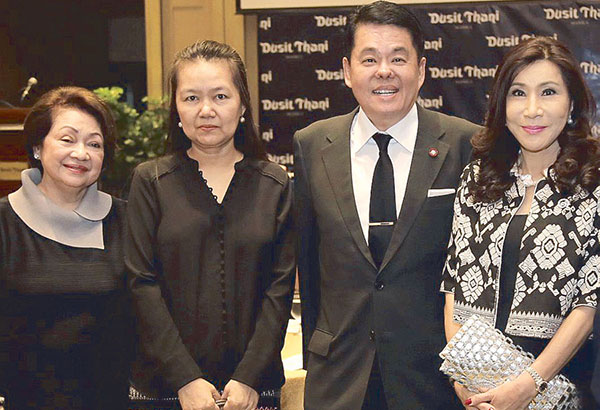 (From left) Ditas Lerma and Nwe Ni Aung with Thai Ambassador Thanatip Upatising and wife Monthip.
Delightful Thai cuisine
Guests from the diplomatic and consular corps, international organizations and media gathered recently for "Thai Culinary Delights," a Thai cooking demonstration held at the Mayuree Ballroom of Dusit Thani Manila, in partnership with the Royal Thai Embassy.
The event was organized as part of the pre-launch of the new Benjarong, Dusit Thani's well-loved Thai restaurant, which is set to open soon in a new location within the hotel. Food connoisseurs can expect the restaurant to have a more elevated look and a more modern take on Thai gastronomy while retaining the classic, century-old recipes that Benjarong has been known for.
The cooking class also featured the hotel's resident Thai chef  Watcharapon Yongbanthom, also known as Chef Ja, who showcased her culinary brilliance in creating some of the signature dishes that you can look forward to in the new Benjarong.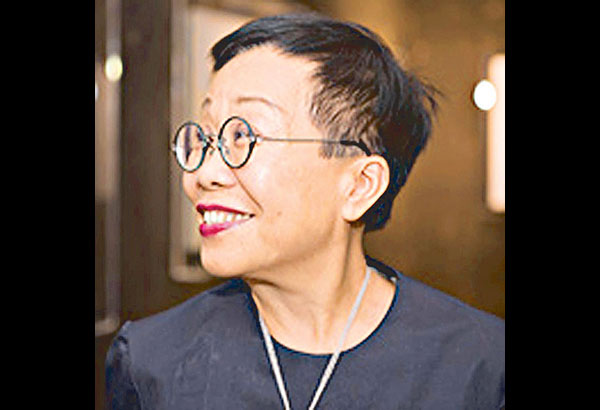 Sin Sin Man.
Hidden Gems
Elements Fine Furnishing Fabrics presents a jewelry exhibition titled Hidden Gems, which will feature the works of four internationally renowned jewelry designers/artists Sin Sin Man, Wynn Wynn Ong, the late Sandra d'Auriol and the late Jean-Francois Fichot. The jewelry pieces to be exhibited have also been featured in the book Hidden Gems of Asia. The exhibit is in line with the company's pre-anniversary celebration as it enters its 25th year in the industry next year.
The four were selected for the exhibit for being the tastemakers in modern jewelry design in Asia with loyal followers who are discerning, fashion-forward women. There will be a book signing on Nov. 7, 3 p.m. to 7 p.m. at Elements in Makati City with Sin Sin Man and Wynn Wynn Ong.
Sin Sin Man has traveled to many parts of Asia where she studies and works alongside traditional craftsmen. She is also the founder, owner and director of Sin Sin Atelier. Fine Art. Villa. — three distinctive brands that she developed over the years. She has a studio and an art space in Hong Kong, as well as three villas in Bali. 
Wynn Wynn Ong, born in Burma and raised in Vienna,  has called Manila home for four and a half decades. Since she started designing jewelry in 2001, her work has grown to encompass furniture and objet d'art. She has consistently limited her work to less than 200 pieces a year. She does not retail directly, meeting only by appointment or through the Asia Society Museum in New York or at one selected store in Manila.
Elements Fine Furnishing Fabrics Inc., helmed by owners Patricia Liang and Pilar Martinez-Miranda, is the exclusive distributor for many leading international brands in the Philippines. It brings the very best of interior design products under one roof in its showroom on the ninth floor of DPC Place in Makati City.
(For more information, visit www.elements.com.ph.)
(Enjoy your Halloween parties tonight and be safe!
Follow me on Instagram @pepperteehankee.)
All Credit Goes There :
Source link
Comments
comments