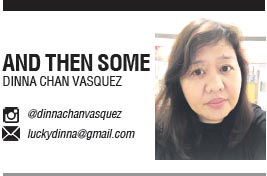 Tom Ford is one of those brands from which you really get what you pay for. The price tags are quite steep—a full-size lipstick is close to P3,000, while a big pan of bronzer is almost P6,000—but you're really paying for highly pigmented cosmetics that apply smoothly and easily. Even their matte lipsticks are very emollient and don't tug at the lips. The luxe black, white and gold Art Deco packaging is a bonus.
Tom Ford is grown-up makeup. When you start wearing/buying Tom Ford, you know it's serious makeup but still with a bit of an edge. It's not, to be frank, like Chanel Beauty that's very tita. Disclaimer: I also use Chanel Beauty, so this isn't a diss. Tom Ford is for cool titas and everyone else who wants high-performance makeup that gives you the color and coverage you expect.
Tom Ford is one of the few high-end makeup brands that I like. My beef with most high-end makeup is that there is usually so much moisturizing going on and not enough color and coverage. That's not the case with Tom Ford makeup. One swipe of the brand's lipstick is enough to give you ample coverage.
Tom Ford fragrances are also very grown-up. None of those generic fruity florals. I like to think of Tom Ford scents as deep, dark and mysterious. The brand has launched Vanille Fatale, a new fragrance in the Tom Ford Private Blend range.
Here is a description that I found for the fragrance: "Vanille Fatale is a force of nature personified. A beguiling tempest that takes over like a rush of blood to the head. The impossible becomes real, too good to be true becomes true. Her—or his—unrelenting hold is fixed, refined yet raw, polished yet primal. The stirring spice of saffron and coriander opens the scent, infiltrating the senses with the gripping incense of myrrh and olibanum. Reverberating with the tobacco-like pull of roasted barley, the heart of Vanille Fatale is a perfect storm of roasted coffee absolute, narcissus and frangipani that seduces with grounded floralcy. Madagascan vanilla blends with rich mahogany, its smoky glamour made all the more exotic with primal suede at the finish."
Vanille Fatale will be available February 2018 at Tom Ford Beauty Rustan's Makati. The prices are 50ml (P12,600), 100ml (P17,000) and 250ml (P28,900).
In other news, MAC Cosmetics's best-selling Prep + Prime Fix+ now comes in three new scents, aside from the original. Prep + Prime Fix+ in Lavender, Coconut and Rose were first featured in the Work It Out collection. They made another appearance in travel sizes in a set dubbed Snow Ball Prep Prime Kit, which was part of MAC Cosmetics's holiday 2017 collection.
All four of the Prep + Prime Fix+ sprays are now part of the permanent collection.
MAC's hydrating mist is full of water, vitamins and extracts that give your skin a quick and instant boost of hydration. It doesn't really set your makeup but gets rids of the powdery look and refreshes your overall complexion.
MAC Prep + Prime Fix+ can be used in a lot of ways. Here are some of them:
Premoisturizing spray.
Spray it before applying your makeup primer.
Spray on your Beautyblender and/or paddle brush before applying foundation.
This is my favorite: I spray a bit on my blush brush before I dip it into the product. This trick makes the blush last longer.
The new spray mists are now available at MAC stores nationwide.
Meanwhile, Kiehl's has unveiled a new and improved version of the Powerful-Strength Line-Reducing Concentrate, as it now contains a heightened potency of 12.5 vitamin C. The original formula contained 10.5. The new formula also contains Hyaluronic Acid, which attracts moisture to the skin.
The new formula absorbs faster, leaves behind a pleasant citrus scent and starts showing results in less than two weeks. Vitamin C will lighten any discoloration from sun spots, age spots and/or acne scars with consistent use.
Powerful-Strength Line-Reducing Concentrate may be used twice a day after cleansing and toning. By the way, a bottle of
this serum is purchased every 60 seconds and that's globally.
All Credit Goes There :
Source link
Comments
comments