"The roads are for vehicles as sidewalks should be for pedestrians!"
Amen to that! And it was former MMDA Chairman and now Congressman Bayani Fernando who initiated an almost personal crusade to see this through in the entire metropolis. Although some people saw it as an overstretched venture by implementing this even in residential subdivisions by dismantling landscaped sidewalks, in fairness the basic principle is not flawed. We now see some streets in the metro cleared of every imaginable traffic obstruction from illegally parked cars (some inoperable and rusted), food carts, vulcanizing shops, even ukay-ukay displays, etc., thanks to the on-going relentless combined efforts of the MMDA, PNP, local government officials and Barangay captains and now these streets are being effectively used by motorists as alternative routes.
In some of these combined obstruction-clearing operations, it was discovered that various concrete structures encroach the sidewalk and even the road. These include a newly built gated house that occupies the whole sidewalk and even a Barangay Hall within the sidewalk.
A friendly reminder to guilty parties, we were told that there is such a Presidential Decree (PD 178) also known as the Revised Philippine Highway Act that prohibits the use of road right-of-way for temporary and permanent structures such as buildings, houses, shanties, stores, shops stalls, shed canopies and billboards under penalty of fine, imprisonment or both.       
Clearing the road and sidewalks of obstructions to help mitigate our daily traffic woes is as much effective as actually directing and managing traffic in intersections and should be treated with the same level of importance if not, in some instances, of a higher priority—to merit more personnel assigned to the sometimes dangerous task. 
Travelling the toll ways in a breeze  
Thanks to the utilization of modern digital technologies we can now look forward to the possibility of a totally seamless travel through our tollways. No more multi stops and the seemingly endless getting of tollway cards and paying tolls—all adding to travel time and not to mention the inconvenience and unnecessary efforts.
Metro Pacific Tollways Corp. (MPTC), the largest tollway concessionaire in the country recently launched its digital tollways program with its Chairman, Manuel V. Pangilinan remarking, "The use of digital payments is helping usher a new era of tollways operations in the country where consumers can enjoy faster, more secure and more convenient electronic transactions."   
It was announced during the launch that aside from cash, motorists traversing NLEX could now pay their tollway fees by using their Easy Trip RFID, beep cards and Mastercard contactless debit, prepaid, and credit cards, including their Smart Mastercard powered by PayMaya. MasterCard acceptance for CAVITEX and SCTEX will commence soon. Motorists will also be able to pay at PTC expressways with their Visa contactless debit, prepaid and credit cards soon.
"Enabling electronic transactions in the tollways is a key contributor in growing electronic money usage as thousands of motorists use our expressways every day. With this initiative, we are offering Filipinos more options that can suit their lifestyle and personal preferences," added Rodrigo E. Franco, MPTC President and CEO. 
Seamless, convenient and hassle-free travel in the expressways—a dream come true. Way to go, MPTC.
Mercedes-Benz GLA launch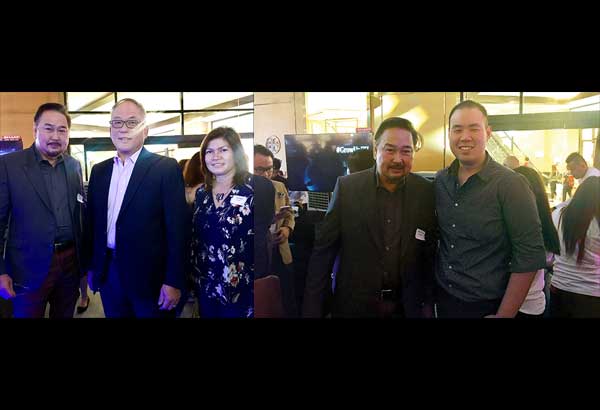 Despite the usual horrendous traffic in the metro, which is already an accepted way of life any given Friday, especially late afternoon and early evening and most especially when it rains, the Fashion Walk of Greenbelt 5 last Friday, August 25 was already filled with busy bodies of all age brackets.
For a Mercedes-Benz launch I initially found it surprising to see quite a number of very young adults in the crowd until I realized what 'Chedeng' model would be unveiled—for any driving age as long as you can afford or your rich dad could.
The wide spectrum of age of invitees to the well attended event was aptly taken cared of by the presence of the top officers of Auto Nation Group, the exclusive importer and distributor of Mercedes-Benz in the country, namely, Chairman, Greg Yu and President Felix Ang's heir apparent, Frankie—the latter representing the young and the former the not so very young. At the time of the launch my good friend Felix was in the States receiving a very distinguished award for their Harley-Davidson motorcycle dealership and of course that's another big story. But then his lovely wife Grace made certain of her presence with their beautiful daughter in tow.
The star of the evening was the Mercedes-Benz GLA. This is actually the first compact SUV of Mercedes Benz, which made its debut in 2013. The all-new version being described by the German premium carmaker as having improved styling, sharper features that make it look much more powerful with a host of comfort and smart equipment.
The Mercedes-AMG GLA 45 4MATIC has a 2.0-liter 4-cylinder inline direct-injection turbo-charged petrol engine with maximum output of 381hp with max torque of 475Nm. It is claimed that it'll only take 4.4 seconds to reach 100 kph from standstill. Furthermore its all-wheel drive boasts of a fuel performance of 100 kilometers with 7.4 liters of petrol. 
ANG, Inc.'s marketing top honcho, Bobby Shaw is confident that the limited stock would not stay long in their showrooms.
Might as well get a real close look and a test drive soonest!
TV streaming "on demand"
The best of both worlds for all motoring and car enthusiasts with any of these two websites: www.motoringtoday.ph or www.autofocus.com.ph
You can watch the 'streaming' of all the weekly past and present episodes of the TV shows Motoring Today and Auto Focus in their entirety.
Or if you don't have that much time you can just feast on all the latest news items about traffic management and the auto industry or the latest car reviews and head-to-head comparisons of the latest models and other motoring or auto features selectively.
All those news and features-only a click away.
Happy Motoring!!!
For and inquiries email sunshine.television@yahoo.com.
All Credit Goes There :
Source link
Comments
comments