MANILA, Philippines — Falling in love and falling out of love have been told many times on the big screen. That gives everyone a mental mastery of what these feelings are. In Fallback, however, Rhian Ramos and Zanjoe Marudo will show moviegoers the ABCs of being or having a spare tire or a plan B as their characters Michelle and Alvin navigate that challenging road-less-traveled relationship.
The Jason Paul Laxamana film thickens the discourse on the dynamic nature of love and reflects on a possible new "norm" in Pinoy romance. This sounds interesting — and intriguing — especially to those who idealize what love is.
"I don't believe it doesn't happen here," said Rhian of fallback as a Western experience or concept in a recent media call. "So I would say that what we, all of us, can learn from these characters (Michelle and Alvin) are, at the end of the movie, we will see the pros and cons (of having or being a fallback), what is right and what is wrong. Luckily, there are Alvin and Michelle to play it out. So we don't have to do it because it is a painful journey."
Zanjoe added, "It's true that Pinoys are conservative (when it comes to relationships)… Yung mga unang panahon na tao mayroon yan, nangyayari na yan matagal na (I think people then had experienced it and it has been going around)."
So, Rhian's Michelle and Zanjoe's Alvin weigh in on the issue of having or becoming a fallback. Though one thing is for sure: It's tough to be in that arrangement. Zanjoe shared, "let's say in a workplace, I will feel a bit sad if I'm a fallback (an option) in a project. Pero kailangan mong mag-isip. If I'm a fallback in a relationship, I will feel offended. Pero malay mo yung desisyon na yun ang magbibigay sa'yo ng pinakamagandang desisyon sa buhay mo."
Moviegoers will get a clear picture of what fallback means through the intertwining, personal narratives of the main characters. 
Entertainment ( Article MRec ), pagematch: 1, sectionmatch: 1
"I play Michelle. My character and Daniel (Matsunaga's character) are girlfriend and boyfriend," said Rhian of her location manager character. "It's not surprising that he has (another) girl. Kasi tignan mo naman ang itsura niya. I feel that he starts to draw away from me. Dahil nakaka-scar ang ma-heart break at ayokong masaktan, so naghanap na ako ng backup or fallback." The cause of that past heartache is Alvin.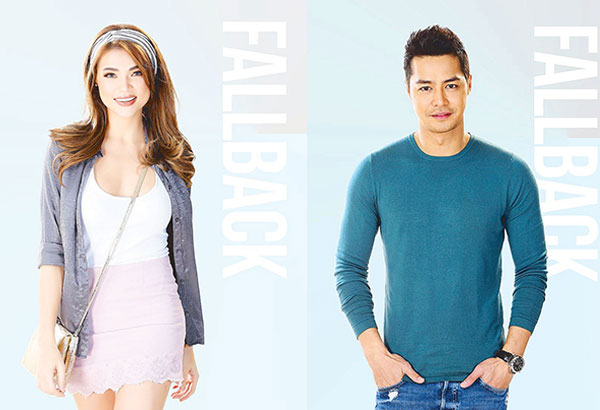 Rhian Ramos and Zanjoe Marudo
According to Zanjoe, Alvin is a struggling animator and tries to work abroad. As you have suspected, "(Alvin) is Michelle's ex, who has never had a closure," Zanjoe put it.
"If I'm in a shaky relationship, I'm the type who doesn't see the need to have a fallback to spare myself from sadness and pain," he said. "Naniniwala ako na kung magkakaroon ako ng girlfriend or partner, I have to get to know her, fall in love with her… I have to meet her, spend time with her and eventually like her… Walang masama na maging fallback ka o walang masama na may fallback ka basta pure yung intention, may nararamdaman ka… hindi mo siya niloloko. Siguro ako yung fallback, mas gusto kong mag-save."
Fallback is Rhian and Zanjoe's first team-up. Rhian, a Kapuso, felt lucky to have worked with Zanjoe, a Kapamilya.
"Not everyone is given such opportunity. It's nice to be able to work with people that you don't usually get to work with. Parang ayun na-expand yung knowledge ko." Rhian was also paired up with another Kapamilya, Piolo Pascual, in Silong.
In playing the part of Michelle, Rhian also banked on her work experience with real-life location managers.
"Of course, location managers I have worked before are my peg (inspirations)… I also include other production people. Minsan sa work namin sa production side, nakakataranta talaga. Ginaya ko yung taranta factor."
Asked if she has ever experienced having a fallback or becoming one, Rhian shared, "My experience being fallback happened when (he broke up with someone else), I was in a relationship. He courted me. So he was my fallback. It was complicated. It created problems for my current relationship. Of course, it was my fault. Given a chance, hindi na lang (I wouldn't want to be a fallback). There's nothing wrong being single — mabakante — for a while. I enjoy being alone as much as being in a relationship. It's both nice."
Given such premise, the movie clearly shows that having a fallback or being one is not gender specific.
"(Fallback as an idea) is very internal," said direk Jason Paul. "If you have a fallback, you don't really announce to people that he or she is my fallback. You just keep it to yourself. Kaya naging interested akong gawin ang pelikula dahil nga feeling ko it's (something) na pwedeng pag-usapan. In fact on social media for example yung ng mga tao, nagkakaroon ng gender war. Men are like this, women are like that. In the movie, we explored all angles."
The Third Party and 100 Tula Para Kay Stella director reiterated that Fallback will not take sides. Anyway, Rhian's Michelle and Zanjoe's Alvin will be the audience's guideposts.
(Produced by CINEKO Productions, Inc. and distributed by Star Cinema, Fallback will open on Nov. 15 in theaters.)
All Credit Goes There :
Source link
Comments
comments