The leadership teams of Ayala Corp. and KTM AG of Austria,  together with their key dealers and motorcycle enthusiasts, led the inauguration of the state-of-the-art KTM assembly plant at the Laguna Technopark in Biñan, Laguna.
Present to witness this milestone were AC Industrial Technology Holdings Inc. vice chairman of the board Fernando Zobel de Ayala and president and CEO Arthur Tan, KTM AG vice president for sales Peter Perberschlager and Sen. JV Ejercito.
KTM Asia Motorcycle Manufacturing Inc. (KAMMI), a joint-venture partnership between KTM AG of Austria and Adventure Cycle Philippines, is the proud local manufacturer of KTM motorcycles.
"Motorcycling involves a partnership of both science and art; of man and machine working as one," KAMMI president and COO Dino Santos said. "For us at Ayala, we needed a partner that could win in producing the best motorcycles one can imagine — that is KTM."
For his part, Perberschlager explained, "We consider the Philippines as a very important and strategic market with very good international trading contacts. We are very proud to partner with Ayala, with whom we share the same vision and values. We aim to be a serious player in the Asian region."
Guests were treated to a guided factory tour, which allowed them a first-hand look of the plant's world-class manufacturing processes and advanced facilities. This plant will have an initial production run of 6,000 motorcycles, with the goal of eventually expanding to 20,000 units annually.
Homepage ( Article MRec ), pagematch: 1, sectionmatch: 1
The modern facility, which produces KTM's ready-to-race line of motorcycles  — the KTM 200 Duke, KTM 390 Duke, KTM RC 200 and the KTM RC 390 — has already rolled off 500 units destined for the local market. By the end of the year, the company expects to begin exporting units to China, and thereafter, to several ASEAN countries.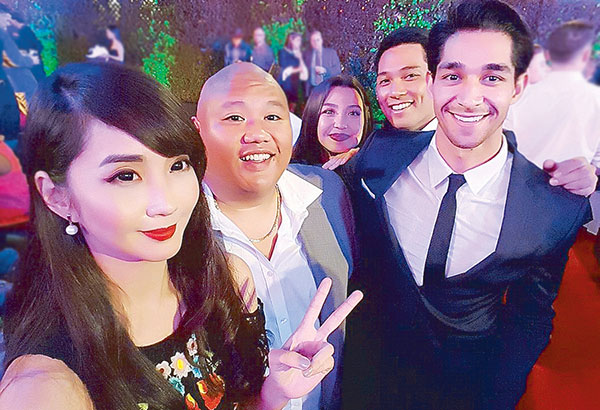 (From left) Alodia Gosiengfiao, Fil-Am actor Jacob Batalon,  Donnalyn Bartolome, Jako de Leon and Wil Dasovich.
HOOQ joins Spider-Man: Homecoming world premiere
Filipino social media stars Donnalyn Bartolome and Wil Dasovich got the chance to experience true Hollywood glitz and glamour as HOOQ, the largest video-on-demand service in Southeast Asia, recently brought them to the world premiere of Spider-Man: Homecoming  at the TCL Chinese Theaters in Hollywood.
Bartolome and Dasovich were joined by Sheila Paul, head of marketing for HOOQ Philippines, and YouTube producer/manager Jako de Leon. The Philippine entourage was able to meet Spider-Man cast members Laura Harrier, who plays Spider-Man's love interest Liz, as well as Filipino-American actor Jacob Batalon, who plays Ned, Spider-Man's best friend. They were also able to meet internet superstar Zach King, Orange Is the New Black star Selenis Leyva and US champion ice dancers Alex and Maia Shibutani.
The film stars Tom Holland, Michael Keaton, Jon Favreau, Donald Glover, Zendaya, Jacob Batalon, Laura Harrier, Tyne Daly, Marisa Tomei and Robert Downey Jr.
In Spider-Man: Homecoming, Peter Parker tries to balance high school life with being a superhero. Thrilled by his experience with the Avengers, young Peter Parker returns home to live with his Aunt May. Under the watchful eye of mentor Tony Stark, Parker starts to embrace his newfound identity as Spider-Man. He also tries to return to his normal daily routine — distracted by thoughts of proving himself to be more than just a friendly neighborhood superhero. Peter must soon put his powers to the test when the evil Vulture emerges to threaten everything that he holds dear.
Revisit all of the past movies of the webcrawler including Spider-Man 1, 2 and 3 as well as The Amazing Spider-Man 1 and 2 on HOOQ.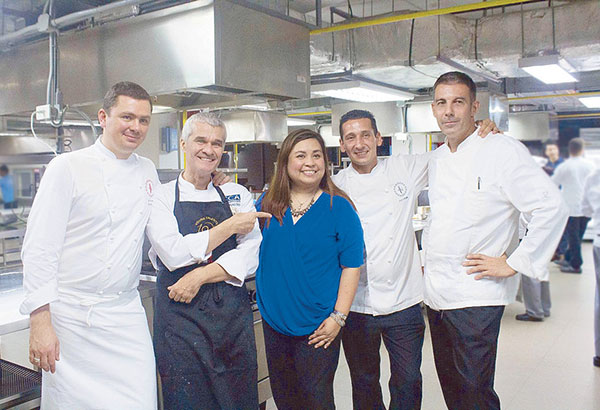 (From left) Two-Michelin-star chef Jean Remi Caillon, CCA-ICDE chef instructor Bruno Tirel, CCA Manila's Liza Morales, Le Kintessence sous chef Jerome Fitour and project director David Contant.
Only the best at CCA
For its French cuisine program, the Center for Culinary Arts Manila (CCA) brought to the country two-Michelin-star chef Jean Remi Caillon. The program aims to expose the students to some of the world's best chefs.
Caillon has an extensive background in the culinary world. He learned from top chefs and from working in prestigious restaurants like the Chateau de la Chevre d'Or of Philippe Labbe (two Michelin Stars), L'Hotel de Ville de Crissier by Philippe Rochat (three Michelin Stars) and Chateau de Divonne by Laurent Belissa (one Michelin Star).
Caillon's presence in the Philippines was made possible by CCA Manila through its partnership with the Institut Culinaire Disciples Escoffier (ICDE). He did various cooking demos and one-on-one interaction with the students who are taking the French cuisine flagship program of CCA-ICDE held at CCA Makati campus.
I was lucky enough to be part of the small group that was able to taste Caillon's four-course dinner. I must say, his food is amazing!
Center for Culinary Arts Manila CEO Badjie Trinidad said, "The CCA-ICDE program is unique and truly world-class as it is the most authentic program on French cuisine. The fact that we are bringing in top chefs from all over the world is a proof that we want to expose our students to the best of the culinary world."
(Enrollment for the second batch of the Escoffier French Cuisine course is ongoing. For more information, call 218-8566 or 0917-5059370 or e-mail talktoccamanila@gmail.com.)
(Follow me on Instagram @pepperteehankee.)
All Credit Goes There :
Source link
Comments
comments