One of my favorite artists is  Martin Honasan. He recently staged a show at ArtistSpace at the Ayala Museum in Makati City.
A large part of Honasan's ingenious work had always been about his immediate environment — his home, town, city and his relationship with the people residing within that territory. For the longest time, it had always been about his experiences. But when he married musician Barbie Almalbis 11 years ago, that sphere of intimacy expanded.
In February, they went back to Culasi, Roxas City in Capiz. That's when Honasan thought of using his wife's hometown as a starting point for his Ayala show.
His wife Barbie's backyard is a beach just a few paces from her home. The residents within the village are predominantly fishermen and porters working at the port just adjacent to the cove.
With the help of Barbie and her mother and some staff working at their cove, they spread 20 feet of canvas along the shore of the beach where salt water and dark sand were allowed to stain the fabric, which was also sun-dried for three days. For Honasan, it felt like a symbolic gesture to literally use the environment to paint on the canvas. It was also an act that mirrored something that physically happens to the residents who bathe in salt water, rolling in the sand and breathing the humid air every day. He called this a "symbolic immersion," where the sea and sand and air did what they could along with the artist's brush.
Honasan also took portraits of some people of Culasi and a few other neighboring towns. Just a few kilometers down south he ended up in Ivisan City where he photographed some coconut coir burlap weavers.
Homepage ( Article MRec ), pagematch: 1, sectionmatch: 1
The result was an exhibit called Pulô, which is Martin Honasan's creative process. Pulô is a place as much as it is also a new season for the amazingly talented artist. Martin found that people's hopes and dreams really are similar, no matter where they come from.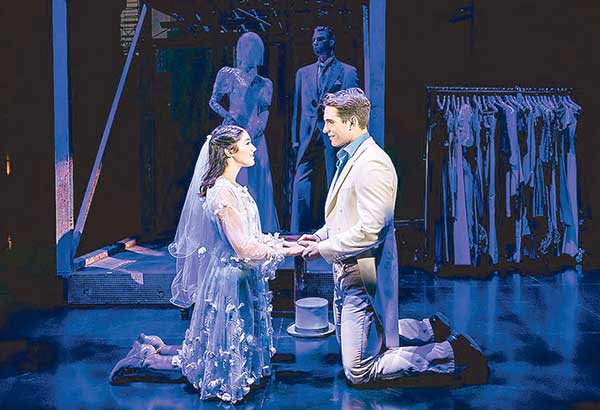 A scene from West Side Story with star-crossed lovers Maria (Jenna Burns) and Tony (Kevin Hack).
Can't wait for West Side Story!
The undeniable excitement is building up as Broadway's greatest dance musical West Side Story premieres at The Theatre at Solaire this month!
Boasting of a young all-American cast, many of whom come direct from Broadway, West Side Story will be playing for a limited three-week season beginning Aug. 10. Tickets are now on sale at ticketworld.com.ph.
West Side Story packs a powerful punch, both dramatically and musically.  At its 1957 Broadway premiere, the musical redefined an entire genre in terms of both choreography and score. The genius of its four creators — Leonard Bernstein, Jerome Robbins, Arthur Laurents and Stephen Sondheim — produced a piece whose great artistic quality remains unquestioned to this day.
The now-famous score by Bernstein braved uncharted waters at the time it was written, and combines influences from American jazz with classical and Latin American music to create a sublime work of art. Sondheim, then an unknown young musician and lyricist, would later rise to great musical heights with works such as Gypsy, Sweeney Todd and Into the Woods. Robbins' original choreography has been recreated by director and choreographer Joey McKneely, a former pupil of Robbins. Musical supervisor is the renowned conductor Donald Chan who leads a live orchestra of 20 musicians. Chan studied under Bernstein himself.
West Side Story is a Michael Brenner production, produced by BB Promotion GmbH in association with Sundance Productions Inc. NY, Lunchbox Theatrical Productions and David Atkins Enterprises.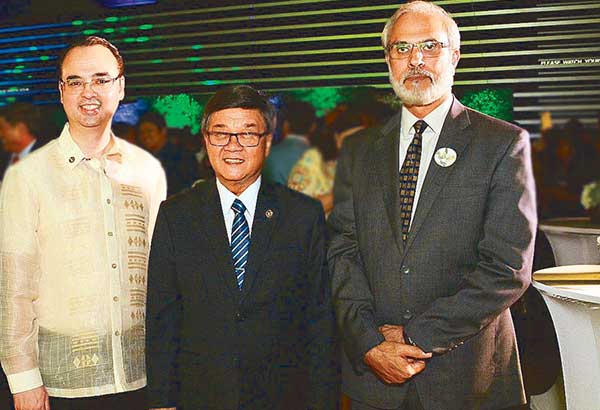 Foreign Affairs Secretary Alan Peter Cayetano, Justice Secretary Vitaliano Aguirre II and Pakistani Ambassador Safdar Hayat.
'Building bridges through music'
Members of the diplomatic corps, government officials, prominent members of the Muslim community and corporate executives recently gathered to celebrate the Eid'l Fitr Festival at Samsung Hall of SM Aura Premier in Taguig City.
Hosted by the Department of Foreign Affairs-Office of Middle East and African Affairs (DFA-OMEAA), in cooperation with SM and National Commission for Culture and the Arts, "Building Bridges through Music" was this year's theme with cultural performances mirroring the traditional Muslim culture through dance and music.
Foreign Affairs Secretary Alan Peter Cayetano graced the event, dedicating the occasion to Muslim brothers and sisters and to the diplomatic corps. "All nations must take concentrated efforts in promoting peace and to overcome the scourge of violence and extremism as with the current situation in Marawi," Cayetano said. 
Welcoming guests were OMEAA Assistant Secretary Hjayceelyn Quintana, human resource management office's Ezzedin Tago, chief coordinator Leah Ruiz, Undersecretary for Administration Linglinghay Lacanlale and director Germinia Aguilar Usudan with SM senior vice president for marketing Millie Dizon.
Also present were friends from Marawi lawyer Ramayana Saidamen Abbas, Bai-a-Labi Princess Dayamon Pacasum Pangarungan and former governor Nikolai Saidamen.
During the reception, DFA-OMEAA also distributed pins with Sarimanok artwork containing Marawi and #TogetherWeWillRise message as a symbol that the festivities also support the rise of Marawi again and to move forward to a better future.
(Follow me on Instagram @pepperteehankee.)
All Credit Goes There :
Source link
Comments
comments