MANILA, Philippines — In the Philippines, an estimated 15 million babies are reportedly born before they complete the 40 weeks of gestation required for a normal delivery. While technology has advanced to allow doctors to provide the best possible treatment for preemies, preterm birth complications are still the leading cause of death among children under five years old. It has been the cause of almost one million deaths in 2015—three-quarters of which could have been prevented through various interventions that mothers and medical practitioners should be aware of.
On June 22, at Shangri-la at the Fort, Pampers Philippines hosted an intimate media event to begin the conversation on premature birth in the Philippines. Alongside the screening of a video in collaboration with film genius Pepe Diokno, Bambi Borneo, President of the Mother and Child Nurses Association of the Philippines, Inc., spoke about the realities that preterm birth present.
"Preventing complications from preterm birth, of course, begins by making sure that you have a healthy pregnancy. But for whatever reason that preterm birth occurs, know that there are essential care guidelines that you can do to ensure the strength and development of your baby," said Borneo.         
The first months of a baby are the most delicate and crucial stage in their lives. It is important that parents consider not just the practical aspects—like proper medical interventions—for the newborn, but also the emotional ones. For instance, something as simple as providing comfort through skin-to-skin contact, often referred to as "kangaroo mother care," is critical to development, as is frequent breastfeeding.
One seemingly mundane element in the care of preterm babies covers both the emotional and functional needs of a baby: changing their diapers. The simple process of diaper changing offers parents a rare moment to connect and bond with their baby despite the challenges they are facing. Preemies have sensitive and fragile skin. They require extra gentle care so even the diapers they use should be made with the softest, driest, and best quality materials.
"Preemies are more sensitive and prone to infection. Unfortunately, because they were born pre-term, it's inevitable that they will be exposed to negative touch: uncomfortable tubing, physical examinations, blood tests, IVs, and unnecessary repositioning," added Jan Ang, Marketing Manager for the diaper brand.
Lifestyle Feature ( Article MRec ), pagematch: 1, sectionmatch:
Although preemie diapers are not yet fully available in the Philippines, starting this conversation on pre-term birth is a necessary first step. 
Recently, Pampers also held an event celebrating its Premium Care line. Media, Influencers, and bloggers attended the event at Shangri-La at the Fort eager to see the revolutionary technology incorporated into the brand's offering. Brand ambassadors Cat Arambulo Antonio, Kelly Misa Fernandez, and Nicole Hernandez de los Angeles were also in attendance talking about how they provide world-class care to their little ones.
Filipino moms want to give nothing less than world-class care to their babies. Premium Care is designed with babies' healthy and happy development in mind. These innovations have been added to enhance comfort and dryness: Magic Gel Channels that allow even and fast absorption that will prevent sagging and discomfort; Skin Protection Lotion to wrap babies in silky softness; Absorb Away Liner that quickly absorbs runny messes; and S-Flex technology protects the skin from friction, moving with the baby so he can crawl and walk comfortably. 
"The skin plays an essential role in baby's emotional, cognitive, and brain development, as they learn many things first through touch." said Jan Ang, the brand's Marketing Manager for Philippines."Giving the best care for babies means providing them with superior skin care protection and comfort that embody  their mother's unconditional love."
Troy Bautista, Assistant Brand Manager-Pampers Philippines and Bambi Borneo, President- MCNAP (center) with guests at the Pampers Round Table Discussion. Released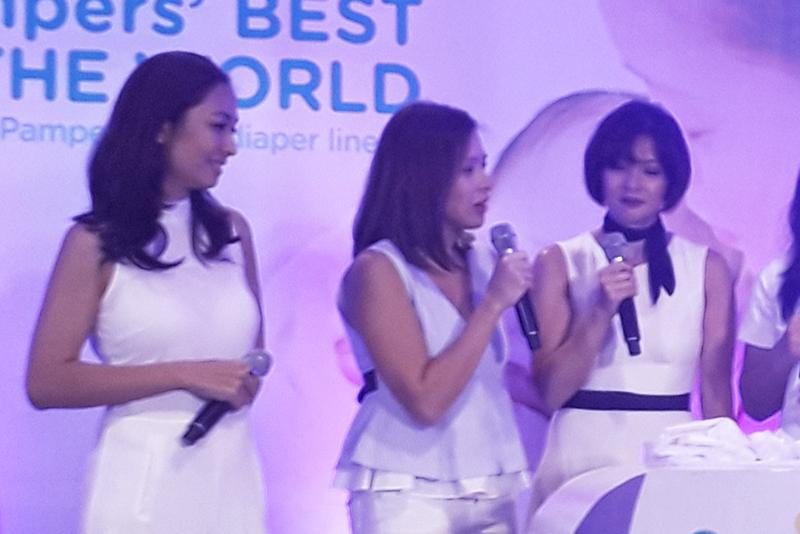 Celebrity moms Kelly Misa Fernandez, Nicole Hernandez de los Angeles, and Cat Arambulo Antonio   Philstar.com/Deni Rose M. Afinidad-Bernardo
All Credit Goes There :
Source link
Comments
comments