MANILA, Philippines — The Philippines might have failed to take home the Miss Universe crown this year, but the country was mentioned over and over at this year's pageant.
Returning host Steve Harvey recalled his first time to host the pageant in 2015, when he mistakenly named Miss Colombia as Miss Universe before he realized the mistake, and correctly named Pia Wurtzbach from the Philippines.
"We know how it went," he quipped. "Let's not talk about that!"
He also recalled his second time hosting the pageant, which was held in Manila in January. "Last year, we owe it to the Philippines! We had an amazing time!" Harvey said.
Contestants stand on stage at the Miss Universe pageant Sunday, Nov. 26, 2017, in Las Vegas. AP Photo/John Locher
Pageant firsts
Harvey said this year sets a record-high of participants, 92, with Cambodia, Laos and Nepal joining for the first time. Iraq, represented by Sarah Abdali Idan, also returned to the competition after 40 years of absence.
Miss Iraq recalled the hardship of being tagged a "terrorist."
Entertainment ( Article MRec ), pagematch: 1, sectionmatch: 1
"I'm a Muslim but I want to represent Christian, Kurdish," Idan said.
Audiences of morning's pageant also witnessed a change never before done in the competition. The contestants were divided into four categories—The Americas, Europe, Africa and Asia Pacific, and wild card—under which the Top 16 finalists would be named.
Life as Miss Universe
Last year's winner, Iris Mittenaere from France, was a rarity, since Europe only won seven times in the long history of the competition. The former Miss Universe acknowledge this, while sharing about the moment she was crowned.
"I remember saying, Oh my God, Pia (Wurtzbach)!" Iris told Harvey. "My whole life changed. It's like a movie. I travel all the time. I'm working every day. It's a hard job but of course, it's the most beautiful job in the world," Iris said of her journey as Miss Universe 2016.
As a dentistry student, she fulfilled her dream to help children with cleft lip and palate through the international charity Smile Train, which the Miss Universe Organization supports.
Miss Philippines secures a fan among the hosts
Miss Philippines Rachel Peters was the first wild card to be named, thanks in part to online votes by her supporters mostly from the Philippines. She also later made it to the final 10, before bowing out as the last five finalists were called.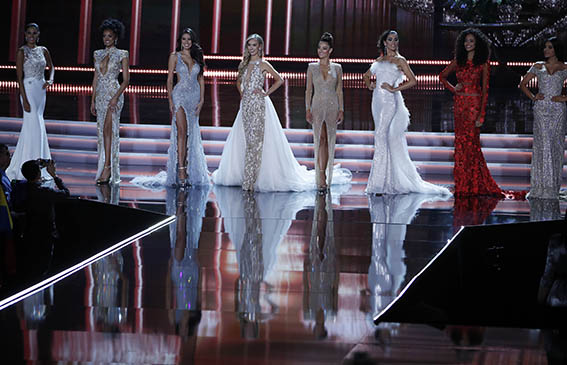 Contestants stand on stage shortly after the evening gown competition at the Miss Universe pageant Sunday, Nov. 26, 2017, in Las Vegas. AP/John Locher
"My favorite is Philippines. She is rocking beautiful!" said American model Ashley Graham during the pageant's live airing on Monday morning (Manila time), who joined Steve as co-host in the Philippines earlier this year.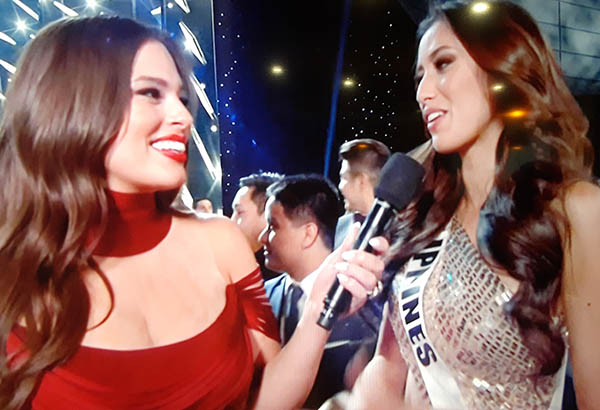 Miss Universe 2017 backstage host Ashley Graham interviews Miss Philippines Rachel Peters after the latter has been called to the Top 10.  Miss Universe/screenshot
Beauty pageant tackles ugly issues
There was no hesitation among the contestants to talk about advocacy, as well as issues they felt strongly about.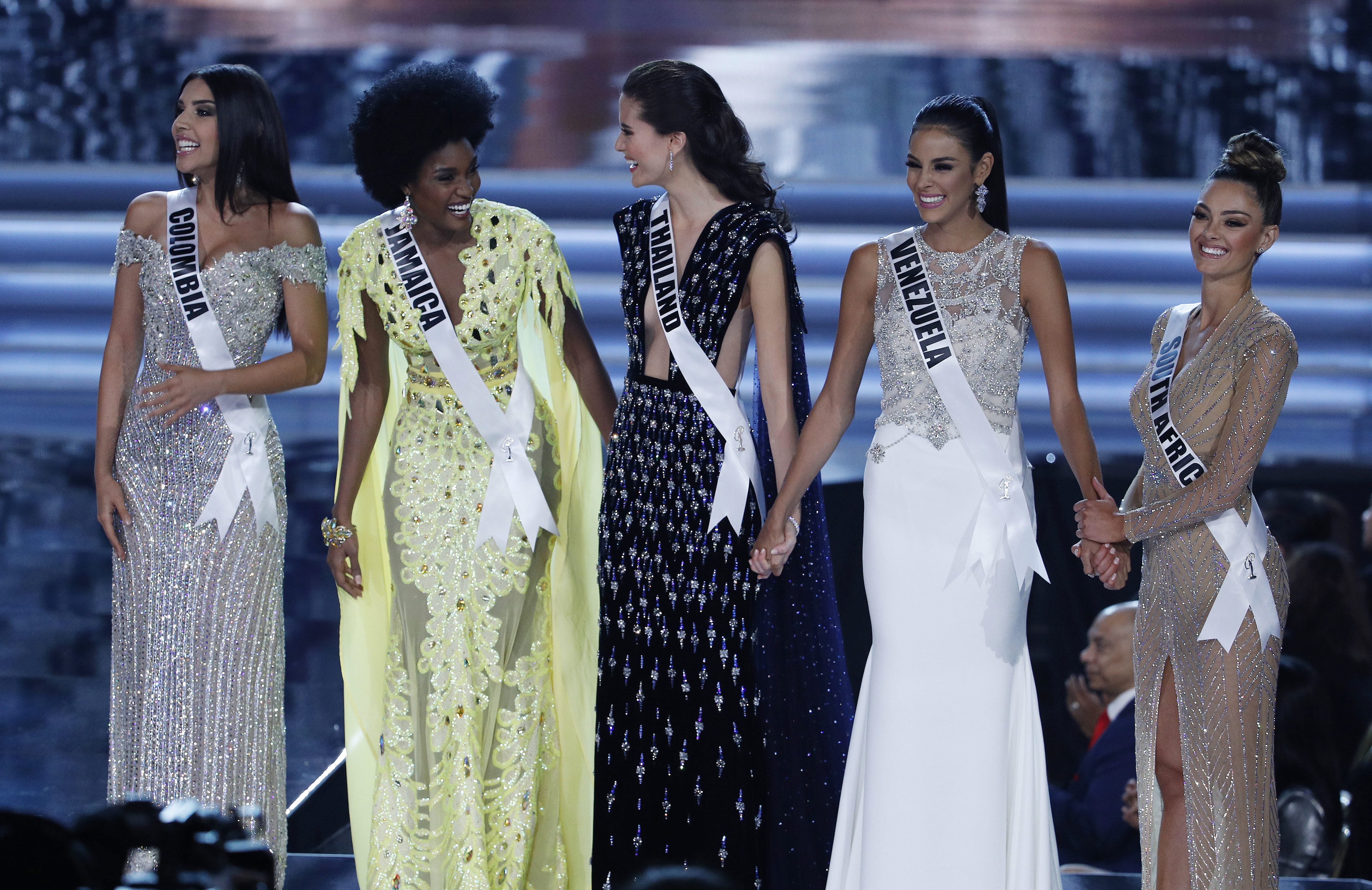 From left: final five finalists Miss Colombia Laura Gonzalez, Miss Jamaica Davina Bennett, Miss Thailand Maria Poonlertlarp, Miss Venezuela Keysi Sayago and Miss South Africa Demi-Leigh Nel-Peters stand on stage at the Miss Universe pageant Sunday, Nov. 26, 2017, in Las Vegas. AP Photo/John Locher
The pageant, among the most prestigious there is, again became a platform to speak before a global audience against real-world horrors such as terrorism and sexual harassment, as well as about inequality, demographic winter and social media abuse.
Here are quotations from the Top 5 candidates:
"In some places, women get paid 75 percent of what men earn for doing the same job, working the same hours and I do not believe that that is right. I think we should have equal work for equal pay for women all over the world. Thank you." — Miss South Africa Demi-Leigh Nel-Peters
"The social media is what we make of them. We must see social media in a positive way and take away any criticism. Behind every photo, every social media account there is a good person, a human who can feel and we all deserve respect." — Miss Venezuela Keysi Sayago
"I think the most important social movement so far is that we have an ageing population. So the most important movement in our time is definitely the youth. The youth is the future, the youth is something that we have to invest in because they're the ones who will look after the Earth that we live in." — Miss Thailand Maria Poonlertlarp
"Sexual harassment is a form of abuse, and no abuse should be tolerated whether in the work place or in society. I believe that men and women should come together and be professional. Leave this act alone and anything that happens such as sexual harassment should be taken to the law and should be dealt with. Thank you." — Miss Jamaica Davina Bennett
"I've never been a victim or a family member of terrorism. I cannot really explain how it feels to be one of them. But if I had the opportunity to speak to a child, I would tell them that please your generation and my generation, we cannot be full of weapons. Please more books, more culture, more friendships and more love. Thank you." — Miss Colombia Laura Gonzalez
Power vocals
Grammy winner Fergie performed during the evening gown competition, while indie pop artist Rachel Platten serenaded the Top 3.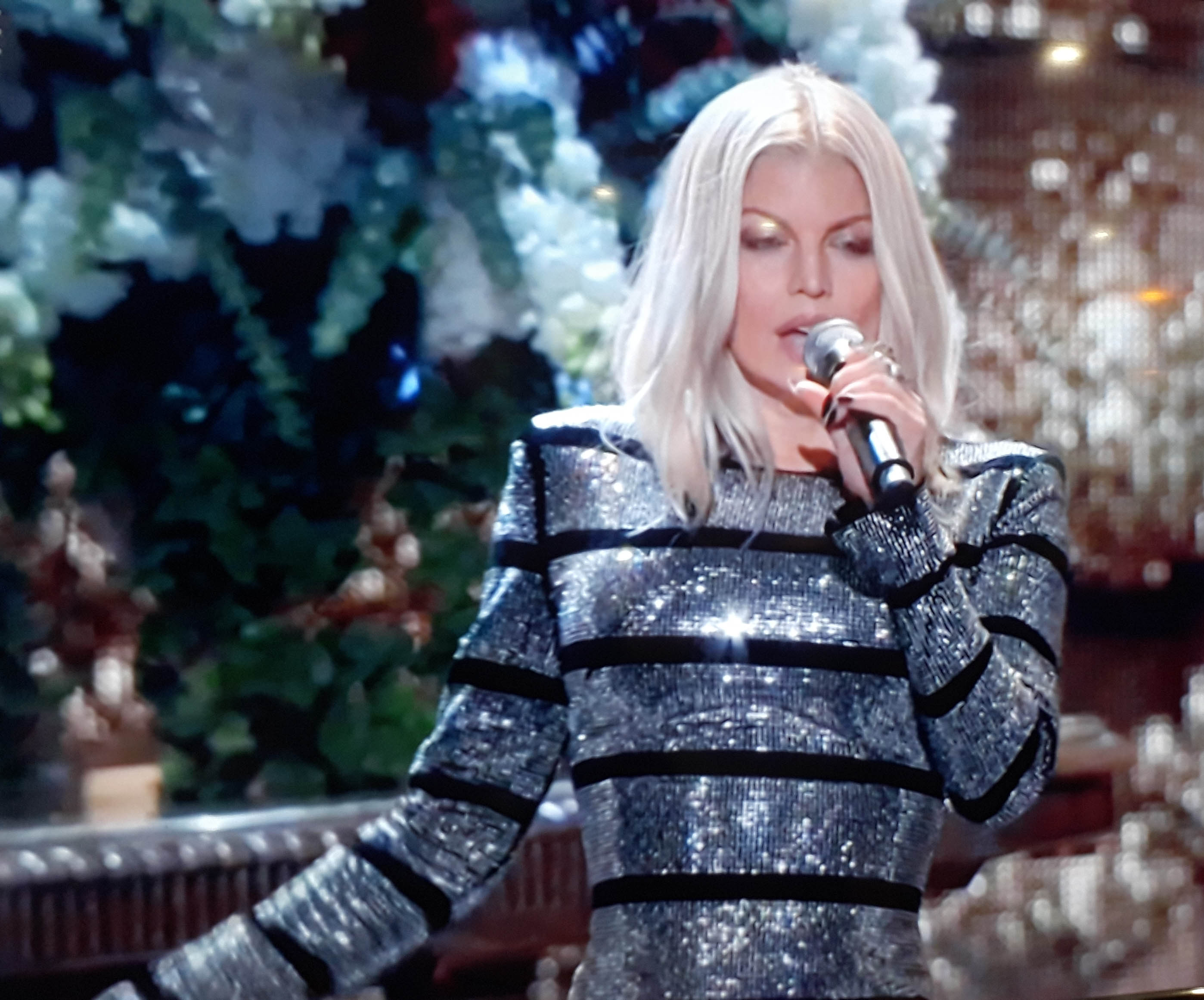 Fergie p during the evening gown portion of the pageant. Miss Universe/Screenshot
Pia Wurtzbach's moment
Miss Universe 2015 Pia Wurtzbach returned to the competition this year, this time seating at the judges' panel.
When asked by Harvey about her first time to judge, she said: "It's harder to be a judge than to be a Miss Universe because all ladies are incredible! It's hard to pick!"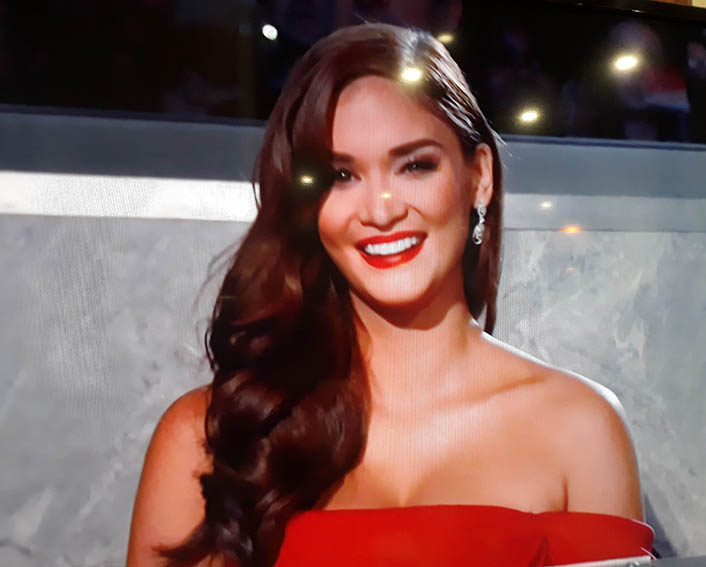 Miss Universe 2015 Pia Wurtzbach joins this year's judges' panel. Miss Universe/screenshot
'Final word'
The final leg of the contest trimmed down 92 candidates to 16, 10, 5 and three, with the last and final group asked to give an answer to a "final word"—a single question to which the remaining contestants would give their own unique perspective to.
"What quality in yourself are you most proud of, and how will you apply that quality in your time as Miss Universe?"
The answers revealed how the last ladies standing saw their position and role as would-be Miss Universe.
ALSO READ: Demi-Leigh Nel-Peters' moments at Miss Universe 2017
All Credit Goes There :
Source link
Comments
comments