It's what many loyal passengers of Philippine Airlines have been waiting for.
Philippine Airlines has converted the cabin layout of eight mono-class A330-300s into a 309-seater tri-class model with Business, Premium Economy and Economy Class sections. It couldn't have happened sooner, as there is a demand in the market for a Business Class section, and the Premium Economy option is also sought after. In fact, I have been told that world travelers are also now hankering more and more for the First Class option.
But first things first.
The reconfigured A330, which was rolled out last June 13, will be utilized for the Manila-Honolulu-Manila route starting this month. Other A330 tri-class planes will be unveiled in July for Melbourne, in August for Sydney, in September for Singapore, in October for Haneda, in November for Narita and in December for Osaka.
"In Philippine Airlines, we aim to please. This inspired us to go through the process of providing our passengers a reconfigured aircraft with meticulous seat and IFE selection. As we journey on to becoming a five-star, world-class, full-service carrier with a heart, we devote our efforts towards meeting customer needs," PAL president and chief operating officer Jaime J. Bautista said. Bautista told us on the sidelines of the unveiling of the reconfigured A330 that business is good, and that so far the Marawi siege has not had a significant impact on incoming traffic.
"Actually, what we are more concerned about is competition from other international airlines," Bautista said.
Homepage ( Article MRec ), pagematch: 1, sectionmatch: 1
Finally, the iPads of the former eight mono-class aircraft have been replaced with honest-to-goodness TV screens, each screen detachable and replaceable in case of glitches. Business Class now has full-flat seats when reclined.
PAL selected the Thompson Vantage XL brand for its 18 Business Class seats with a legroom of 44 inches, width of 23 to 24 inches and a full-flat recline with a bed length of 78 inches. Seats on this section have an all-aisle access. An added feature on Business Class is the installation of the Pneumatic Comfort System (PCS), which allows the passenger to adjust seat firmness according to preference, complemented with the massage function. PAL is the first Asian carrier to offer the PCS.
Each seat on Business and Premium Economy has a leg rest, calf rest, footrest and coat hook. Passengers on both cabins have the option to charge their devices by way of the USB port or in-seat power supply installed on their seats. For the Economy Class cabin, standard seats are equipped with USB ports while facility seats have in-seat power supply. Each seat has a headrest, literature pocket, fabric seat cover and comfortable cushioning. Other unique seat features on Business Class include: head phone hook, capiz-like side decor and footwell with mood lighting. The walls of each cabin have laminate designs with the barong concept, highlighting a popular Philippine fabric and giving the cabin interior a warm and cozy ambience.
The aircraft is also equipped with myPAL Wi-Fi that allows passengers to surf, browse and stay connected.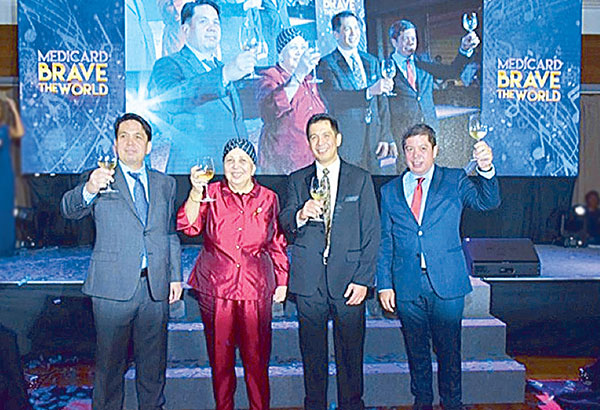 (From left) MediCard president Dr. Nicky Montoya, chairman Concepcion Montoya, SVP Luis Montoya and COO lawyer Jon Montoya.
'Brave the World'
MediCard, a leading health maintenance organization (HMO) provider in the country, recently celebrated its 30th anniversary at the Manila Polo Club in Makati City with a stronger commitment to provide more Filipinos access to quality health and medical care.
The celebration was more meaningful as MediCard put forward the theme "Brave the World" to emphasize the company's commitment to encourage Filipinos to capitalize on their health to persevere, seize more opportunities, dare to make a difference and pursue a better future.
"Through the years, we, at MediCard, have put a premium on the well-being of our members. On top of quality healthcare services, we have come up with several groundbreaking innovations that allow convenience in healthcare. We believe that giving our members a healthy mind and a healthy body empower each of them to brave the world and be more productive members of our society," said MediCard president Dr. Nicky Montoya.
Joining Dr. Montoya in welcoming guests were MediCard chairman Concepcion Montoya, COO lawyer Juan Andres Montoya and senior vice president Luis Montoya.
During the event, MediCard also launched its newest innovation, the MACE app, a powerful application that allows MediCard members to transact in a non-terminal based mobile platform such as Android smartphones or tablets.
Setting the mood for the special night were talented singers who serenaded guests with their own renditions of captivating ballads and MediCard's newest jingle composed by renowned Filipino composer Louie Ocampo with lyrics by Jules Dacanay.
(You may e-mail me at joanneraeramirez@yahoo.com.)
All Credit Goes There :
Source link
Comments
comments