MANILA, Philippines — The most common New Year's resolution, according to a British publication, is usually health-related.
Giving up a vice, taking care more of one's self and having a better work-life balance are among the top promises people make at the start of every year, British media outfit The Sun said in a report published on January 1.
For those whose New Year's resolution is to become a better version of themselves, singer, actress, TV host and entrepreneur Solenn Heussaff gave tips on how to be fit like her.
"Easy lang!" Solenn said on how she achieved her curves and abs.
"Walang carbs, no junk food, no soft drinks, exercise every day. 'Yun lang!" the star told Philstar.com in a recent interview following a Samsung launch.
According to her, she was able to achieve her abdominal cuts by alternating boxing, yoga, CrossFit and weight training every day.
Entertainment ( Article MRec ), pagematch: 1, sectionmatch: 1
Last December 30, Solenn and husband Nico Bolzico celebrated their second wedding anniversary. Nicolo said in his Instagram account that Solenn forgot about their anniversary, but he understands. He said he will just note it down in his "Wifezilla owes Nico" list.
Solenn answered Nico's post, saying: "You are the best partner in life I could ever ask for! Hurry and come back home so we can celebrate."
She told her husband, she does not need "to add a dot on the wifezilla owes Nico list because of the time difference."
Nico also proudly shared that though he and Solenn did not spend the holidays together this year, since marrying Solenn, he has been following Filipino traditions like "Monito Monita" and "Simbang Gabi," which he still finds hard to pronounce.
Solenn leads New Year countdown
The day after their wedding anniversary, on December 31, Solenn led the New Year countdown at the newly opened Cove in Okada Manila, Pasay City.
Solenn's "Taste Buddies" co-host, Rhian Ramos, spearheaded the countdown at The Fountain together with Sam YG.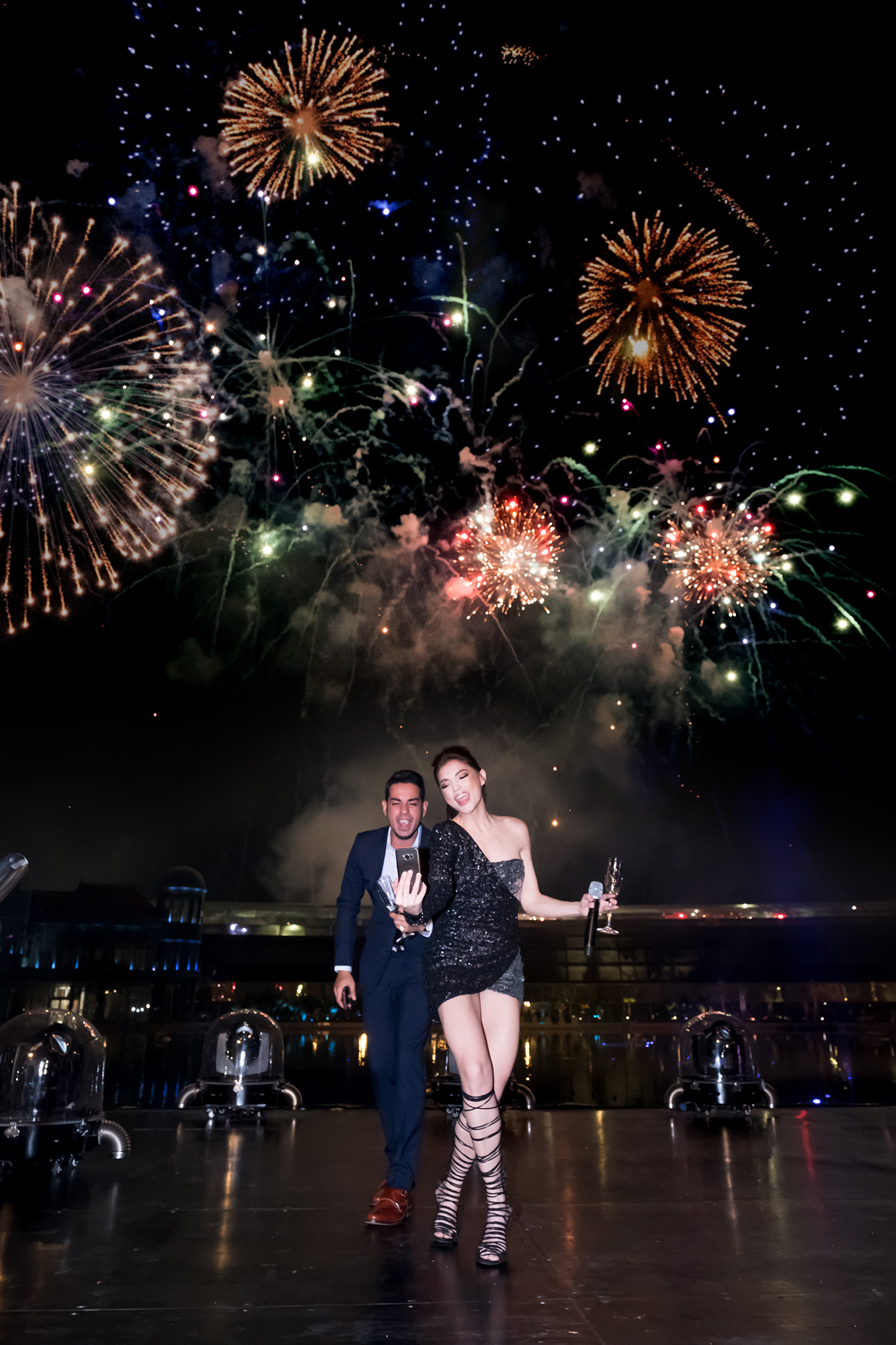 Sam YG and Rhian Ramos taking a 'selfwe' at the New Year countdown in Okada Manila's The Fountain. Photo release
During the countdown, Solenn asked the audience what their New Year's resolutions are. The event's host, Rico Robles, said that his is to include a one-million-US-dollar Orange County Choppers (OCC) motorbike on his bucket list. But according to Solenn, a New Year's resolution should be "realistic."
Also during the countdown, Solenn got the chance to ride the custom-built Cove Chopper, the US$1-million long and low motorcycle that has several "Cove" attributes found throughout. The wheels are designed to mirror the giant dome structure found at Cove. The detailed paint scheme reflects the strength and simplicity of the dome of the new party place.
In June, Okada Manila will be raffling off two motorbikes built by OCC, an acclaimed international custom motorcycle company founded in 1999 by Paul Teutul Sr. At their facility based in Newburgh, New York City, Paul Sr. and his team of custom fabricators design, engineer and manufacture bikes that are customized and built around a theme or, increasingly, for a broad spectrum of motorcycle enthusiasts around the world.
Paul Sr. and his OCC team, however, are best known as the stars of Discovery Channel's "American Choppers," a reality TV series about Paul, his family, and OCC. The show debuted in September 2002 and ended last 2010, garnering a total of six seasons. A much anticipated return in Discovery Channel is scheduled for early 2018.
On January 1, Nico and Solenn greeted their fans a Happy New Year. Solenn said during the countdown that 2017 was a good year for her. Nico echoed this, saying in an Instagram post that "2017 was epic!" 
In the post, Nico said that this year, "It is time to get a real sibling for Patato!" He has been referring to himself as Potato. He, however, clarified that his "#wifezilla is NOT pregnant!"
If for others, the New Year's resolution is to become as fit as Solenn and Nico, is the couple's resolution to have a baby this year?
RELATED: Indoor pool club opens in Manila's 'Entertainment City'
Photos: Steve Aoki opens Cove in Manila
All Credit Goes There :
Source link
Comments
comments