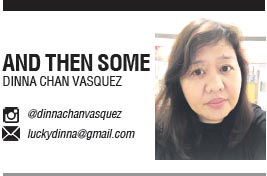 THERE are two people who have heavily influenced my beauty choices in 2017. One of them is Ross Licup, who owns Exuviance by Ross at Fanny Serrano Elite-Makati.
I always say, "Thanks to Miss Ross, I now have hair."
It's not that I was balding or anything like that. I just needed more hair. But my hair is very fine  so it looks like there's less of it. So Miss Ross suggested Sunetics, a low-level laser therapy that stimulates the hair follicles. This helps follicles to heal and grow new hair.
Sunetics has helped me a lot. I used to worry that I'd be completely bald by the time I turn 60 but if this keeps up, I don't think that's going to happen at all.
Miss Ross and I don't see each other often but when we do, we can talk for hours about beauty.
Exuviance by Ross is her passion project.
Exuviance by Ross is not just a salon. As envisioned by Miss Ross, it is a world-class aesthetic and rejuvenation center that battles aging and other skin and body problems with noninvasive procedures. It is also a source for the best cult beauty products with brands like Sparitual, Neostrata, Heliocare, ReTrix, Davines and many others.
"I want beauty and wellness to be available to everyone," said Miss Ross, whose own quest for beauty led her to open her own center.
Throughout her life, Miss Ross has been on a quest to find the perfect facial, the perfect antiaging treatment, and the perfect beauty solution. And her search always led to disappointments.
Her goal as someone who is in the beauty business is to help people live longer. Miss Ross always tells me, "You can be 60 and look 30."
For more good news, Exuviance by Ross plans to open a new branch next year. Miss Ross also recently launched www.exuviancebyross.com.ph, a beauty e-retail web site that offers some of the world's best cult beauty products.
Products available at the web site include Miss Ross's own skin care favorites such Exuviance Cleansing Gel and Exuviance Dermabrasion Face Polish. This combination, she said, guarantees glowing skin in seconds.
For cell renewal, there is Exuviance Performance Peel. To address wrinkles, the Vespera Bionic Serum visibly improves fine lines and wrinkles and skin texture, and is clinically proven to result in a 212 percent improvement in clarity after just six weeks of use. The Sparitual Salt Scrubs contain red algae and red clay to help rejuvenate skin.
These are products Miss Ross herself swear by.
"I would not recommend anything that I myself do not use," she said.
The web site was created to complement Exuviance by Ross. It's for people who cannot go to the salon and aesthetic center regularly but need beauty maintenance.
It will carry emerging niche brands and a well-curated selection of the most advanced, cult natural beauty brands from around the world, which Licup has discovered through her travels and by word of mouth.
In the web site, there is a chat box where customers can ask questions that will be addressed by certified dermatologists.
Exuviancebyross.com.ph will also carry body cleansers and lotions to help keep skin soft and supple.
According to Miss Ross, low PH face and body washes (nothing should be above 5.5) are better for the skin.
"I was surprised that nobody told us this. Not the beauty companies or other aesthetic centers," said Miss Ross who did a lot of research and testing before she opened Exuviance by Ross.
"My mission is to make beauty products less intimidating to men and women. It's not difficult to have a beauty regimen. It's not expensive. A bottle of serum can last you several months because it is very potent and full of beneficial ingredients," she added.
The web site will also carry makeup brands, such as Jeffree Star, Dose of Colors, MELT Cosmetics, Anastasia, Urban Decay and many others.
As part of Miss Ross' advocacy to make beauty accessible for all Filipinos here and abroad, the web site will ship anywhere to any part of the globe.
"It's not just a web site that will sell beauty products.
It will be a complete beauty web site that will help women know what is right for them and their lifestyles, beauty-wise," she said.
For more information, visit the site or call 772-8126.
All Credit Goes There :
Source link
Comments
comments