MANILA, Philippines — The glitz, the glamour and the gossip-mongering that was the coronation night of the 66th Miss Universe pageant in Las Vegas, Nevada, is still the talk of the cybersphere and beyond. 
At the end of the evening, the 92 delegates were in their finest long gowns, anxiously waiting for the announcement of the winner. The last girls standing in Las Vegas were Davina Bennett of Jamaica (a deadringer for '70s badass actress Pam Grier), Demi-Leigh Nel-Peters of South Africa (who recalls 1979 winner Maritza Sayalero of Venezuela) and Laura González of Colombia (a bubblier Claudia Cardinale).
After a stellar reign, Iris Mittenaere of France, who was crowned by Pia Alonzo Wurtzbach in Manila in January, was ready to crown her own successor. When the beautiful dentistry student sauntered onstage in a resplendent red gown, every fashion observer watching swooned and had one thought in mind: It can only be a Michael Cinco!
It was the volume. It was the drama. It was the magnificence. The tulle gown in ombré colors sparkling with Swarovskis was unmistakably Cinco.
"I got a call from Miss Universe manager Esther Swan and she told me that Iris wanted to wear a couture gown from me for her final walk because she fell in love with Pia's gown," Cinco said over Facebook chat. "I was actually surprised because I thought she will wear a French designer because she is from Paris."
The safest assumption was that Mittenaere will wear Jean-Paul Gaultier, the French master who serves as the president of the jury that selects Miss France and who became her good friend. 
But she still was able to showcase her country's preeminence in couture when she wore an immaculate column gown with sculptural shoulder detail by compatriot Stephane Rolland during her first appearance earlier in the night.
The Dubai-based Cinco continued: "I had a conference call with Miss U stylist Marquis Bias and Iris. She specifically told me that she wanted ruby red for her gown. We discussed about the designs and I sent sketches to her for her to choose from."
For her final walk, Cinco disclosed, Wurtzbach chose the cobalt blue color, "because that's the color of the gown [designed by Albert Andrada] that she wore when she won in 2015. This time, Iris wanted ruby red. It's a different silhouette because she wanted a mermaid gown with a train from the back. It's very different from Pia's gown but it has the distinct Michael Cinco trademark."
Another difference between the two queens' gowns, Cinco pointed out, is that "Pia's gown is in linear beadwork with patterns while Iris' gown is just a sparkle of all crystals. Parang sumabog lang siya na mga crystals sa kalawakan. And the crystals are crystal beads that are all transparent with colors. Hindi siya 'yung mga crystals na dinidikit."
Crystals used by Cinco on Iris' gown. Photo from Michael Cinco.
Cinco admitted that has always his dream to see his couture gowns on Hollywood red carpets and onstage like Miss Universe.
"My all-time favorite Miss Universe is Miss Russia Oxana Fedorova, who was dethroned in 2002. She is the most beautiful," Cinco gushed. "And I was so happy when I was contacted by the Miss Russia organization to make the evening gown of their candidate, Kseniya Alexandrova."
Alexandrova visited Cinco in Dubai a few weeks before the Miss Universe event to pick her evening gown. And what do you know, it was a similar design that Mittenaere also eventually chose. Had Alexandrova worn her Cinco gown at the preliminaries, she might have had a greater chance to move forward to the finals. 
"I'm just a bit upset because Miss Russia didn't make it to the Top 16 and wasn't able to show her gown. I told her to wear the gown in prelims because it's so beautiful but the Russian Org wanted her to wear the gown on finals night only," Cinco related. 
The MUO and the Miss Russia organization were both told by Cinco that Mittenaere and Alexandrova have chosen the same gowns. "The gowns had similar color and design but Russia's had different crystal embroidery treatment and Iris' had more of an ombré."
Pageant fans, who are also invariably fashion aficionados, immediately saw Cinco's imprint on the bustier ballgown of Mittenaere. "It's so heart-warming when I got so many messages from people asking me if I made Iris's gown coz it's very Michael Cinco," the designer to royals, celebrities and oligarch's daughters said. "I think the biggest achievement of a designer is when people recognize your style."
In an Instagram post, Iris thanked Michael for her "amazing dress."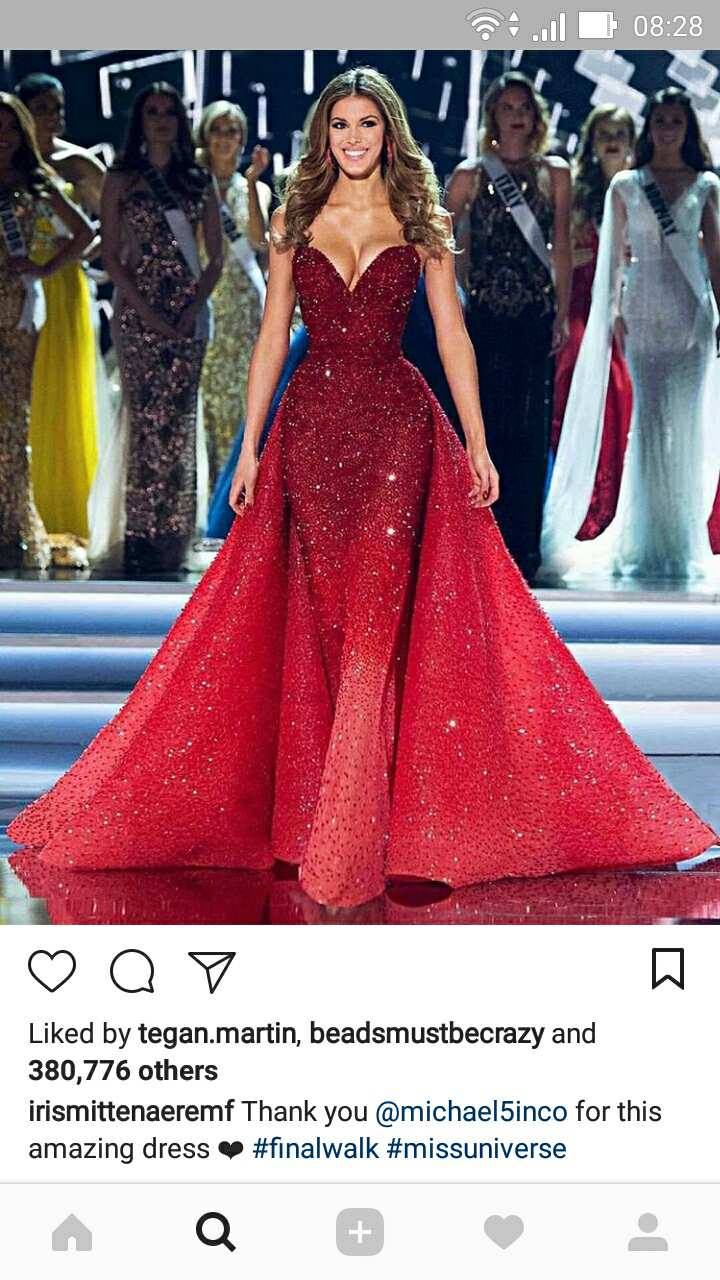 As seen in this Instagram post, Miss Universe 2016  Iris Mittenaere of France thanks Filipino Dubai-based designer Michael Cinco for her final walk dress.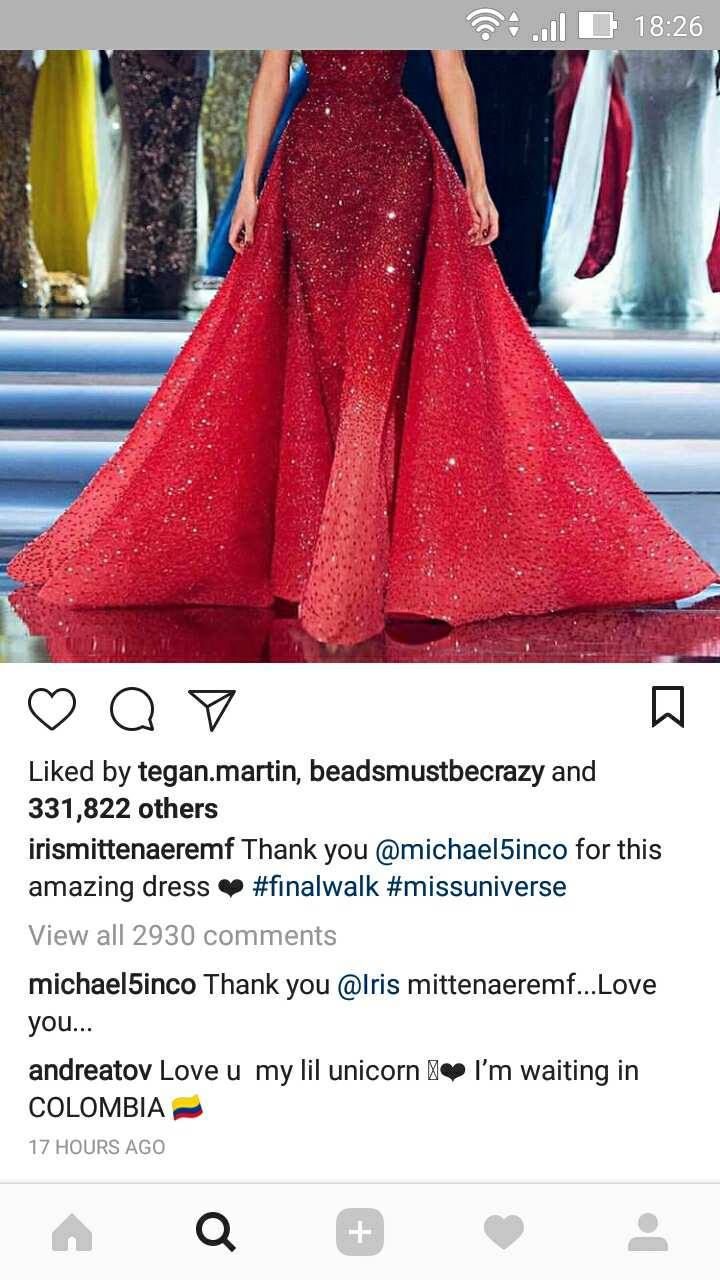 As seen in this Instagram post, Miss Universe 2016  Iris Mittenaere of France thanks Filipino Dubai-based designer Michael Cinco for her final walk dress. 
All Credit Goes There :
Source link
Comments
comments