The much-talked-about ramen house is finally here!
Tsuta, the world's first ramen house to be given a Michelin star is now on Bonifacio High Street at the Bonifacio Global City, Taguig.
Founded in 2012 by chef Onishi Yuki in Tokyo, Tsuta will serve Manila its award-winning dishes Shoyu (soy-based sauce) Soba ramen, Shio (Okinawa sea salt and Mongolian rock-salt based sauce) Soba ramen and Miso (Hatcho miso-flavored) Soba ramen.
The ramen house's delicious flavored soup base is a blend of three different broths from asari clams; imported Japanese fish katakuchi, mackerel and anchovy; and whole chicken. Noodles used for the ramen are made freshly onsite from specially selected whole wheat and whole grain flours. The noodles and broth are topped with char siu pork.
Tsuta was awarded with a Michelin star for the 2016, 2017 and 2018 editions of the Michelin Guide, which is widely regarded as the gastronomic bible of the world. Tsuta also has branches in Hong Kong, Taiwan and Singapore. Its branch at the Bonifacio High Street is a 48-seater restaurant with both bar- and table-seating setups.
Helping Chef Onishi introduce his ramen house to Filipinos is Foodee Global Concepts, the same group that brought here other Michelin-starred restaurants like Tim Ho Wan, FOO'D by Davide Oldani and the upcoming Hawker Chan. It also launched Todd English Food Hall, Mesa Filipino Moderne, Llaollao and Sunnies Café.
Foodee Global Concepts COO and managing director Eric Dee said, "Together with chef Onishi Yuki, we are very excited to bring Tsuta's delicious ramen to the Philippines. When it comes to food, Filipinos want nothing but the best. We invite everyone to come and try what the world's first Michelin-starred ramen house has to offer."
(Tsuta Manila is located at UG/F C3 Bonifacio High Street Central, Bonifacio Global City, Taguig. It is open daily from 11:30 a.m. until supplies last. For more information, visit www.tsuta.com or www.facebook.com/tsutaphilippines.)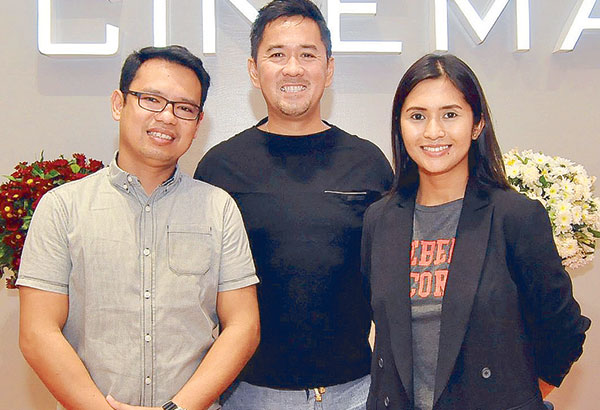 CityMall head for corporate affairs Jonathan Umali, Bong Tirol and marketing head Ellena Mercado.
Now showing in Boracay
In the past, residents of Boracay had to leave the island by boat and travel for hours just to watch a movie in a cinema.
Today, they don't need to cross waters to watch the latest blockbusters as CityMall Commercial Centers Inc. (CMCCI), the community mall development arm of listed property firm DoubleDragon Properties Corp., recently inaugurated the first cinemas on the island, located at CityMall-Boracay.
The first cinemas at CityMall-Boracay, launched in partnership with ABS-CBN Corp., are just some of the many cinemas that CityMall is progressively rolling out in its branches across the country, including already operating theaters in Anabu in Imus, Cavite, Consolacion in Cebu, Dumaguete and Mandalagan in Bacolod.
DoubleDragon Properties Corp. president Ferdinand Sia said, "The addition of cinemas in Boracay is part of our thrust of bringing modern conveniences to the island. Residents can now enjoy the latest box-office releases without having to travel out, adding more leisure activities to be enjoyed."
The CityMall-Boracay has two theaters with a 220-seating capacity and a state-of-the-art projection and sound system. Star Wars: The Last Jedi, the second film in the exciting Star Wars sequel trilogy, was shown for the cinemas' grand presentation.
(For more information, call 0917-3286017 or visit facebook.com/citymallcinema.)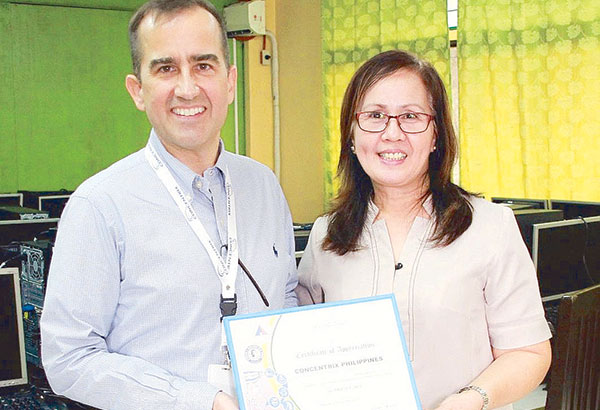 Concentrix Philippines country leader Elek Toth and Ponciano Bernardo High School principal Josephine Obligar.
Gift of empowerment
Students of Ponciano Bernardo High School in Quezon City will now be better equipped for their computer studies as leading global business service company Concentrix Philippines donated 50 computer units to their school. The donation will also help the school to qualify for the National Technical Certification and TESDA certification.
The school was chosen after winning first place in Brigada Eskwela, a volunteer program for the repair of schools before the start of each school year, which Concentrix Philippines is also a part of.
Ponciano Bernardo High School principal Josephine Obligar said, "We are grateful to Concentrix Philippines for providing additional computers for the students. With more computers available, learning for our students will definitely be easier and faster as they do not have to wait in line."
Concentrix country leader Elek Toth said, "We are proud to fulfill our commitment of giving back to communities. Concentrix has always been supporting programs that focus on education, welfare of the youth, as well as environment. With the donation, we hope to better equip these students to excel in their studies, and empower them to achieve their full potential."
The leading global business services company's outreach programs and charitable works include the Marawi Donation Drive, a coastal cleanup and "The Adventure Bear Program" that brought smiles to kids with cancer.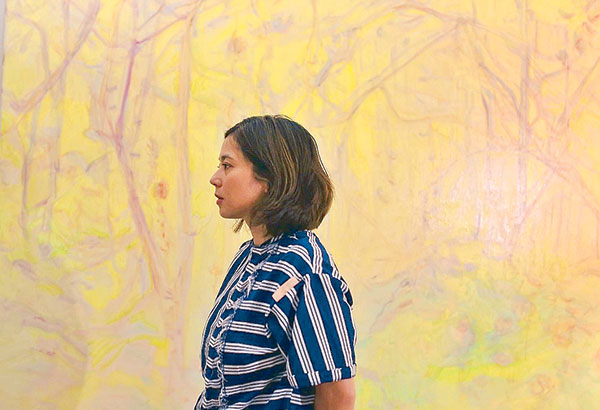 Melissa Echauz la O' photographed in front of her painting, Big Tropics Yellow, during her November 2017 solo show at Clear Edition Gallery, Tokyo.
'Eden'
Filipino artist Melissa la O' will mount a solo exhibition titled Eden at the eighth annual Art Stage Singapore.
La O', 43, staged  her first show at the Ayala Museum when she was 18 before studying architecture at Columbia University in New York and the Southern California Institute of Architecture in Los Angeles. She returned to the visual arts in 2007 after practicing architecture in the US for many years. Thirteen of her abstract works, curated by Salcedo Auctions, are currently on display at the SilverKris Lounge of Singapore Airlines in NAIA Terminal 3 and will run until May 2018.
For her Art Stage Singapore debut Eden, where she will be represented by Japanese curator Yoichi Nakamuta and his gallery Clear Edition, La O' will explore the idea of a tropical paradise through large-scale oil paintings of landscapes, foliage and flowers.
"Pieces of nature, such as passing sunlight, mist and falling leaves are smashed, stretched out and redistributed into a fixed space. Through my work, I search for the inherent architecture in nature and its effects on the built world," she said.
Eden by Melissa la O' will run at the 2018 Art Stage Singapore in Marina Bay Sands from Jan. 26 to 28, 2018.
(For more information, visit www.melissalaostudio.com.)
(Follow me on Instagram @pepperteehankee.)
All Credit Goes There :
Source link
Comments
comments