When life gets hectic and busy, we yearn for a place that is soothing, relaxing and beautiful. The problem is, it's the busy people who don't have enough time to go on frequent vacations. Recently, I found a car that solves that dilemma. 
The new Volvo XC90 was designed to be a haven: a place where the driver and passenger can relax, think, and travel in first class comfort. The interiors are the epitome of modern Swedish luxury and meticulous craftsmanship. I immediately took in the beauty of the cabin as soon as I sat inside the XC90—the sculptured leather seats, wood panels, cross brushed aluminum inlays, diamond-knurled control surfaces and beautifully framed center display. The airy interior gives the feeling of space and calm. Complementing the uncluttered elegance of the XC90's interiors are several high-tech features providing comfort and connectivity. 
Surrounded by a Bowers and Wilkins' 19-speaker Premium Sound audio system, the XC90 has an incredible concert-quality sound. In the center console is a tablet-sized touchscreen that is very easy and intuitive to use. The touchscreen interface combines car functions and navigation. I was delighted to see updated maps of Metro Manila streets while using the XC90's navigation system. The XC90 is also equipped with Volvo's connectivity offering called "Sensus," which gave me wi-fi connection and access to in-car entertainment applications such as Spotify, Pandora, Baidu or TuneIn.
The modern-day comfort of the XC90 is balanced with a spa-and-zen-like appeal. The XC90's CleanZone technology filters out harmful gases and particles which helps its driver and passengers breathe easy in polluted cities. The sculptured leather seats were designed for comfort based on latest ergonomic research, with added features like heating option, massage, ventilation, power-operated lumbar support, extendable seat cushions and side bolsters. 
As a full-sized SUV, the XC90 has generous legroom and large luggage space. The luggage compartment can accommodate two additional seats, which makes the XC90 a seven-seater SUV.
Business ( Article MRec ), pagematch: 1, sectionmatch: 1
Consistent with Volvo's leadership in automotive safety, the XC90 has Volvo's IntelliSafe (Volvo's overall safety system offering) and City Safety Technology that combines automatic braking and collision-avoidance functionalities to guard against a range of potential accident scenarios. A new feature called "Run Off Road Mitigation" provides auto-steer functionality to keep the XC90 on the road. It also offers semi-autonomous drive with Pilot Assist, which works up to 130 km/h on clearly marked roads. For out-of-town drives, the XC90 has "Large Animal Detection" to help avoid collisions with large animals.
The feeling of safety and security is enhanced by the reassurance that the XC90's powerful engine is capable of going anywhere. The Volvo XC90 D5 is powered by a Drive-E powertrain, four-cylinder twin-turbo-charged diesel engine with 225 horsepower. While the XC90 is a powerful, four-wheel drive SUV, it is amazingly fuel-efficient. Consuming only an approximate 17.6 km/l, my fuel meter barely moved after driving around the city for two days. 
The XC90's T8 Twin Engine delivers all the benefits of a high-performance, low-emission petrol engine with CO2 emissions at just 49 g/km. It is one of the most powerful yet efficient 7-seater premium SUVs currently available on the market.
The exterior of the XC90 exudes a commanding presence. Volvo's Exterior Designer Anders Gunnarsson describes the XC90 as having "an attitude that expresses confidence and self-belief. If you're proud and relaxed about your position in the world, you'll stand upright—just like the Volvo XC90."  The XC90's front and rear are striking without being loud, an aspect likely attributable to its contemporary Scandinavian design.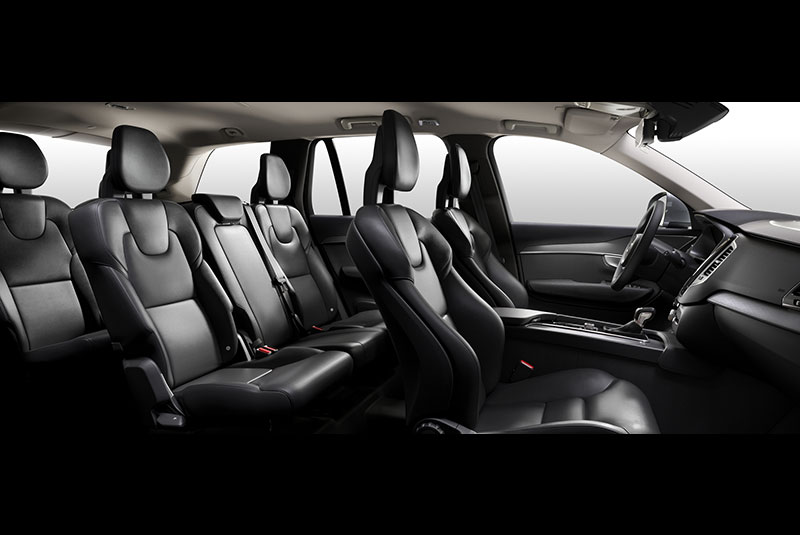 Just like a five-star hotel, the XC90 has received recognitions which affirm its first-class rating. The XC90 has won over 118 awards since its global launch including Car of the Year, Best Luxury SUV, and Overall Best in Class. 
Whether driving along the highway or rough roads, or weaving through traffic, the XC90 provides intuitive technology and luxury to make every journey comfortable and worry-free. As I journey from one destination to the next, I can work on my laptop, rest, think or relax inside the XC90 with a variety of features at my fingertips (thanks, among others, to massaging seats, high-quality sound system and wi-fi connectivity). For busy people like me, that's as close to fitting a vacation in my workweek without having to sacrifice the demands of my work.  Vacation without having to leave my workspace? That's how the XC90 makes me feel like the world revolves around me.
All Credit Goes There :
Source link
Comments
comments