MANILA, Philippines — After Rico Yan and Claudine Barretto, Jericho Rosales and Kristine Hermosa, John Lloyd Cruz and Bea Alonzo, Philippine showbiz has seen the coming and passing of countless love teams but not many as endearing.
Then came Daniel Padilla and Kathryn Bernado who captured the hearts of Filipinos with their charisma, talent and chemistry. They successfully became one of the most loved, followed and supported love teams of today—as proven by a string of their hit TV series and blockbuster movies.
The KathNiel effect, indeed, is undeniable. Their loyal fans dream that someday, their relationship will turn from reel to real (they haven't admitted it yet but their actions say otherwise).
While we all await their "official" confirmation, let's first relive KathNiel's most kilig and hottest moments through the years that got everyone lining up and swooning in the cinemas and glued to their screens!
2011-2012: The beginning of KathNiel
The year 2011 marked the beginning of Kathryn and Daniel's pairing in an ABS-CBN youth-oriented series titled "Growing Up." The station immediately nurtured their potential as a teen love team so that in 2012, they starred in "Princess and I," which further cemented their screen chemistry. Because of this, they were immediately casted in star-studded movies "Sisterakas" and "24-7 In Love."  
2013: Their big-screen debut as Patchot and Ivan
The following year, the pair's popularity continued to rise as Star Cinema starred them in their big screen debut, "Must Be… Love." In the film, we witnessed Kathryn play the boyish Patchot, in love with Ivan (Daniel) who saw her only as a friend.
Entertainment ( Article MRec ), pagematch: 1, sectionmatch: 1
Kathryn was also pitted against the stunner (pre-LizQuen)Liza Soberano, but in the end, she transformed from being "one of the boys" to becoming Daniel's meant-to-be. Didn't we all see the beauty in Kathryn beyond appearances! 
2014: Novel characters Kenji and Athena come to life
The pair rendered unforgettable portrayals of Athena and Kenji in 'She's Dating the Gangster.'
With KathNiel's fandom growing bigger and stronger, Star Cinema made the wise move of casting the pair for the screen adaptation of best-selling Wattpad novel, "She's Dating the Gangster." The result: Iconic portrayals of Kenji and Athena in one unforgettable movie.
Athena, an awkward young lady, and Kenji, a gangster wanna-be, took everyone to a roller coaster ride. We watched as Athena pretended to be Kenji's girlfriend only to make his ex-girlfriend jealous. But as they went along, their feelings for one another developed and got real.
2015: Jackie and Kiko in 'Crazy Beautiful You'
A year later, KathNiel was back with another box office. This time around, Kathryn was the rebellious one named Jackie, while Daniel was the kind-hearted Kiko.
With the scenic Mt. Pinatubo in the background, Jackie and Kiko went together in a medical mission for the Aetas of Tarlac. This brought them closer together in ways they never imagined, especially to Kiko who fell in love with crazy, beautiful Jackie.
It was the Valentine's Day movie that made everyone's heart melt.
2016: Sharing their first on-screen kiss in Barcelona
As with every prized talent of ABS-CBN, KathNiel was also filmed abroad in "Barcelona: A Love Untold." But it was much more than that! The film also marked the love team's departure from the romantic-comedy genre and entry to full-pledged drama. No less than Olivia M. Lamasan directed the film, which also saw their first-ever on-screen kiss.
The fans were also happy to see the mature versions of Kathryn and Daniel as Mia and Elly despite shedding much tears especially over the line: "Wag mo akong mahalin dahil mahal kita. Mahalin mo ako dahil mahal mo ako. Because that is what I deserve."
2017: Becoming Mr. and Mrs. in their latest outing
As if these weren't all enough, Daniel and Kathryn gave us all the butterflies when they became on-screen Mr. and Mrs. in "Can't Help Falling In Love."
Released only this summer, the movie saw Dos and Gab trying to break off their marriage, but could they really? Instead of finding legal grounds for a separation, they discovered more reasons to stay together.
2017: The hottest KFC love team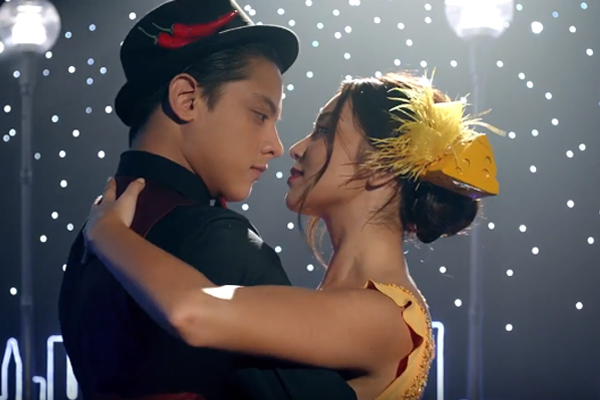 Daniel is spicy and dashing red chili while Kathryn is warm and charming cheese. Together, they make the perfect pair.
Just when you thought that 2017 was too hot to handle for this well-loved pair, wait 'til you get a hold of this — KathNiel shares with us KFC's hottest new love team (apart from them, of course) — Chili and Cheese!
Introducing the new KFC Chili Cheese Chicken: Hot & Crispy chicken dipped in lip-smacking chili cheese sauce. In its newly released TVC, Daniel is spicy and dashing red chili while Kathryn is warm and charming cheese. Together, they make the perfect pair.
The KFC Chili Cheese Chicken is made extra special with chicken rice, a side of mushroom soup, and a regular drink for only P115*!
So what are you waiting for? Show your love for KathNiel by trying the KFC Chili Cheese Chicken today!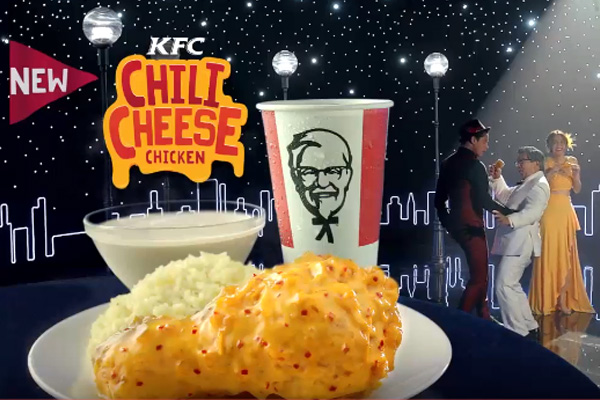 The KFC Chili Cheese Chicken is made extra special with chicken rice, a side of mushroom soup, and a regular drink. 
*Price varies
All Credit Goes There :
Source link
Comments
comments