It could have happened a few years ago — Diether Ocampo's crossover from Kapamilya to Kapuso, but for his fickle-mindedness.
As Funfare had reported in a "Breaking News" item, Diether's contract with ABS-CBN was about to expire and he was already into the final, but very secret stage of negotiation. In fact, an exclusive contract had already been drafted and all it needed was Diether's signature, until…
Well, he changed his mind at the last minute presumably because he got a "tempting" renewal offer from Kapamilya. Of course, the Kapuso network felt slighted…yes, "used."
I was in Sydney to interview Sam Worthington for the James Cameron hit project Avatar when I got a frantic call from Diether who was demanding to know who fed me the "scoop." When I told him that my source was a Kapuso bigwig, he shut up. "Next time you write anything about me," he ordered, "you call me up first." I shot back, "Uy, Diether, when you get an offer I don't require you to call me up for consultation, in the same way that I don't have to check with any star if I have a verified story. You have a job to do and I have mine." 
Since then, Diether has jumped from Kapamilya to Kapatid, back to Kapamilya and now to Kapuso. Last seen in the Kapatid soap Bakit Manipis Ang Ulap, Diether suddenly disappeared from the scene, reportedly to enjoy time with his rich girlfriend abroad. A Funfare DPA said that the Kapuso staff included Diether's name as one of the cast of a forthcoming soap. Somebody reportedly crossed out Diether's name.
But there's a consolation. In tomorrow's Father's Day episode of Magpakailanman, Diether stars with Megan Young.
Entertainment ( Article MRec ), pagematch: 1, sectionmatch: 1
"Nothing official yet," according to ALV Talent Circuit (headed by Arnold Vegafria) when asked if Magpakailanman is paving the way for Diether's becoming a certified Kapuso. "Mostly guesting lang muna."
Out-shadowed by new generation of actors and overtaken by his contemporaries (like Piolo Pascual and Jericho Rosales) who have successfully reinvented themselves and remained in-demand, Diether this time has no bargaining power to speak of. He's playing his last card as an actor so he better make good and prove his "loyalty" to Kapuso.
So how did Diether occupy his time during his prolonged absence?
Revealed the ALV staffer, "He spent his time in the US West Coast where he became a registered pilot, dabbled in digital photography and also attended some acting classes and workshops."
Good. At least Diether has something to fall back on.
Taki (second from left) with co-endorsers Jaime Fabregas (left) and PBA player John Wilson, and Dr. Emehly Sevilla of Vine Holistic Medical Aesthetics. — Photo by Celso de Guzman Caparas
Taki was a bullying victim
Did you know that Taki, the fast-rising Kapuso seen in the romcom Trops and now an Eat, Bulaga! Dabarkad, was a cyber bullying victim?
"Before, I cried a lot after reading those nasty in social media," Taki told Funfare contributor Celso de Guzman Caparas during her contract-signing with the Vine Holistic Medical Aesthetics of Dr. Emehly Sevilla. "But now, I just laugh them off and delete their nasty posts from my social media accounts."
Taki, 17 (last April), is Takako Saito whose father is Brazilian and mother is half-Filipino/half-Japanese who raised her in Japan and France. 
"Taki is multilingual," said Celso. "She can speak French, Japanese, English and Filipino fluently." Taki dreams of making a teleserye or a movie with Marian Rivera, Jennylyn Mercado and Dennis Trillo. If given a chance, she wants to star in an action movie.    
Also endorsers of the same clinic are Jaime Fabregas and PBA player John Wilson (of Phoenix Fuel Masters).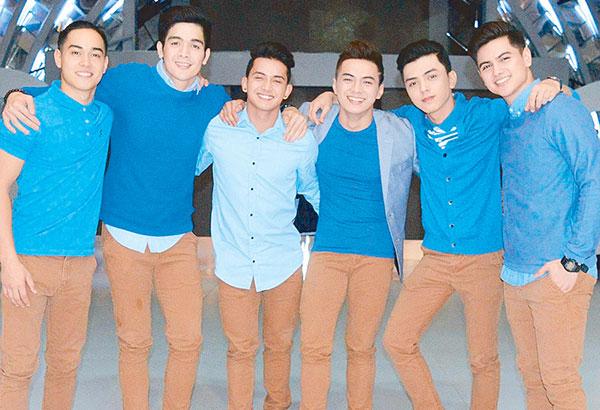 The wholesome Pambansang Baes, from left, Kim Last, Tommy Peñaflor, Miggy Tolentino, Kenneth Medrano, Joel Palencia and Jon Timmons — Photo by Ver Paulino
Pambansang Baes are put to a test
Questions of the hour with the Pambansang Baes in sharp focus:
Is that really Joel Palencia shown on social media lip-locked with a guy?
Is that really Kenneth Medrano (the winner) shown also on social media sitting on a toilet bowl with nothing left to the imagination?
Why did (again) Kenneth Medrano post his pictures (if he did) with his alleged wife? (Nothing wrong with that, except that it could affect the way girls "fantasize" about him.)
4. And how do the four other Pambansang Baes (Kim Last, Miggy Tolentino, Jon Timmons and Tommy Peñaflor) feel about the whole mess?
(E-mail reactions at entphilstar@yahoo.com. For more updates, photos and videos, visit www.philstar.com/funfare or follow me on Instagram @therealrickylo.)
All Credit Goes There :
Source link
Comments
comments