The sacrifices of our soldiers are well recognized not only by their families, but also by the whole country. As days pass by in the battle of Marawi, the prayers for the war to end continues.
Last Sunday, the Go Negosyo team – led by Ginggay Hontiveros-Malvar – flew to Cagayan de Oro and Iligan to repack items that were donated to the soldiers as part of the Go Negosyo Kapatid for Marawi initiatives. From canned goods, to soaps and other personal hygiene products, our "care packages" were filled to the brim.
Thank you to LBC of Santi Araneta and Sabin Aboitiz and his staff Dodong Sebandal of Pilmico Iligan, all our items were properly shipped and stored before packing. With more than 50 volunteers, items were carefully placed inside the drawstring bags printed with a special message, "We are grateful for your sacrifice. Our prayers go with you. Come back home safe. From Go Negosyo Kapatid Family."
After packing 5,000 bags for our troops, our team then proceeded to their camps in different areas to distribute the care packages. Because of security concerns, there were several checkpoints and only a limited number of people were allowed to enter camps and travel near Marawi. Luckily, our team was escorted by some of the officers.
Handing out the care packages to our troops was the highlight of the trip. They were appreciative of the simple packages that we packed. More than the goods, the troops received handwritten letters and messages from different people. These were lovingly provided by Zarah Juan, Myla Villanueva and Gianna Montinola and their respective teams. Some were written by kids, students in universities, and some from OFWs.
As Ginggay and my team shared, the soldiers were quiet as they read the messages of support. Their aura changed after reading the messages. Soldiers cried happy tears as they learned that many people are praying for their success and safety. If only I could share with you the videos, you would see their tears of joy. Somehow, through this effort, we are boosting their morale and giving hope to them.
Business ( Article MRec ), pagematch: 1, sectionmatch: 1
One soldier said, "Hindi biro ang Marawi. Malaking bagay po ito. Maraming salamat po sa inyo." A lady soldier also shared why she was crying after reading the letter, "Na-touch lang ako na pinagdarasal nila kami." Col. Reginio also said, "Salamat sa inyo dahil unang beses naming naramdaman na hindi lang namin ito laban kundi laban ng lahat ng Pilipino."
Go Negosyo Team together with Secretary of National Defense Delfin Lorenzana and one of the wounded soldiers.
The letters were not long letters. Some were just written in notepads but contained prayers, bible verses, and words of encouragement. Let me share some letters: "When things get hard, kneel and pray. We may not be with you during these dark days, but you are in my prayers. All that you do for this country would be regarded with respect. We thank you for being our heroes."
Here is another letter, "Maraming salamat sa inyong sakripisyo upang itaguyod ang kapayapaan at kalayaan. Kayo po ang aming mga bayani. Mabuhay po kayo! Para po sa kinabukasan ng bayan, ng bawat Pilipino. Lubos po naming pinapasalamatan ang lahat ng binigay niyo para sa laban sa Marawi."
The Fourth Mechanized Infantry Battalion posted on their Facebook account: "It may be a simple gesture to you, but to the soldiers who are enduring the loneliness of being away from their love ones, constantly staring in the eye of the possibility of not seeing their families in this world again while combating those who seek to harm you. It is heart and soul touching to see citizens who are truly concerned to their soldiers especially reading heart pinching letters from you."
President Duterte also happened to be visiting the wounded soldiers and awarding them for their service. Our team, through the help of Secretary Delfin Lorenzana, was able to share the initiative of the private sector led by Go Negosyo Kapatid community. He saw the bags we were distributing and the contents and was pleased to read the printed messages. He said the soldiers would be glad to receive the items. The President appreciates the humanitarian effort that many organizations like Go Negosyo are doing.
To us here in Manila or in other safe areas, we may think that such effort are simple, but to those in the battlefield, the simplest things matter the most. The love letters for the soldiers made the greatest impact more than the products. Yes, they need food, drinks, and medicines, but the thought of having people pray for their safety meant a lot.
We are still uncertain of the days to come in Marawi. We do not want to lose more people because of acts of violence and terrorism. But together, let us pray that it will end soon with minimum losses.
We would like to thank the Kapatid community: Jaime Zobel de Ayala (Ayala Corporation), Manny Pangilinan (PLDT SMART Group & Metro Pacific Corp.), Tessie Sy-Coson (SM Group), Ramon Ang (San Miguel Corp.), Robina Gokongwei-Pe (The Generics Pharmacy), Lance Gokongwei and Nilo Mapa (Universal Robina Corp.), Federico Lopez (First Philippine Holdings), Michael Tan (Asia Brewery), Santi Araneta (LBC), Sabin Aboitiz (Pilmico Iligan), Kevin Tan (Megaworld Corp.), Chris Po (Century Pacific Food), Corazon Ong and Jerome Ong (CDO Foodsphere Corp.), Tennyson Chen (Bounty Fresh Corp.), Dan Lachica (SEIPI), Alfred Ty (Metrobank), Henry Lim Bon Liong (SL Agritech Corp.), Ernest Cu (Globe), Felix Ang (Auto Nation Group), Jojo Concepcion (Concepcion Industries), Injap Sia and Tony Tan Caktiong (DoubleDragon Properties), Jean Henri Lhuillier (Cebuana Lhuillier), Kettle Korn & RFM Corp., Mildred Vitangcol (St. Peter's Chapel/MAP), Evie Abraham and employees (Robinsons Bank), Bank of Tokyo Mitsubishi, Columbia International Food Products Inc., Alfredo Yao (Zesto Corp.), Nikki Tang (D Mark Beauty), Gina Lorenzana (Unilever Philippines), Cecilio Pedro (Lamoiyan Corp.), Mary Ann Montemayor (Villa Margarita), Steve Benitez (Bo's Coffee), Rey Go (Federation of Filipino-Chinese Chamber of Commerce and Industry), Jun Sy (Tao Corp.), Rommel Sytin (Foton Motor Philippines), Connie Haw (Advance Paper), Tony Panajon (PharmaRex), Josie Go (Karimadon), Bernie Liu (Golden ABC), Sumitomo Mitsui Banking Corporation employees, Myla Villanueva (MDI Holdings), Patty Chilip (Standard Insurance), Rex Daryanani (Federation of Indian Chamber of Commerce and Industry), Gianna Montinola (Far Eastern University), Maymay Liechtenstein (WomenBiz), Marites Dagdag (Clorox Philippines), Elvie Tan (Ozamiz Chamber of Commerce), Stephen Lee Keng (Anchor Land), Wilfred Gui (Guifts), Siu Ping Par (PR Gaz Haus), Zarah Juan (Greenleaf Ecobags), Paul Rodriguez (Super Shuttle RORO), and Miguel Belmonte ().
For interested donors to the #KapatidForMarawi, you may get in touch with the Go Negosyo team: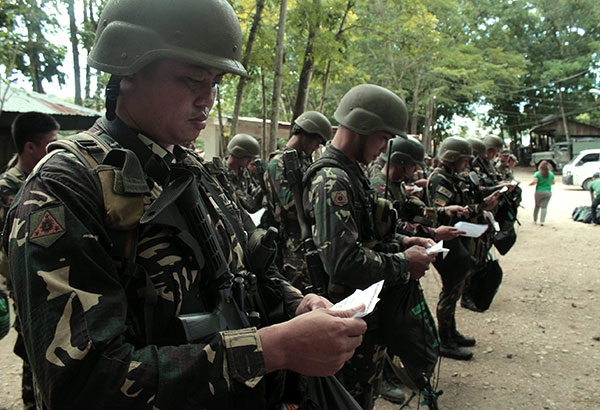 Troops read letters of hope and encouragement together with their Go Negosyo Kapatid Care Packages.
For all letters or messages of support, you may coordinate it with Jarielle Reyes (09189656333), for all items for donation, please coordinate it with Gelle Jimena (09173127984 or 09998879276), for cash donations, please call Sophia Ramos (09285523285) and for more information, please contact Ginggay Hontiveros-Malvar (09175249957 or 09088980428).
All Credit Goes There :
Source link
Comments
comments