During one of our class reunions, my classmate Lisa Mapua politely refused a glass of wine during one happy hour we shared. Hmm, was she pregnant in our mid-life? Lisa adamantly insisted she wasn't expecting — she was training to run a rehab center for substance abuse and that was one requirement.
But giving up alcohol was perhaps the smallest sacrifice for Lisa, an architect by profession, a mall manager by occupation, and a mother by choice.
Above all else, motherhood was her life's calling and it brought her to her mission in life — to save the Robert Downeys in our midst so that they, too, can live again in the fullest sense of the word. Just like her own daughter, Monica.
Lisa resolved to be the architect of the rebuilding of many lives that were broken by substance abuse. Though it takes more than an architect to rebuild a home or a life — Lisa wasn't afraid to go into the drawing board. She is a builder, after all. Why not build a bridge to hope, this time?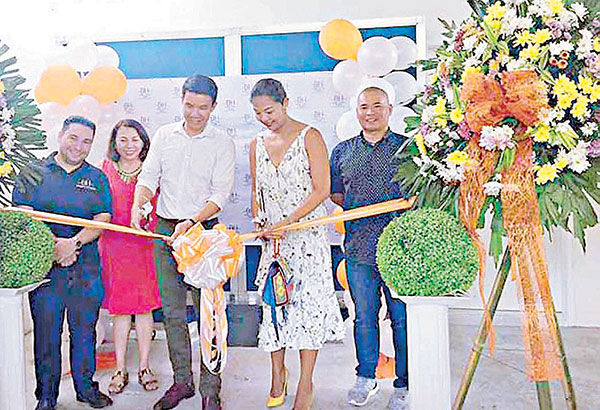 At the inauguration of Bridges of Hope Pampanga in June are (from left) Bridges of Hope senior program director Gimo Gomez, Bridges of Hope Pampanga executive director Lisa Mapua, Angeles City Vice Mayor Bryan Matthew Nepomuceno, lawyer Erika Nepomuceno and Bridges of Hope-BF Parañaque executive director Robert 'Jon' Ty.
Photo from bridgesofhope.com.ph
This is her story:
Three years ago, I was at my wit's end. My daughter Monica was on a very self-destructive path and I knew that if I did not intervene, she would be dead. She agreed that she needed help and that rehab might be the answer. So, we researched and tried to find an appropriate rehab facility in Angeles City, where we live. We widened our search to Bataan and Bulacan, and then cast our net wider until we found Bridges of Hope (BOH) in BF Parañaque. As soon as we entered the BF facility, we knew that was it. This was the place. Bridges of Hope utilizes an eclectic Therapeutic Community approach, which allows tailoring of the program to the needs of the resident and can address addiction to drugs, alcohol, gambling, or dysfunction. It provides a highly structured program that allows people to live together as a form of therapy. Within this community, residents can safely explore their addiction triggers, discover coping mechanisms, and learn to be true to their selves, their families, their communities, and to God.
Residents are assigned chores, and participate in workshops, counselling, therapy, Bible study. All of these, we felt, my daughter needed in order to recreate herself into the "New Monica." Of course, this is all predicated on the fact that each person has the capacity to grow and to change. Some, however, are just lost in the fog of their addictions and dysfunctions, and must be taught how to change and guided through their growth. Yes, I do believe that within every substance abuser is a potentially brilliant Robert Downey Jr., waiting to be set free and to shine under a new light. Every person has value and must be defined not by his addiction. He is not his addiction. But the road to recovery is never smooth, so Bridges of Hope offers lifetime aftercare. Program completionists are welcome to return, to refresh, to participate in wholesome outings and activities. They need to keep the center and the counselors as their touchstones for sobriety and a new life. I did not see my daughter for several months. I realized that we both needed this space to recover from years of stress. I was so appreciative that as difficult as she could be, her counselors never gave up on her, and kept me updated on her progress. Knowing that she was safe in the center allowed me to rejuvenate and rediscover the fun side of me that had been lost for so long. I am so grateful to my friends and family who supported with their love, concern and kindness through the years. One of them told me something I will never forget: "It takes a strong person to ask for help."
As my daughter progressed through the program, I had to make weekly visits to the Bridges of Hope BF Center, at times driving five hours one way from Angeles City, mostly due to the traffic in Metro Manila. I would often tell the executive director Robert "Jon" Ty that he should put up a BOH center in Angeles City. They already had two campus branches, BF and another one in New Manila, Quezon City and they were opening another in Cebu. He told me to do it: "Open one in Angeles! We'll support you!" I prayed about it and asked the Lord: "If this is your new mission for me, then you will help me make it happen. Show me the way." And He did…magnificently! Everyone I encountered in this journey to establishing Bridges of Hope Angeles has been kind, generous, helpful, and everything I needed popped up just when I needed it. He kept sending me such powerful signs that I simply could not ignore His will. It strengthened my resolve in my mission and I proceeded with a passion for this "turning lemons to lemonade" project.
I set my sights on finding a site. I realized that if you want the families to actively participate in the rehabilitation, then the location must be convenient for them. I found an abandoned grade school campus in a quiet section of a bustling commercial district and I thought the large classrooms with high ceilings were perfect! Being an architect, I worked with my contractors, also architects, to plan the zones, renovate the rooms, find the right balance between safety and security and ease of operations. And nine months after signing with BOH, we were ready to open and accept our first residents, many of whom are from the provinces north of Manila. So, three years after my daughter first entered rehab, we come full circle and have transformed what is possibly the most negative part of our lives into something positive. She and I are now ready to give back and help other families who may have felt as hopeless as we did three years ago. The big thing that transformed our lives is that we really did find and cross over that Bridge to Hope.
(For inquiries, call Bridges of Hope hotline 0917-5098826. BF at 519-2730 or 622-0193,  Quezon City 503-3438 or 0917-8325401, Cebu at 032-420-9287 or 0917-7046659 and Pampanga at 045-436-5835, 0197-3035540 or 0908-8641712.)
(You may e-mail me at joanneraeramirez@yahoo.com.)
All Credit Goes There :
Source link
Comments
comments