Is it true that Wowowin host-producer Willie Revillame is trying to win her heart by showering her with expensive gifts (brand-new car and branded items, etc.)?
Wowowin co-host Ariella Arida, third runner-up in the 2013 Miss Universe pageant, simply shrugs off that question with a smile.
"It is not true," she started this Body Talk feature. "Kuya Willie is very professional and he treats everyone the same way. He also likes giving gifts to everyone." (Contacted for comment, Willie said, "Yes, it's true. I gave gifts to everyone in Wowowin, and not only to Ariella.")
The truth is that, with her showbiz earnings (also from appearing on shows other than those in GMA), Ariella can afford to buy (if she wants to) anything and everything she wants.
"But I'd rather save than splurge on anything," said Ariella who has just been tapped as the new face of CosmoSkin Grapeseed Extract (GSE) and FiberMaxx Daily Fiber Supplement, manufactured by Bargn, the company established in 2006 by Niño Bautista and John Redentor Gatus. "Hindi ako magastos."
A Scorpio (Nov. 20, 1988), Ariella stands 5'7", weighs 125 lbs., wears small-sized shirt, and measures 34-25-35.
Entertainment ( Article MRec ), pagematch: 1, sectionmatch: 1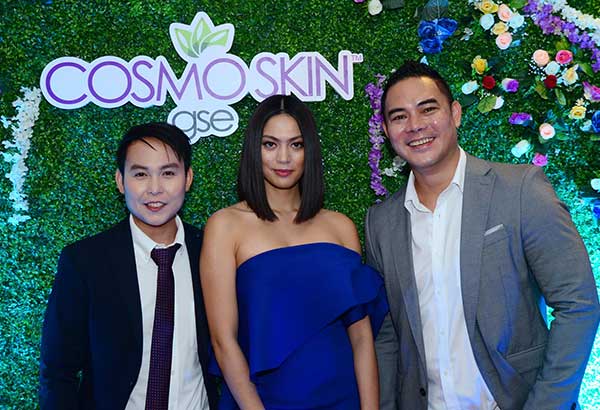 With Niño Bautista and John Redentor Gatus of Bargn, the company that manufactures the products that Ariella is endorsing
How challenging is it to maintain your "Miss Universe Philippines" figure?
"It's so challenging to maintain that figure. It requires a lot of effort and hard work. I need to do cardio regularly and weight training to tone my muscles."
What kind of diet do you follow?
"I tried the Ketogenic diet — a diet that's centered on high fats and protein and low carbs and sugar. It worked for me for two months but I had to stop because it gave me a vitamin deficiency. So now I'm back to my normal diet, which is basically eating everything in moderation but less carbs and sugar as much as possible. I don't eat rice."
What is for breakfast, lunch and dinner?
"For breakfast, I do my own granola bowl, which consists of muesli, chia seeds, coconut flakes, avocado, and skim milk. For lunch, I would have any meat dish paired with a salad, and for dinner, I eat a serving of salad paired with assorted fresh fruits."
How much water do you take per day?
"I drink approximately two liters per day."
What vitamins are you taking?
"I take multi-vitamins and vitamin C. And since I live a very active lifestyle, which is mostly spent outdoors, I take CosmoSkin GSE Dark Spots Corrector every day to make sure that my skin is always free of blemishes, and melasma."
What workout do you do and how often do you do it?
"I do Cardio/HIIT training and weights, three times a week."
What part of your body still needs improvement?
"I guess as I grow older, I need to work out all parts of my body."
What part of your body is most vulnerable?
"My abs. It's the indicator that tells me if I gain or lose weight."
Any other health regimen?
"Just the basic ones; I keep myself hydrated all the time, take balanced meals, and do regular exercise."
How do you take care of your skin?
"I moisturize my skin every day coupled with a good night's sleep. I always wash my face and, of course, I take CosmoSkin GSE."
How much sleep do you get per night?
"Five to eight hours."
Favorite sleepwear?
"An oversized cotton shirt and sometimes pajamas."
How many pillows do you sleep with?
"Four."
Last thing that you do before you go to sleep?
"Wash my face, take my vitamins, pray, and check my phone."
And the first thing that you do as soon as you wake up?
"Wash my face, drink water, and check my phone, too hahahaha!!!"
How is your love life?
"It's OK."
Any boyfriend? If none, what qualities do you want in a man?
"I am attracted to a man who is family- and goal-oriented, responsible, and outdoorsy."
How do you unwind?
"Traveling and trips to the beach are my favorite activities if I like to unwind."
How often do you see your dentist, dermatologist, and doctor?
"I see them at least once or twice a month."
Favorite hideaway/favorite city?
"My favorite hideaway is the beach and my favorite city is Tokyo or any other city in Japan."
Three men that you find sexy?
"Cristiano Ronaldo, Ashton Kutcher, and Song Joong Ki."
Using only body language, how would you make a man know that you admire him?
"I stare directly at his eyes."
(E-mail reactions at entphilstar@yahoo.com. For more updates, photos and videos, visit www.philstar.com/funfare or follow me on Instagram @therealrickylo.)
All Credit Goes There :
Source link
Comments
comments