MANILA, Philippines — As seen in Fashion Weeks from New York to Paris, footwear trends have evolved from painful high-heels and heavy boots, to lightweight and comfortable flats — yes, even for models.
From making shoes more complex and technical, shoemakers nowadays race to make the lightest and most comfortable shoes suitable to as many clothes and scenarios possible.
For those wishing to be in-trend for the upcoming holiday parties ahead, here are some of the latest sole mates that could give your style some kick.
The 'beast-free'
"Not a single hair or hide from any animal, anywhere has been used in crafting these shoes." Such has been the definition of "beast-free" by footwear label Native, following the global appeal for products to be manufactured without harming animals and the environment.
Out of the temperate rainforests of Vancouver, Canada, Native Shoes came to fore in 2009 with its signature Future Classics, a new range of footwear inspired by the past and shaped for the future. Fast forward to today, the global brand continues to revolutionize as it explores the theme of Mechanical Botanical for its latest collection.
Drawing inspiration from the juxtaposition between the rich verdant backdrop of grassy jungles and the raw and industrial vibe of manmade materials, from palms and perennials to flowers and ferns, this season sees the introduction of new autumnal colors such as Botanical Green, Chameleon Pink, Root Red and Petal Purple; along with a flourishing Matease print.
Meanwhile, classics are given a boost for the somber season with the addition of new textiles and treatments to weatherize popular styles. Made for those who wish to move forward with momentum, the smooth and easy Lennox makes a snazzy comeback with the all-new Lennox Block iteration. Built with the same three-part EVA construction, these well-loved aesthetically athletic sneakers now come in three color block variations that each feature hand-painted contrast heel and mudguard details. Plus, two soft-top favorites — the Apollo Moc and Monaco — take on a new look with its all-new Waxed and Coated fabrications, coupled with a soft micro fleece for warm insulation.
The genderless sandal
Sandals with criss-cross and thick straps have been inspired by men's footwear. Melissa/Released
As the world gets smaller, then so it becomes easier to plot not only more places, but the many virtual spaces in which the world is connected. In that sense, as borders close in and more points are plotted in the grand map of the world, the more necessary it is to point out specific locations (whether physical or virtual). The Melissa Mapping collection released eight pairs that represent these locations.
Melissa Shoes kicked off the holidays with the release of its Mapping Holiday 2017 collection, a unique concept taken from the increasing connectivity of a fast-developing world.
Among the key pieces in the collection are unisex sandals suitable for both men and women.
During the launch, guests metaphorically stepped inside a shoe-filled world right before their very eyes. A thorough shoe display installation simulated a shoe-laden world map, where they got to survey the collection up close.
"Shoefie" stations were also present, composed of various tiles that represented several parts of the globe: cobblestones — reminiscent of European sidewalks, wood — embodying distinct Asian locations,marble — as seen in historical sites in the Western Hemisphere, and Moroccan print — containing the distinct eccentricity of the Middle East. Guests were able to embed their event experiences in the virtual map by posting their own images online.
To top the experience off, guests were treated to a full interpretation of the mapping concept as the brand unveiled an exclusive four-piece fashion collection inspired by the shoes. At the helm of this fashionable pursuit is EsmePalaganas, the young designer behind the Basic Movement label, whose designs are celebrated every season for their clean lines and "elevated basics" aesthetic.
Esme does away with too much frill in her aesthetic, but instead focuses on intermediate interpretations of fabrics, cuts and silhouettes in the clothes she produces. Given the architectural and industrial slant felt in the collection, she was an automatic fit for the launch.
Donning Esme's creations are four style mavens, personally picked by the brand's team as they make visible marks in their own personal paths and careers. Janeena Chan, a model and blogger has made a name in hosting; Vanessa Vergara, a prominent former beauty executive has spread her wings and accommodated life as a traveler and scuba diving instructor; Thea de Rivera, a restaurateur behind the city's hippest, most forward-thinking dining spots is also a wine sommelier and beauty enthusiast, and Tina Ong, former merchandiser for the most prominent fashion brands now dabbles in the food business while maintaining her place as a blogger and one of the country's best dressed women.
The sock-shaped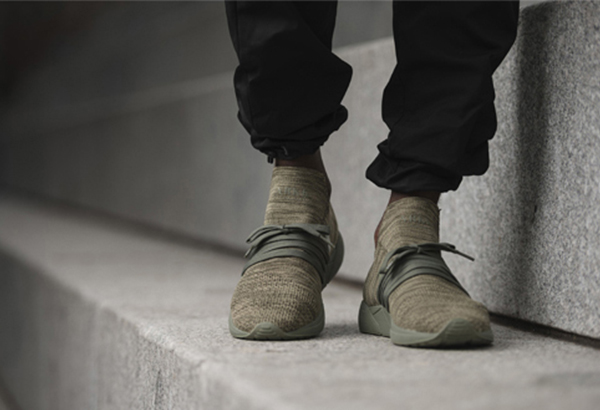 Sneakers shaped like socks make them easy and comfortable to wear.
Opulence and over-embellishment have been replaced by a craving for simple, clean lines.
The Philippine fashion set is reverting to streamlined aesthetics and functional styles like Arkk Copenhagen, a streetwear brand launched in the Philippines just last September at partner lifestyle store The Nines.
A Nordic sneaker brand established by two Danish co-founders with a passion for streetwear style, Arkk offers an extensive portfolio of luxe, "athleisure" sneakers, including sock-shaped footwear, a big trend this season.
The brand was founded in October 2014 by two childhood friends Kasper Høj Rasmussen and Thomas Refdahl. They previewed their first collection at July 2015 at SEEK Berlin to rave response. At launch in September 2015, they successfully sold out within the first two weeks. Today, the brand can be found at exclusive retailers in 37 countries across the world.
Rasmussen and Refdahl have a combined experience of over 20 years in fashion, business and marketing, though it was their shared interest in creating a product that sealed the deal on the partnership.
One hundred percent of the sneakers are designed in Copenhagen, Denmark. They stand out with custom detailing and custom-made outsoles (S-E15, H-X1). The brand will always pay homage to minimalistic Nordic design and architecture. A large source of inspiration also comes from visiting new places through traveling.
According to the founders, the brand's name leads the thoughts towards a ship, indicating that we always must go forward no matter what.
The half loafer or half mule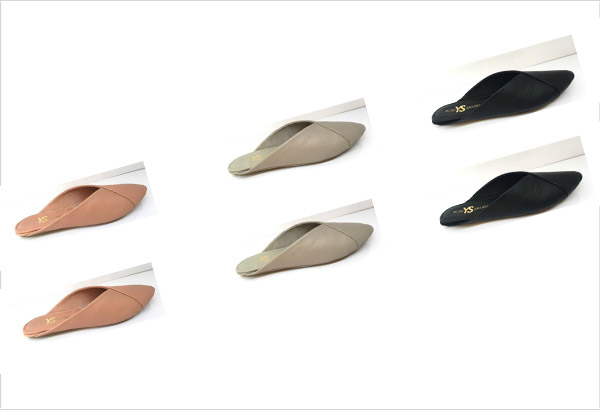 Half mules have been inspired by fairytales, specifically, Cinderella's glass slippers. Yosi Samra/Released
Do you find it uncomfortable to wear closed shoes but you still need to wear something like it anyway at work or in a semi-formal occasion?
Today's in-trend, slip-on half loafers give the wearer the feel of wearing closed shoes, but with the ease and comfort of slippers. Since the toe nails are covered, half loafers are the way to go if you still have no time to go to the salon for a pedicure.
The latest fall catalogue of Yosi Samra includes mules, sandals, ballet flats and half loafers.
The lifestyle-and-performance combo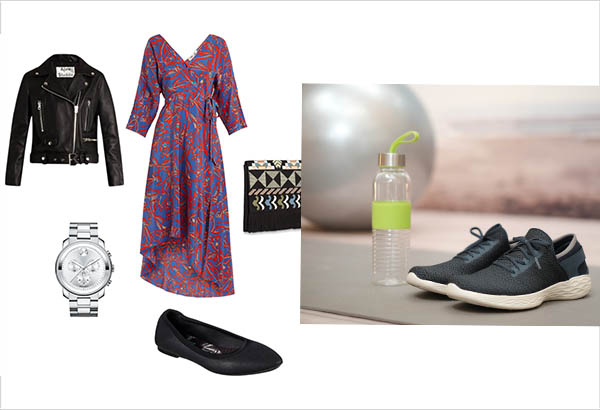 Performance-inspired lifestyle footwear. Skechers/Released
When traveling, it could be a hassle to bring separate shoes for the gym and for daytime or nighttime activities.
Thus, footwear label Skechers thought: "Why not bring only one shoe for walking, working out and #OoTDs (outfits of the day)?"
As answer to this, the brand introduces Cleo, its first ever ballet flats that like its other shoe categories, still has the signature memory foam that makes it ideal as everyday office go-to shoes.
Likewise, You is a versatile, minimalist collection that is a crossover between performance and lifestyle shoes. The fresh collection is made for the young woman who wants to go from the office to the yoga studio to dinner in comfort and style.
The new collection takes the latest technologies and innovations from the brand's Performance division and leverages them to meet the lifestyle needs of the self-aware woman searching for more balance in her life.
The lightweight shoes feature a responsive, cushioned insole to make every step comfortable, soft woven mesh and sock-like knit fabric for breathability and freedom of movement, and a multi-directional traction sole.
Available in a predominantly neutral palette, the new sneaker is versatile and can be easily paired whether with active wear, a casual work outfit, or styled up for lunch with friends.
The furry friends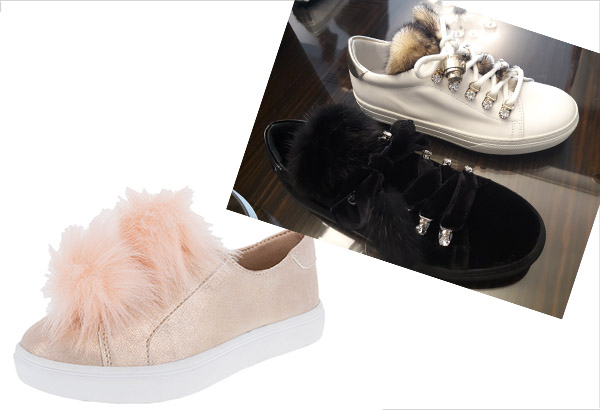 Furry shoes from Payless' and Tod's latest collections.
Reflecting the more somber hues of fall, Payless offers an array of trendy heels, wedges and flats in a more muted palette of cream, brown, mauve and orange. While more subdued in color, women's heels still flaunt a flirty, feminine touch through the use of cut-outs, slim buckles, and chic embellishments such as bows, faux feathers, and retro design patches.
For more dressed down casual affairs, the brand presents several lines that merge fashion and function. Find an array of sneakers, rubber shoes and sandals that  offer comfort and style. Whether heading off to a morning run or a casual day at the mall with the kids, find a pair that suits your personality and complements your ensemble. For those occasions that you want to elevate your outfit, Payless has designs that come in fun prints and stripes, and metallic top soles.
Denim, canvas and faux suede also make a statement this season in the men's collection. These classic shoes allow men to look polished without sacrificing comfort. Whether it may be oxfords, brogues or slip-ons, men can enjoy the comfort of memory foam insoles, flexible outsoles and sturdy stacked heels, which can take the brunt of his active lifestyle. Men's sports casuals also boast a padded insole, mesh lining, and soft outsole for all-day wear.
For kids, there are ballet flats, boots and sandals that come with sweet embellishments such as cute bows, mini pom-poms and even faux fur.
Pom-poms and fur are also aplenty in the latest fall-winter collection of Italian luxury brand Tod's. Recently, the My Gommino customization project has been launched to celebrate the brand's iconic Gommino.
This unique service enables customers to create their very own Gommino, allowing them to select from a range of leathers, colors and accessories, resulting in one's own personalized pair. 
All Credit Goes There :
Source link
Comments
comments