MANILA, Philippines — Why are restaurants and "carinderias" packed full at all times of the year?  Why do Filipinos love to share meals and even offer a complete stranger a spot in their dinner table? Why are our tables groaning with food during fiesta and the holiday season?
That is because Filipinos have this "naya-naya" spirit, said food historian Felice Sta. Maria, author of "What Kids Should Know About Filipino Food: Mama Sita's Centennial Edition" (Adarna Books).  
The celebrated author explained that "naya-naya," a word used in the Philippines back in the 1800s, means "happy meal." It reflects the Filipinos' love for feeding not only the body, but the soul.
"We are not only after a full stomach," she revealed at the launch of the book that celebrates Teresita "Mama Sita" Reyes' 100th birth anniversary. "We're after the spirit."
This makes her extra proud of fellow Filipinos, because she knows what women who have won and kept their men knew all along – when the tummy smiles, the heart follows.
"Naya-naya" is not the only value Sta. Maria wants to share. She also wants to guide parents on the right food to give their school-age children. Contrary to what many people think, Sta. Maria said it is not good to serve pancit and pasta meals to children before an exam.
Lifestyle Feature ( Article MRec ), pagematch: 1, sectionmatch:
Carbohydrates, she explained, triggers a chemical change in the body that makes the child sleepy. And that is the last thing you want your child to feel before the exam, when he or she should be fully alert.
Scientific findings support this. The Jakarta Post says a full stomach induces sleepiness because the brain releases the chemical serotonin, which makes people drowsy. Food also triggers another sleep-inducing agent, melatonin.
Thus, Sta. Maria stressed the importance of eating in moderation.
"Don't overload on sugar because it can give you a temporary high.  You think you're so alert, and then bagsak. You have to take sugar again to sustain that level," she warned.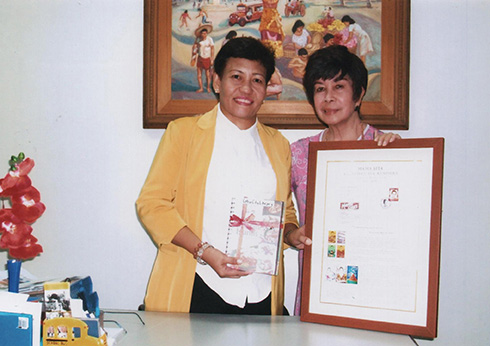 The Mama Sita Foundation recently donated commemorative stamps and cookbooks to Cebu City Public Library, honoring the 100th Birth Anniversary of the nation's culinary icon figure Teresita "Mama Sita" Reyes. Ruth Chua (left), chief librarian of Cebu City Public Library, received the commemorative stamps and cookbooks in a turn over ceremony, which was led by Mama Sita Foundation delegate Chinggay Utzurrum. Teresita Reyes' vision of bringing the taste of Philippine cuisine to the world motivated her to build 'Mama Sita', which is now available in more than 40 countries. Despite of the increase popularity of processed foods in the present period, Mama Sita continues its legacy of bringing original Filipino flavors throughout the world.
All Credit Goes There :
Source link
Comments
comments