MANILA, Philippines — Before heading to the next mall sale, check out these holiday and fall-winter 2017 trends that could make you feel confident, or even make you turn heads and standout.
Pantsuits and uniform dressing
Power dressing from the '80s and '90s is back! But instead of looking like a stiff uniform, they now come in more experimental shapes and sleeker silhouettes.
Singapore-based fashion label In Good Company recently opened its first branch in Manila at the second level of The SM Store Makati.
Established in Singapore in December 2012, the brand aims to be known to be modern and quietly confident through its designs that reinterpret timeless silhouettes with clever detailing. With signature tailoring and draping with surprising details, the brand's collections aim to put new twists of modernity on classic silhouettes.
Singaporean clothing label In Good Company recently opened in SM Makati, offering pantsuits (left) and other twists to the office 'uniform.'
The brand opens in Manila with the latest collection, Capsule 11, which features modern tailoring and draping techniques. "We've always worked a lot with fabric manipulation, but this collection presents an even higher technical finesse. We explored new shapes and draping techniques that create more movement and dimensionality, as well as new hardware such as oversized grommets, hanging ties and d-rings that give the capsule a modern utilitarian look, in an ultra-wearable way," said Sven Tan, creative director and co-founder.
The collection injects sharp, modern, fluid silhouettes with technical detailing and visual panels; almost recalling technical constructions of the '80s and '90s, but with a distant reference incorporated into modern silhouettes and lines. The new collection offers a new generation of work wear that breaks down formal dress codes; redefining and refining casual wear to interchange easily as work wear, going from office hours to off-duty days.
Lifestyle Feature ( Article MRec ), pagematch: 1, sectionmatch:
Puffed jackets
Besides puffed sleeves, padded jackets return to add volume to sleek silhouettes.
Guess' fall women's wear assortment offers a mixture of silhouettes in the form of oversized jackets, high-waisted skinny jeans, cut-off shorts and push-up bustier tops. 
Faux fur makes a statement this season in multi-colored and leopard printed jackets adding flair to any subdued outfit. A resurgence of vintage inspired logo tanks and tees make another appearance this season as they continue to remain a key part of the brand's roots.
For men, oversized varsity jackets, quilted bombers, faux leather motos and faux-shearling coats are the key outerwear styles of the season. Acid wash and distressed denim play a prominent role in Fall's offering, adding a bit of edge to the delivery and is offered in a variety of silhouettes including jeans and jackets. 
This season, the brand also introduces a fresh campaign shot in Malibu, California by photographer Christian Ferretti and art directed by Paul Marciano, Chief Creative Officer. The images feature models Emma Stern, Robin Holzken, Alex Dellisola, Gracie Lancaster and Gwen van Meir sporting the brand's bags for the holidays. 
The handbag collection offers a mixture of designs made with a spectrum of bright colors, rich fabrics and prints. Totes and satchels are given an instant upgrade with colorful embroidered floral designs stitched throughout the front of the silhouettes. Travel-friendly cross-body bags are stamped with silver stars, lending a youthful punk rock vibe to the collection. 
Long tops and statement shoes combo
'Tis the season to have no pants!
Whether it is a long trench coat or an oversized T-shirt, that is all you need, and oh, but with statement shoes like knee-high boots!
Guess is proud to introduce Cuban-Mexican-American multi-platinum, chart-topping singer and songwriter Camila Cabello as the face of the its Jeans Fall 2017 advertising campaign alongside model Alex Dellisola. 
Taking inspiration from the brand's roots and all-American style, the iconic black and white campaign reflects the brand's rich denim heritage that has characterized the brand for the past several decades.
"I couldn't be more excited to be in this incredible campaign," shares Cabello. "I've grown up loving their aesthetic and not in my wildest dreams did I ever think I'd be lucky enough to be a part of it," she continued.
Art directed by Paul Marciano, chief creative officer and shot by fashion photographer Tatiana Gerusova in the desert of Palmdale, California, the campaign captures an amorous couple on the road looking for passion and excitement, serving as a backdrop capturing the brand's heritage through '90s logo mania tees and oversized denim jackets. The dominance of denim evokes the free-spirited era of the brand's quintessential ad campaigns.
Pants and dress
On the other side of the spectrum, there is also a conservative trend for those not comfortable to not wear pants.
If you have a dress that you find to be too short, you can wear it with skinny jeans or other slinky bottoms.
Metallics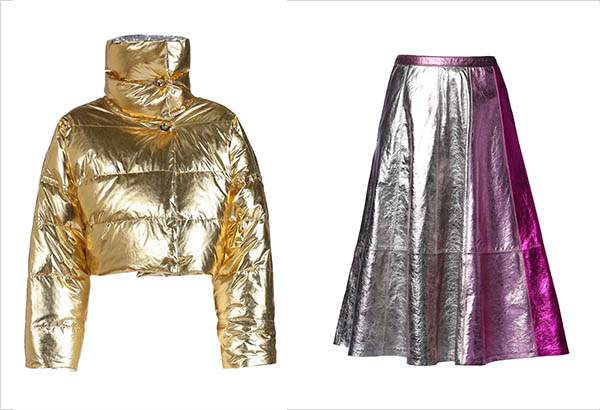 Metallic jacket and skirt from Diesel's fall-winter 2017 collection.
Thanks partly to the popularity of '80s-themed sci-fi series "Stranger Things," Space Age-inspired, shiny fabrics are back. Nothing could be more flashy in a party than a second skin akin to that of "Star Wars'" C3PO.
Arts and crafts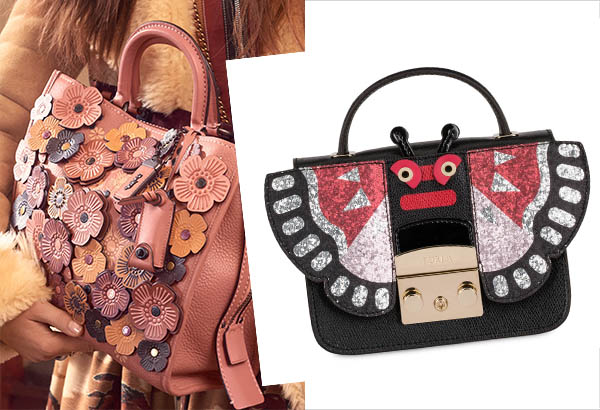 Bags from the fall-winter 2017 collections of Coach (left) and Furla showcase handmade, artsy details.
People want to be something else nowadays, for example, besides being an office worker, they are also an artist. Many also are into do-it-yourself stuff, and this manifests in today's trends like the continuing patches trend and other touches that give garments artisanal quality.
Feathers and frills
These usually summer details lend a playful twist to the cold and dry season.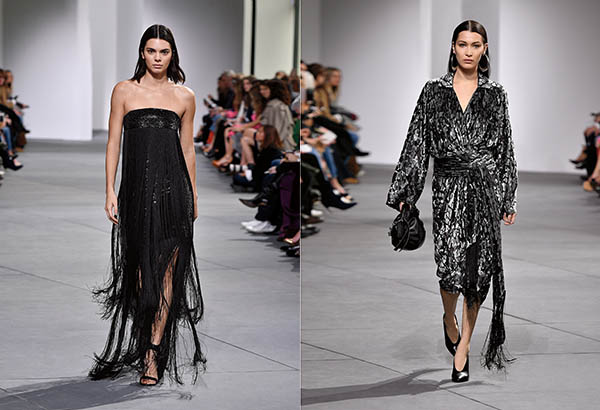 'It' girls and friends Kendall Jenner (left) and Bella Hadid modeling Michael Kors' frilly pieces from his latest fall-winter omnibus.
Roses and leopard prints
Because they both have orange undertones, red roses and leopard prints look great together.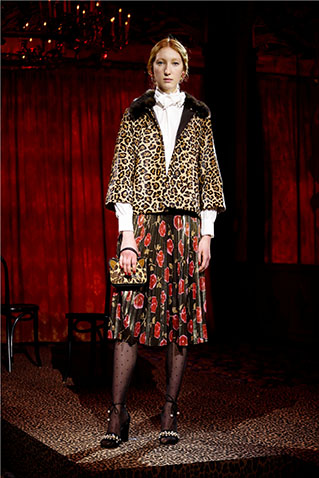 Ensemble from Kate Spade New York FW2017
Corduroy, velvet and silk
Nothing could be more luxurious than shiny, soft textures.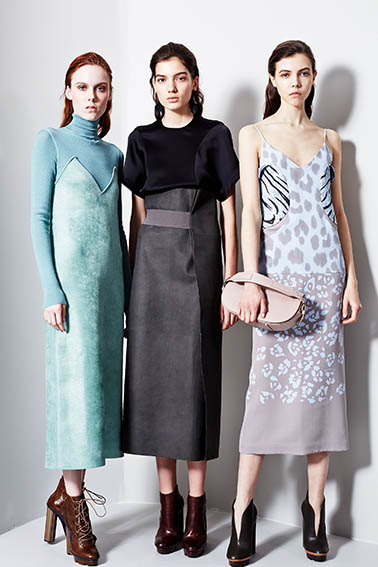 Velvety and other textured pieces from Salvatore Ferragamo's FW2017 show
Letters and monograms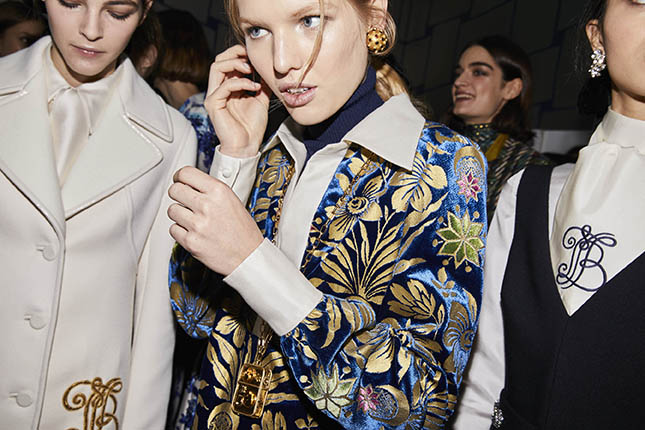 Monogrammed letters add a touch of royalty to these pieces from Tory Burch's latest fall-winter amalgam. 
Monograms lend a feel of royalty, while words and sentences add a literal statement to any outfit.
To help enhance one's holiday shopping experience, SSI Group Inc. Mastercard, and Singapore Airlines recently partnered to launch the "Swipe to Travel" campaign, which enables shoppers to have the chance to win shopping sprees and free trips to fashion havens like London, Paris, or Singapore. Participating labels include SSI's luxury brands such as Alexander McQueen, Cartier, Charriol, Givenchy, Gucci, Jimmy Choo and Salvatore Ferragamo.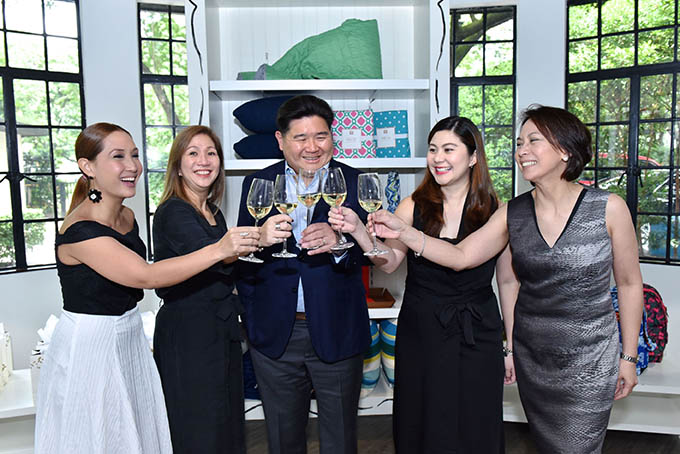 From left: SSI Group, Inc. Head of Marketing Communications Michelle Suarez, Mastercard Philippines Director of Account Management Jo-Ann Camacho, SSI Group, Inc. President Anthony Huang, Singapore Airlines Head of Marketing & PR Aiza Soller-Garcia, and Mastercard Philippines Vice President Ailea Zialcita
All Credit Goes There :
Source link
Comments
comments