Ultraviolet or UV sterilization is something that has been gaining attention in the past months here in the Philippines. If you're active on social media, especially if you're a mom, you've probably seen influencers like Cat Juan Ledesma or Mariel Padilla post about how they use UV sterilizers in their own homes.
Now I know some of you out there may have even thought of UV sterilization as a passing fad, but truth be told, I personally think its benefits are here to stay, especially if you own your own UV sterilizer.
I came to this conclusion a while back, after attending the official launch of a specific UV sterilizer, namely Ecomom, at The Parenting Emporium in Quezon City.
Mompreneur Meryll Dy (seated, in black), poses with Beng Feliciano (standing) and Maricel Cua, founders of The Parenting Emporium.
I was able to ask Meryll Dy, the mompreneur who brought Ecomom to the Philippines (along with other quality brands like i-Angel, Mother-K, K-Mom and Creamhaus), a few questions and I'm glad to share my interview with her here:
Author: How did you come across UV sterilization?
Meryll: I was using a steam sterilizer for my daughter's bottles and pump parts, and I had a hard time drying and wiping them. I also found out that my helper used a "pamunas" to wipe them dry, and I thought it defeated the purpose of sterilizing the bottles and parts if you wipe them again with tissue or cloth.
Lifestyle Feature ( Article MRec ), pagematch: 1, sectionmatch:
Putting them on a drying rack was also difficult because there were ants and insects crawling and flying around. I wanted to have a sterilizer that does the drying and can also be used as a storage container. Then I found the Ecomom UV sterilizer in Korea when we were there for a business trip.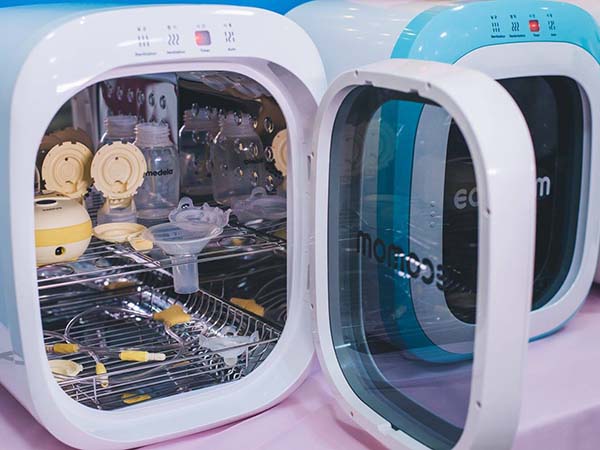 Ecomom uses ultraviolet or UV light to sterilize items – no mess, no stress!
Author: Why did you decide to bring the Ecomom UV sterilizer to the Philippines?
Meryll: I tried it and thought I should share my discovery with other moms. I found it useful especially when my daughter was teething. She would always want to put anything she sees into her mouth, and I didn't know how to effectively clean her books or stuffed toys because I could not just put alcohol or cleansers on them. With my newfound high-tech mommy gadget, sterilizing everything is possible!
Author: Can you name some of the benefits of UV sterilization for us? 
Meryll: Well, for starters, with the Ecomom specifically, there is lower energy consumption — it uses only 80 watts compared to steam sterilizers that use around 500 watts. There is also no risk of burns because it doesn't use steam or hot water, making it very safe to use.
In addition, since UV light is used to sterilize things, you won't have to deal with water spots, mineral deposits and wet countertops, plus you won't need to worry about mold growing on bottles or other items. There is also no need to regularly descale deposits that accumulate in steam sterilizer machines.
One of the greatest benefits hands-down though is that UV sterilization eliminates 99.9 percent of various pathogenic bacteria including E. Coli, Staphylococcus Aureus, Salmonella and Psuedonomas Aerugonisa — so you can be sure that your family is safe from such germs.
Also, since you can sterilize almost anything in the Ecomom, you can even sterilize stuffed toys and other non-baby items like gadgets, remote controls, books, beauty tools like makeup brushes and sponges, toothbrushes, utensils, etc.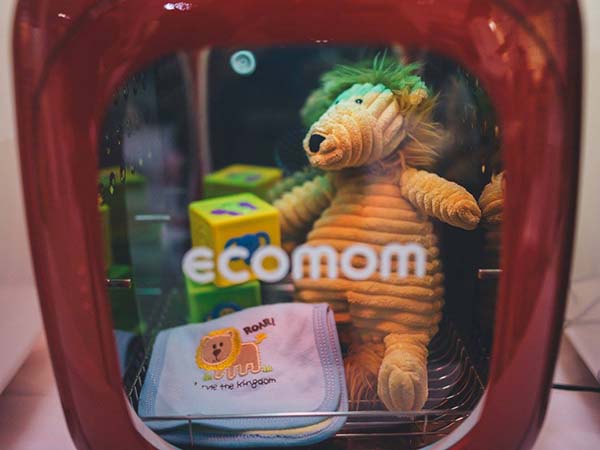 Keep your kids safe from bacteria like E. Coli and Salmonella by using UV light to sterilize their treasured possessions.
Another plus that I personally find useful, and so do a lot of other moms is that it doubles as an extra storage container.
If you want to see the Ecomom UV sterilizer in action, here's a video review by Cat Arambulo-Antonio that you might find useful:
As a mom who believes in investing in quality products for my family, I actually have included the Ecomom in my "wishlist" of items worth buying if we have the extra resources. Since you can use it to sterilize even non-baby items, it is definitely worth the cost, especially if you consider the importance of keeping your loved ones safe and healthy!
How about you? Have you heard of UV sterilization and its benefits? Or maybe you have your own UV sterilizer already? Feel free to comment below!
All Credit Goes There :
Source link
Comments
comments