New Zealand is one place that's not new to most Filipinos. At least not to those who are avid fans of The Lord of the Rings movie trilogy that was filmed entirely in New Zealand amid its dairy farming landscape and awesome mountain scenery. We've grown quite fond of it as we gorge on the juiciest prime New Zealand steak, enjoy the freshest New Zealand King Salmon, spread our bread with the creamiest butter, bite into the crispiest apple, dig into the yummiest all-natural New Zealand ice cream, indulge our sweet tooth with a most irresistible kiwi chocolate bar or sip New Zealand's fine wine.
We recently had a taste of New Zealand's finest food and wine offerings, and got to know some of its premium brands at the exclusive one-day trade show billed as Food Connection Manila 2017.
Green and clean
New Zealand conjures up images of lush green open pastures and fresh clean air that provide a healthy environment for food production.
Lifestyle Feature ( Article MRec ), pagematch: 1, sectionmatch:
"New Zealand products are known for their distinctive taste and quality and this is a great opportunity to showcase them to Filipinos," remarks Hernando Banal, New Zealand trade commissioner to the Philippines.
He tells media people covering the trade show, "We would like to bring more products from New Zealand and vice versa. Our dream is to have a whole aisle of New Zealand products, there are a lot applicable here. We hope for the acceptance by the Philippine market of our value-added New Zealand brands. For instance, we have a lot of beverage products that are natural and low in sugar like Charlie's, which are already available in some hotels here."
New Zealand exports some of the world's most-coveted brands of wine, agriculture and dairy products, and manuka honey. Its biggest exports to the Philippines are still its dairy products (more than half) although its confectionaries, wines, meats, and healthy and natural beverages are posting a significant growth, too.
Globally, the Philippines is the 18th largest export market for New Zealand. In the Asean region, the Philippines is the fifth while Singapore and Thailand are the top two markets.
"Food and beverage are a very important sector in our economy," stresses Banal. "So we put a lot of safety, security, and a lot of checks in our main exports. This means that the food that we export went through the strictest food safety and biosecurity measures. This is the reason why New Zealand has been recognized by the World Organization for Animal Health as an animal disease-free exporter. There are five things about the New Zealand brand: It is clean, environment-friendly, traceable, sustainable, safe."
New Zealand's grass-fed, free-range meat is a much-sought-after premium commodity in international markets.
From farm to Pinoy table
"We know that Filipinos today are looking for convenient food that not only caters to their increasingly busy lifestyle but is also healthy, safe, and delicious," asserts Banal. "New Zealand products bring to the Pinoy table these criteria for sustainability and organic production."
Armed with our New Zealand Food Connection passports, we hop from one booth to another and happily discover some well-loved New Zealand brands/companies: Antipodes, the first premium water in the world to be carbon neutral and said to be the best water in the world; Babich Wines from New Zealand's most experienced family-owned winery; Brumms Quality Wines, Inc., a pioneer in local wine trade and now in fine water, too; Emerald Foods of which New Zealand Natural (think premium ice creams, sorbets, and frozen yogurts) is a part; Equilibrium Intertrade Corp., distributor of premium coffee, tea, and organic juices; Federated Distributors, Inc., the Philippine sole distributor of Palm Corned Beef made of 100-percent premium quality NZ beef; Fonterra Brands Phils., Inc., makers of some of the world's best dairy products (Anchor) that trace their roots to New Zealand's rich land; Kono NZ, a family-owned Maori food and beverage producer and exporter of award-winning wine, cider, seafood (green mussels), fruit, and natural fruit bars; Santini Food Specialists, Inc., importer and distributor of dairy products, jams, olive oil, and chocolates (Whittaker's); and Air New Zealand, surely our airline of choice when traveling to, from, and within New Zealand.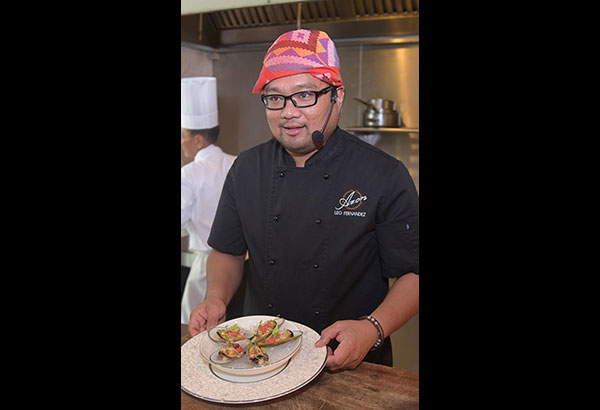 Kiwi-Pinoy celebrity chef Leo Fernandez: Bringing Filipino cuisine to New Zealand
Now cooking: Chef Leo
So much to see and taste, so little time! And to spice up the show is a cooking demo by Kiwi-Pinoy pig farmer-turned-chef Leo Fernandez. A few points shy of winning the MasterChef NZ title, chef Leo owns a modern Filipino fusion restaurant in a posh area in New Zealand. He describes it as "a family-oriented restaurant serving Filipino dishes presented in a different way."
Cooking his way to his guests' hearts, chef Leo unravels the secrets to his New Zealand Greenshell Mussel kinilaw, corned beef hash rice croquettes (made creamy with cheese) with caldereta sauce, and his specialty Leo's Ultimate Mango Float.
"I love the quality of the products from New Zealand and I am on a mission to make Filipino cuisine famous in New Zealand," vows chef Leo.
We can't wait to excite our taste buds anew as New Zealand presents its new products at next year's Food Connection Manila. See you there!
* * *
For more information on New Zealand products, visit online at www.newzealandfood.co, on Facebook at @NZ_Global and @NewZealandFood, and Instagram at @NZ_Global. Official hashtag for Food Connection Manila 2017 is #NZFoodConnection.
All Credit Goes There :
Source link
Comments
comments