Like many girls who religiously follow the GMA romcom Meant To Be (MTB, directed by LA Madridejos), you too must be wondering how Barbie Forteza could drive crazy four gorgeous guys (of different nationalities), scrambling for her attention and affection — Ken Chan (Chinese), Ivan Dorschner (American), Addy Raj (Indian) and Jak Roberto (Filipino).
Ask Barbie and she would reply, "I don't know. Malay ko!" She joked during the show's pictorial, warning the guys from getting too close to her, "Huwag kayong masyadong lumapit, marupok ako!" (The MTB stars will be in Singapore June 6 to 8 to shoot some scenes.)
Although a comedienne on TV (also on the Kapuso Sunday show Sunday Pinasaya where she acts as a Kris Aquino clone), Barbie is just as effective in drama, specifically in two indies — Marquina for which she was named Best Supporting Actress by the 2014 Cinemalaya and by the 38th (2015) Gawad Urian; and Laut for which she was bestowed the same honor by 36th (2016) Fantasporto International Film Festival in Portugal and the 9th (2017) Ani Ng Dangal Awards.
Born on July 31, 1997 (a Leo) in Biñan City, Laguna, Barbie is a petite 5'2"; weighs 110 lbs.; measures 32-25-30; and wears medium-size clothes and size-6 shoes.
How did you prepare for your role in Meant To Be?
Entertainment ( Article MRec ), pagematch: 1, sectionmatch: 1
"We had familiarity workshops and script reading before we started the show. The concept was something new for me so I did some research work on the different cultures of my foreign co-actors." 
What kind of workout do you do?
"I run and do bodyweight workouts. No time to go to the gym for now so I do it on my own or search exercise videos on the Net."
What part of your body needs improvement?
"I want toned arms and legs which is hard to achieve because I've been very busy with work that I don't get to work out like I used to."
Part of a man's body that you notice first?
"His eyes and lips."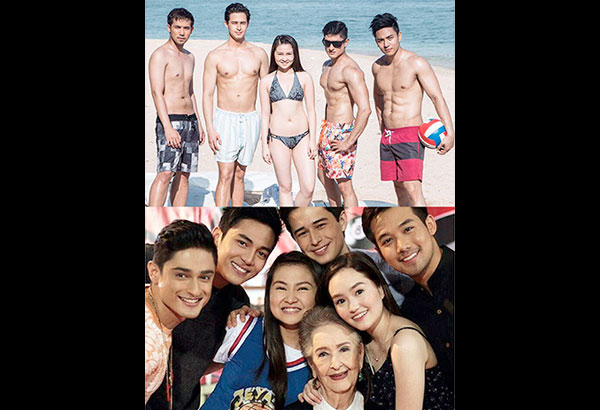 How can four gorgeous guys be so crazy over Barbie (from left: Ken Chan, Chinese; Ivan Dorschner, American; Addy Raj, Indian; and Jak Roberto, Filipino)? Watch the GMA rom-com Meant To Be (also with Gloria Romero and Mika dela Cruz in the cast, below) and find out.— Photos from Barbie's Instagram and by LA Madridejos
What about your diet?
"I don't have any special diet. I just eat right and healthy as much as I can."
What's for breakfast, lunch and dinner?
"Coffee for breakfast and merienda, that's for sure. I usually wake up late so I eat brunch then no rice at night."
Any snacks between meals?
"Hmmm, none."       
What kind of food do you avoid, and what kind do you always crave for?
"I'm a sucker for sweets and panaderia breads. Sinful but yummy!"
Are you taking any medicines/vitamins?
"Yes, my dad always reminds me to take vitamins before bedtime."
How much water do you take per day?
"I could drink up to two liters of water in a day."
How many pillows do you sleep with?
"I like to sleep with three pillows. It makes me feel secure."
Favorite sleepwear?
"I love to sleep in my pj's. The softer the better."
Do you snore or sleepwalk?
"My mom says I only snore when I'm super tired from work."
Last thing you do before you go to sleep?
"Both first and last thing I do in bed is check my phone."
First thing you do as soon as you wake up?
"Check my phone, close my eyes and sleep again. Joke! I close my eyes and thank God for a new day." 
How do you relax/cope with stress?
 "I stress eat, hahahaha!!! And sleep it off having a fresh mind when I wake up."
How do you take care of your skin?
"By drinking lots of water to keep it hydrated and I always wash off my make-up after work."
Favorite hideaway?
"I'd like to consider my room as my safe haven…naks, hahaha!!! I don't party so basically I'm just home at night."
Describe your nightlife.
"Taping. Rehearsing. Taping."
Describe your outlook in life.
"I take good times as my inspiration and bad days as motivation to push myself to be better every day."
Three women that you think have bodies as nice as yours.
"My three fitspirations: Gal Gadot, Taylor Swift and Gigi Hadid."
Using only body language, how would you make a man know that you admire him?
"Body language? I look at him right in the eye and laugh at all his jokes." 
(E-mail reactions at entphilstar@yahoo.com. For more updates, photos and videos, visit www.philstar.com/funfare or follow me on Instagram @therealrickylo.)
All Credit Goes There :
Source link
Comments
comments