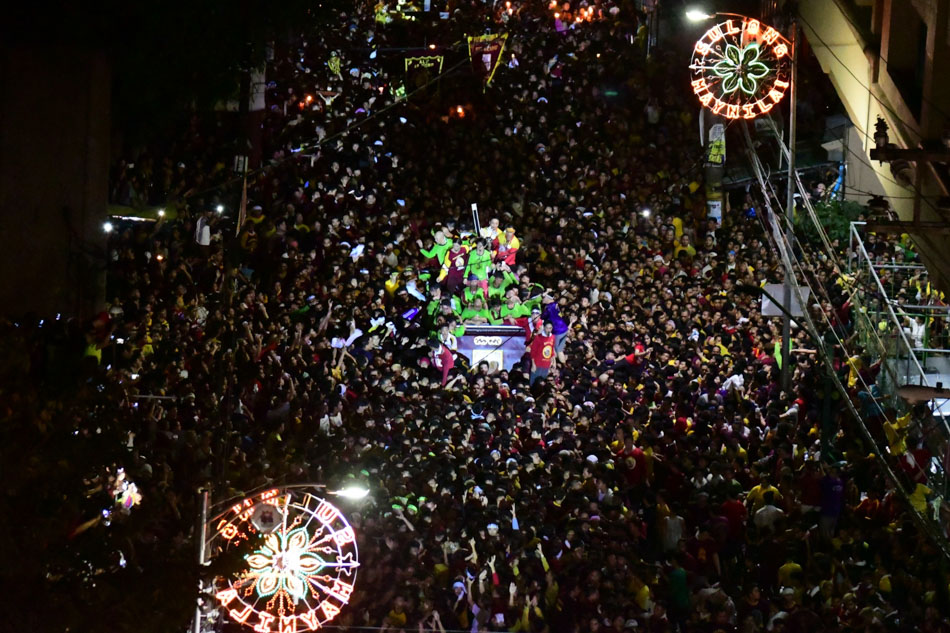 MANILA – The carriage of the Black Nazarene returned to Quiapo Church around 3 a.m. Wednesday, around 22 hours after the procession began from Quirino Grandstand early Tuesday.
At least 2.5 million devotees joined the 6.9-kilometer procession that started past 5 a.m. from the Quirino Grandstand and ending at the Quiapo Church, initial police estimates said. 
Filipinos in other parts of the country also took part in the religious celebration, with hundreds of thousands of Catholic faithful holding processions in other regions.
Devotees at Plaza Miranda who waited for the Black Nazarene's return raised their hands and sang hymns in anticipation of the arrival. 
Rogelio Lim said all his wishes had come true since he became a Black Nazarene devotee in 1977.
"My child is now a medicine graduate," he told Reuters. "I have been spared diseases. I have been blessed with a house. Everything we wished for. A good job. Everything. This is why I am here, to thank Him."
The Philippine Red Cross said it had assisted more than 1,000 devotees who were feeling unwell, or suffered injuries amid the parade's growing crowds, many of whom clamored to reach towards the icon.
Some devotees who were brought to medical stations complaining of difficulty in breathing. 
One of them is a resident of Caloocan who was carried by his siblings. 
As the people struggled their way through the crowd, he got overwhelmed and fainted. 
His sister caught him being carried down by the other devotees. 
Another devotee, Alvin Carlos, said he felt stronger after touching the Black Nazarene.
"Rain or shine, I gained the strength to continue because of my strong faith in Him," he said.
More than 4,000 police and soldiers were deployed to ensure the Manila procession would be peaceful, said Oscar Albayalde, the capital's police chief. –With reports from Zandro Ochona, Isay Reyes, Dennis Datu, Anjo Bagaoisan, and Ernie Manio, ABS-CBN News; Reuters
All Credit Goes There :
Source link
Comments
comments