MANILA, Philippines — There's a question that's constantly being asked within the fashion industry: "What's next?" The current pace at which fashion operates is reaching breakneck speeds, and no one is safe from getting left behind — it's either you stay at the top or you slowly coast towards the bottom. Over the past 30 years, Bench has risen among the top fashion brands of the Philippines, positioning itself with retail stores all over the country and, more recently, around the world. But now that it's reached a considerable milestone, the question has come knocking once more.
It's easy to say that a top company can just coast once it reaches that peak, but not Bench. For many years, Bench  founder Ben Chan has championed local fashion — not just the brand's own, of course, but many other local talents as well. He has done this by collaborating with various designers over the years. And now, as Bench celebrates its 30th year, it makes even more room for Filipino talent to grow by launching the Bench Design Awards. The competition aims to put the spotlight on undiscovered young designers who don't only deserve to be known locally, but also to be given the opportunity to compete globally.
After the nationwide open call last June, 10 designers were selected to present their collection at the recently concluded Bench Fashion Week Holiday 2017. The panel of judges included Akiko Shinoda, director of International Affairs of Tokyo Fashion Week, Mitsugu Sudo and Hidea Yokoi, editors/creative directors of Rocket Company, and Yoshio Yokobori, international consultant of Slide Co. Ltd., and Terese Ortiz-Matera, former model and AFMT Philippine Project consultant. Ben Chan, chairman of the board of Bench, joined them for the jury night held on Sept. 10, the last leg of a series of shows. The runway was filled with vibrant energy and creativity of the young designers, but only the top three were awarded the opportunity to present their collection alongside Bench at the Amazon Fashion Week S/S 2018 in Tokyo this October. In the end, it was the collections of Jennifer Contreras, Jaggy Glarino and RJ Santos that stood out the most.
Here's a closer look at the finalists of the first ever Bench Design Awards and their collection.
JENNIFER ANNE CONTRERAS
@jennipepperonie
Lifestyle Feature ( Article MRec ), pagematch: 1, sectionmatch:
Irreverent, graphic, vibrant
There's a certain image that comes with the word "irreverence." In Jennifer Contreras's case, it's remixing classical art into modern pieces using graphic design. Picture this: "Mona Lisa" with acid green mermaid hair donning a sweatband and matching tracksuit, or William Shakespeare's vectored face with "sex" written across his forehead —you get the idea. Titled "Problem Child," Jennifer's collection for the Bench Design Awards was inspired by the images of Argentinian photographer Romina Ressia, the viral memes of Internet kween Cecilia Azcarate, and the local scene's Fly Art Productions. A graduate of fashion design and merchandising from the De La Salle-College of Saint Benilde, Jennifer gravitated towards graphic art, which became the driving force behind the collection. Her fashion design roots are still intact, however: her designs show a sharp eye for fabric, color and detail. While her graphics are front and center, details like ribbons running down the sides of sleeves, a masterful use of knife pleating, and a keen sense of proportion show that Jennifer's collection is definitely worthy of the spot for Amazon Fashion Week in Tokyo.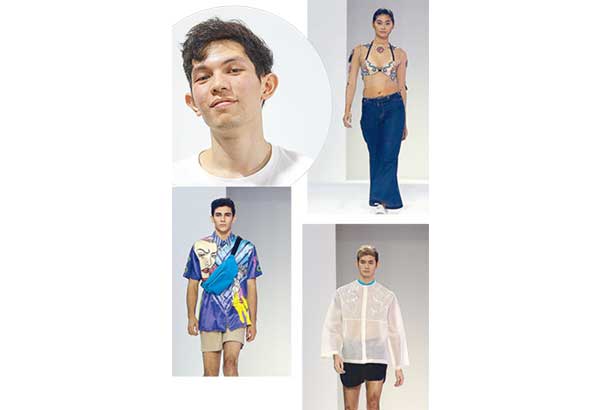 RJ SANTOS
@randolfclothing
Sheer, punchy, patches
We're no stranger to RJ Santos' bold use of color, pop culture symbols and interesting silhouettes. But besides his original illustrations, what gives each of his collections a distinct charm is how he puts all of his inspirations, which are mostly movies and music, together in a very bold yet still approachable manner. For his winning Bench Design Awards collection, he looked back on the road trips he used to take with his parents across Northern Luzon and got inspired by the kind of music they listened to — Abba and Led Zeppelin, of course. What he then presented on the runway was an eclectic combination of tulle ruffles, punchy patches and printed silks. It was fun and familiar, yet still very refreshing. For RJ, clothing shouldn't just cover and accentuate the body; it should highlight the best parts of one's personality. And for his clothing line Randolf, it's about wearing your sense of humor and irony, and your capacity to give a f**k on your sleeves.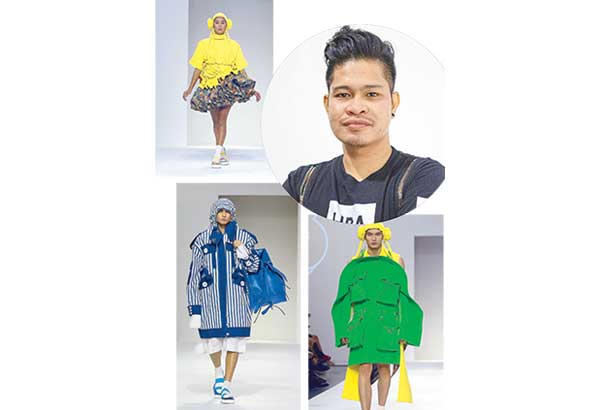 JAGGY GLARINO
@jaggy_glarino
Avant garde, brave, whimsical
Jaggy Glarino's Bench Design Awards collection is hard to forget. Avant-garde pieces are created to make an statement, but the lasting impact of his collection really comes from his impeccable craftsmanship and attention to detail. The bold silhouettes and oversized accessories were standout pieces, sure, but his showcase of technical skills like quilting, splicing and tailoring is what elevates his designs. His designs are confident and aggressive, but still with so much soul. Entitled "Eroplanong Papel," the collection that earned him one of the three spots for Amazon Fashion Week in Tokyo S/S 2018 is an ode to the joy, carelessness and purity that sparks from a happy child. The collection really aims for a poetic reawakening of the innocence of our inner child — especially during trying times like these — and he does so by contrasting elements like heavy straps and metal finishes with bright hues of yellow and green and the imagery of our childhood fave, Teletubbies.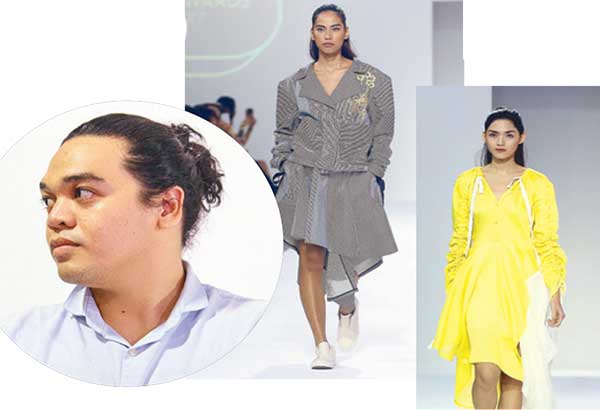 CHED DALOGAOG
@chedstudio
Embroidered, proportional, breezy
It was earlier this year that Ched Dalogaog's CHED Studio was profiled by Vogue Italia. For spring 2018, it will have its European market debut during Milan Fashion Week. His designs clearly have an international appeal, and a big chunk of it comes from how he combines old and modern world textiles with that Filipino craftsmanship. For Bench Design Awards, he came up with a collection inspired by Wong Kar-wai's Chungking Express, a love letter to Hong Kong. The collection had everything from silk cotton detail to embroidery, and suits to shirt dresses.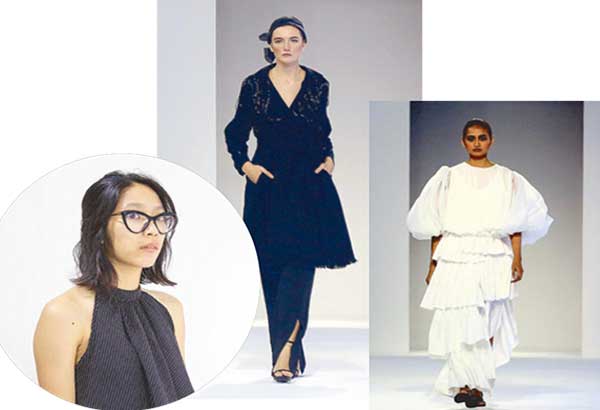 ESME PALAGANAS
@esmepalaganas
Dramatic, voluminous, elegant
As much of an artist as she is a business-minded woman, Esme began building her brand Basic Movement even before her graduation collection walked down the runway. For her collection for the Bench Design Awards, Esme was inspired by the film Schindler's List and the unusual practice of Babang Luksâ, which means "the descent of mourning." She translated these two ideas into voluminous silhouettes rendered in soft chiffons and tiered flounces with ruching, and her signature bodice in strips; starting with deep blacks and then ending in bright whites for a collection that took the audience through the journey of mourning, but this time, the clothes were truly worth celebrating.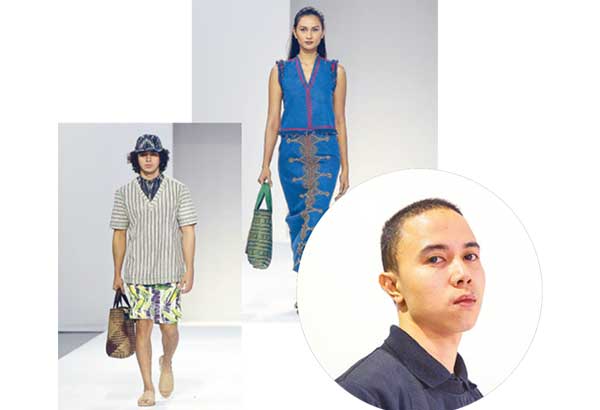 WILSON LIMON, JR.
@wilson.n.limon
Intricate, casual, traditional
For his collection at the Bench Design Awards, Wilson Limon, Jr. proposed a modernization of the country's tribal patterns. Titled "Hinahabing Panaginip," it focused on the artistry of two tribes: the Bagobo Tagabawa tribe of Davao and the T'Boli tribe of South Cotabato. These two tribes create patterns from their dreams — thus being called dreamweavers — and create textiles that result in intricate repeating patterns that represent their visions. Hailing from Davao himself, Wilson is adamant about preserving his roots in his work, but at the same time bringing the dreamweavers to the forefront and consciousness of the modern consumer.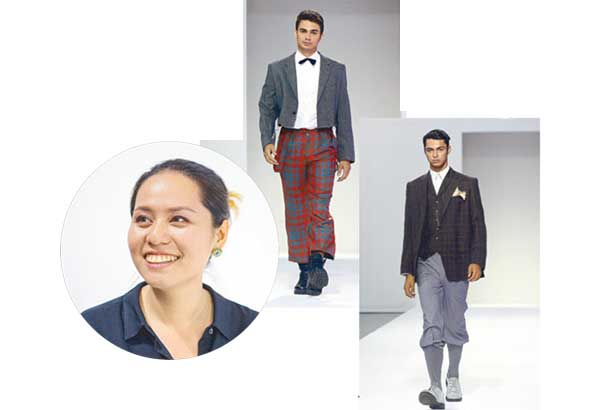 DIORELLE SY
@diorelle
Crisp, tailored, sophisticated
Diorelle Sy specializes in menswear tailoring, so it was no surprise that her designs for Bench Design Awards showed her passion for it. Entitled "By The Order Of…", her collection consists of traditional menswear staples like sharp suits, crisp shirts and bold trousers, but it's also made more playful with contrasting trimmings and patchwork design. While her newest collection captures the spirit of the gangs of the past like the dandies and the mods, Diorelle aims to make bespoke tailoring more accessible yet still preserve old world techniques, and she does so by giving fancy dressing a youthful and street vibe.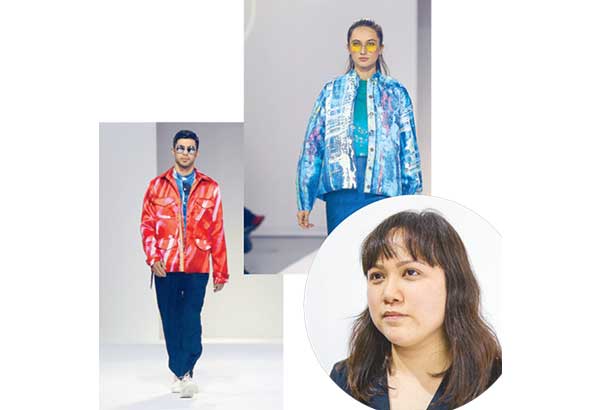 BEA SAMSON
@beatricesamson
Bold, shiny, psychedelic
A graduate of Slim's Fashion and Arts School, Bea Samson has been known for her sharp tailoring skills. But more than her attention to craft is her eye for fabric design. Bea has been experimenting with various digital prints for her designs, with photos she takes while in transit. For her entry to the Bench Design Awards, Bea created a collection entitled "Real/Unreal" that was grounded in inspiration from films such as Star Wars and Memoirs of a Geisha. The result is a mix of men's and womenswear emblazoned with prints that echo the hot flames of the sun and the cold ice of the comets, grounded in wearable silhouettes and intricate details.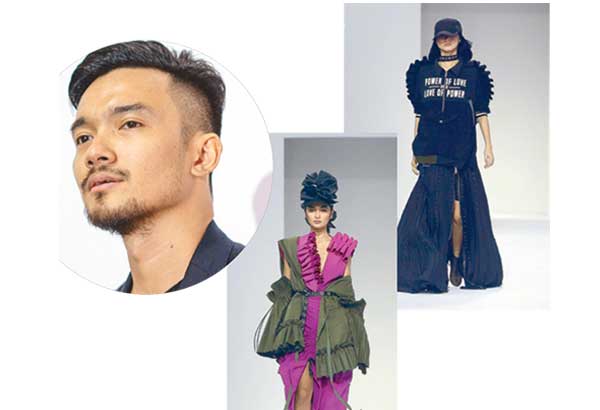 YVES CAMINGUE
@yvescmng
Statement ruffles, urban, feminine
Yves Camingue has been inspired by streetwear and travel since 2005. For his Bench Design Awards collection, he focuses on the journey of a woman: overcoming a personal war, coming of age, and seeking refuge to create her own peace. Entitled "Spiritual Tourism and Its Antitheses," the collection is a beautiful coming together of cultural influences and urban and utility references. Soft elements like lace and ruffles create a contrast with colors like fuchsia and camo and heavy accessories, almost as though to symbolize the duality that's needed for survival these days.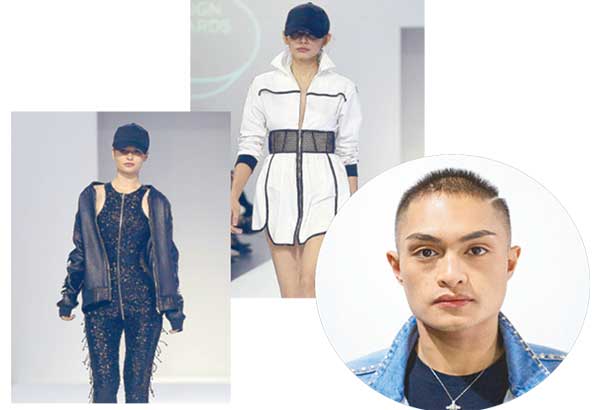 BANGGO NIU
@banggoniu
Sporty, utilitarian, monochromatic
There are countless superlatives to describe the modern woman walking down the street, but designer Banggo Niu likes to keep it simple: "Clean, sexy and edgy." There's a certain femininity that adds a soft dimension to his otherwise hard and athletic aesthetic. Titled "45," his Bench Design Awards collection was inspired by "the strength and impact of a gun," presenting clothes that were clean and tightly constructed with silver zippers present in black bomber jackets and even on corsets. One might say the collection hinted at BDSM with its streamlined rigidity, but this was balanced by loose and comfortable pieces, with a wide-legged pant emblazoned with "salvation," and a plain white hoodie to offer contrast to the almost all-black collection.
All Credit Goes There :
Source link
Comments
comments