Curtain-raiser:
• From Joey Albert (photo): "I was doing a show for a convention in Qatar the night Isabel Granada died. We did a humble farewell to her. They love her there. They owned her. Her dying there meant something to them…that it was her last place on earth is a blessing to them."
Isabel's remains shall have arrived this morning from Doha, Qatar. Open for viewing until midnight today at the wake at Santuario de San Jose in Greenhills, San Juan City. The cremation will be done on Sunday, Nov. 12. The body was accompanied by Isabel's husband Arnel Cowley. Isabel's mom Mommy Guapa and son Hubert, together with Isabel's first husband Geryk Genasky Aguas, arrived ahead a few days ago. 
* * *
Fr. Jeff Quintela prays over Baby Talitha, with Mama Pauleen's mom Chat Luna and good friend Sherilyn Reyes-Tan. The baby's baptism is set for December.
Sorry, folks, but all we can tell you (as of now) is that the bouncing baby girl delivered by Pauleen Luna at 3:51 Monday morning, Nov. 6, at an A-list hospital (name withheld to protect the mother and child's privacy) weighed 6.9 pounds. She was delivered in an emergency Caesarian section because she decided to say hello to the world three weeks early. Originally, Mama Pauleen was scheduled to give birth either end of this month or early next month.
Entertainment ( Article MRec ), pagematch: 1, sectionmatch: 1
The visibly excited brand-new dad Vic "Bossing" Sotto himself broke the good news on Eat, Bulaga! that same day, sounding as if he's a first-time dad when he said that the baby was "tumatalon-talon na" (jumping already) when in fact it's his fifth time to sire a child. He has two children (Danica and Oyo) with ex-wife Dina Bonnevie, and one each with former girlfriends and Bulaga co-hosts Coney Reyes (Pasig City Councilor Vico) and Angela Luz (Paulina, a golfer like Bossing, who herself is giving birth early next year).                            
I have a photo (given to me in confidence and not, yet, for publication) of Mama Pauleen lovingly looking at the baby wrapped in white sheet, with one-third of her face showing. Blown up, the picture shows that, so far, the baby looks more like Mama Pauleen than Papa Bossing, although it takes a bit more time, as the baby grows, to show who she really looks like…50/50 her parents, hopefully.                                                       At a recent baby shower sponsored by Japanese stroller brand Aprica, the baby's gender was confirmed via pink balloons and pink baby items. When Bossing guested on Jessica Soho's show, she joked that the baby would be named Jessica…as in Jessica Sotto…and Jessica laughed when she belatedly got the punchline.                                  
A Funfare VDPA (Very Deep Penetration Agent) said that the baby will actually be named Talitha — that is, unless there's a last-minute change. (Research: Talitha is a Hebrew word for child. In Aramaic, the meaning of Talitha is "little girl, damsel." Among the famous Talithas: Talitha McKenzsie, an American-born Scottish singer, and Talitha Getty, Dutch model and actress, muse to YSL and married to Paul Getty, the late heir to Getty Oil.) Pauleen told Funfare in an interview that she would be breastfeeding the baby while on extended maternity leave until early next year when she and Bossing will celebrate their third wedding anniversary Jan. 30. Mother and daughter will check out from the hospital tomorrow, Nov. 10, which happens to be Pauleen's birthday and the anniversary of hers and Bossing as sweethearts. A day after Pauleen bade Bulaga viewers a temporary goodbye ("See you next year!"), brand-new mom Pia Guanio returned from months-long maternity leave, a case of the "past" taking over the "present" (you are too dense if you fail to see the two ladies "VS" connection, hehehe!!!).
I don't want to put out the  close-up of the baby's face lest I preempt Bossing and Pauleen who are waiting for the "right time" (tamang panahon) to be generous and give the eager-curious public even a glimpse of Baby Talitha. In the meantime, true to the practice of brand-new celeb parents, only teeny-weeny body parts (fingers, toes, etc.) are being posted on social media.                        
Oh yes, like the experienced father that he is, Bossing will be hands-on in nursing the baby, assuring Mama Pauleen, "Ako ang bahala sa pagpapalit ng lampin."                                          
To Papa Bossing, 63, and Mama Pauleen, turning 27 on Nov. 10, may you have more babies to come. May your tribe increase. The more Sottos, the merrier!!!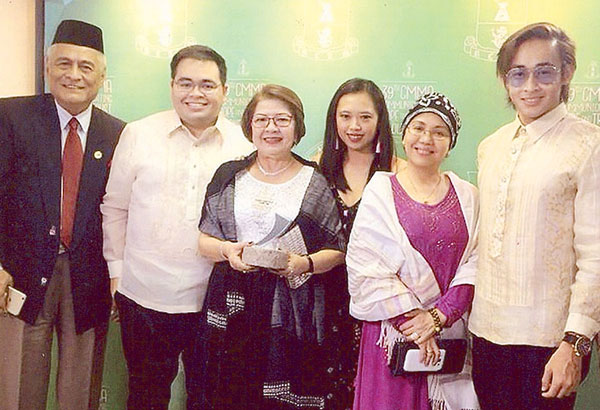 Baby Nebrida (holding CMMA Best Film trophy) with from left: Wensy Andanar, Baby's children Jodi and Christie, Annie Andanar, Jerico Estregan. Mr. and Mrs. Andanar were of tremendous help in the making of Across the Crescent Moon.
2 best film awards for The Crescent Moon
Congratulations to Baby Nebrida for the two Best Film awards recently won by Across the Crescent Moon, which she wrote, produced and directed.
The 39th Catholic Mass Media Awards (CMMA) voted it Best Film, as chosen by students all over the Philippines.
Earlier, the seventh International Film Festival Manhattan (New York) named Across the Crescent Moon Best Feature Global.
The New York-based IFFM also chose Across the Crescent Moon Best Ensemble Acting Award.
The film stars Matteo Guidicelli, Alex Godinez, Dina Bonnevie, Gabby Concepcion, Sandy Andolong, Joem Bascon, Jerico Estregan, Ivan Carapiet, Jerene Tan, Ku Aquino, Sasha Tajaran and Christopher de Leon.
Christopher was given the Lifetime Achievement Award in Acting, which Baby received on behalf of the actor.
The CMMA and IFFM jurors were impressed with the story of Across the Crescent Moon: Unity in diversity. That Christians and Muslims can live together in peace and prosperity. It was judged based on artistic and technical merits. A meaningful action drama.
In her "cinematic journey," Baby was accompanied by her two children, Christie and Jodi, who assisted her in the making of the film. They've been to Cannes (film market) and Hawaii, where Across the Crescent Moon opened the Honolulu International Film Festival. Middle of this month, the action drama will be shown before the Filipino communities in Japanese cities. Next year, there are plans to release the film commercially in Japan with the help of Yuji Mariyama, who watched the film in Manila and attended IFFM.  
Filipino and foreign businessmen have expressed interest in investing in coming films by Baby.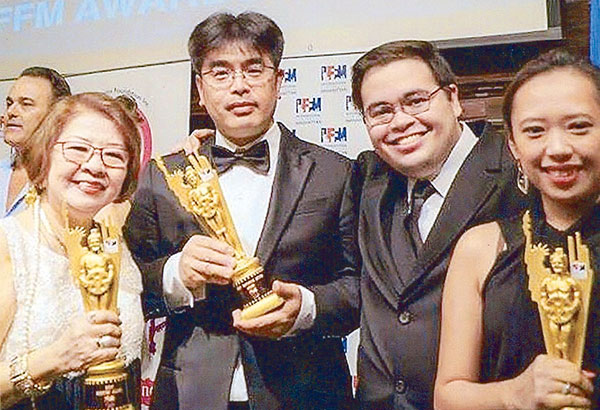 At the IFFM, from left: Baby, Japanese businessman Yuji Mariyama, Jodi and Christie.
For all the honors Across the Crescent Moon is reaping, Baby thanks supportive friends and colleagues (this columnist given special mention).
"To God be the glory! Many thanks…Our Lady of Victory!" Baby enthused.
(E-mail reactions at entphilstar@yahoo.com. For more updates, photos and videos, visit www.philstar.com/funfare or follow me on Instagram @therealrickylo.)
All Credit Goes There :
Source link
Comments
comments