It was an evening to remember as food lovers enjoyed going around 21 impressive stations for the annual "Around the World in Small Plates" event.
This year, the much-anticipated gastronomic event featured 17 food stations and four drink stations for Belgian beer, coffee, European wines and different gin brands from around the world, all curated by Cyrene de la Rosa.
The Penthouse of 8 Rockwell in Makati City was packed with eager guests for the sold-out event, which was held for the benefit of  ICanServe Foundation, an advocate for the early detection of breast cancer.
Other chefs who participated (though not in these photos) included Tina Legarda of Bamba Bistro and Jason Go of MNL Creamery.
Needless to say, the food served at the event was amazing.  Everything was really good. It was surprising how 17 tiny plates could actually make one really full!  Some people could not even finish all 17 dishes. I did enjoy all 17 plates with dishes from the UK, France, Switzerland, Saudi Arabia, the US, Nicaragua, Singapore, Sweden, Spain, Italy, Greece, Macau, Mexico, Morocco and the Philippines.
My favorites included Dedet de la Fuente's Lechon Macao with the oh-so-delicious labuyo sauce; JP Anglo's lechon manok with santol, kalabasa and guinamos curry served with ube basmati rice and coconut yoghurt; William Mahi's signature dish called "The Egg;" Sandy Daza's simply refreshing Thai green mango salad, Nicco Santos' beef rendang, Robby Goco's beef cheeks in bugnay wine (local wine from Ilocos), Josh Boutwood's dry cured lamb and Ginny de Guzman's killer dessert, and now my new favorite cake, the Casablanca cake.
I can't wait for this event again! Too bad it only happens once a year.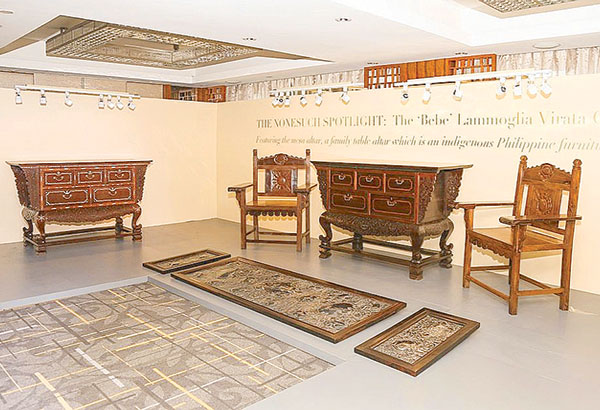 Several mesa altars from the Virata collection on display at The Nonesuch.
The Nonesuch
Trickie Lopa, Dindin Araneta and Lisa Periquet, the trio behind Art Fair Philippines and Art in the Park, recently staged The Nonesuch: Fine Collectibles and Rarities fair at The Peninsula Manila in Makati City.
This fair showcased art, antiques, furniture, jewelry, books, maps and prints, rare objects and other collectibles. Exhibition designer Gino Gonzales transformed The Gallery of The Peninsula to bring back the look and feel of the famed Escolta Street in Manila during its heyday.
The three-day event featured pieces from Gallery Deus, Gallery Joshua, Gallery of Prints, Leon Gallery, Maria Angelica Rare Finds, Maria Closa Tribal Arts, Natalya Lagdameo, Nicole Whisenhunt, Osmundo, Tawalisi Antiques and Unang Panahon.
The Nonesuch Salon also featured a speakers' series with personalities who talked about different topics like Ambeth Ocampo on collecting and stewardship; Ino Manalo on the Bohol urna (home altar); Mico Manalo on the origins and construction technology of the Filipino mesa altars; Martin Tinio Jr. on the peineta (decorative comb); Floy Quintos on the Ifugao bale (native house); and Augusto Gonzalez III on the titans of Filipino taste.
General manager of Breguet France and the brand's historian and archivist Emmanuel Breguet flew in for the event for a talk on the heritage of Breguet, the co-presentor of the fair.
Other sponsors were the Bank of the Philippine Islands and The Peninsula Manila.
(Visit www.nonesuchfair.com or www.facebook.com/thenonesuchfair.)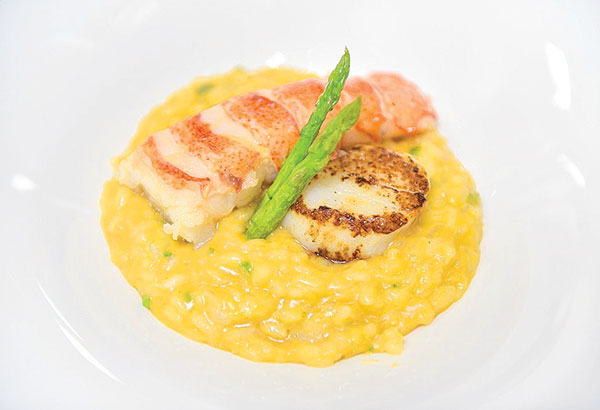 Lobster bisque and lemongrass risotto with butter-poached lobster trails and green asparagus by chef Eric Weidmann of Sage Bespoke Grill, Shangri-La Makati.
Perfect pairings
Moët Hennessy Philippines Inc. hosted three wine-pairing dinner events with Cloudy Bay wines.
The separate dinners, over a period of time, were prepared by Sage Bespoke Grill, Shangri-La Makati's chef Eric Weidmann, Mirèio, Raffles Hotel's chef Nicolas Cegretin and Old Manila, The Peninsula Manila's chef Allan Briones. Highlighting these dinners were Cloudy Bay's Sauvignon Blanc 2016, Chardonnay 2014 and Pinot Noir 2014.
At the dinner in Sage, Chef Weidmann prepared a four-course spread that complemented the three Cloudy Bay wines. Scallops ceviche with watermelon, pomelo and coriander was paired with Cloudy Bay Sauvignon Blanc. The lobster bisque and lemongrass risotto with butter-poached lobster trails and green asparagus was paired with the Chardonnay.  The Cloudy Bay Pinot Noir 2014 complemented the roasted duck breast with foie gras and red Thai curry sauce.
At the dinner in Mirèio, Chef Cegretin began with tapas ­— crispy puff pastry twists with goat cheese, basil and lobster gazpacho paired with Cloudy Bay Sauvignon Blanc 2016. Pan-seared foie gras with apple chutney and green curry sauce followed by grilled mahi-mahi with pumpkin texture and clam jus beurre blanc were both paired with Cloudy Bay Chardonnay 2014. The Cloudy Bay Pinot Noir 2014 was paired with pan-seared duck breast with corn texture and crispy fried duck leg confit.
For the last dinner of the series in Old Manila, Chef Briones paired Cloudy Bay Sauvignon Blanc 2016 with scallop ceviche with mandarin, chili, radish, coriander and elderflower vinaigrette. He then paired the Chardonnay 2014 with lobster ravioli and finally, the Cloudy Bay Pinot Noir 2014 with vanilla duck breast.
Do check out Cloudy Bay wines and pair them with your homemade meals!
(Check out www.cloudybay.co.nz.)
(Follow me on Instagram @pepperteehankee.)
All Credit Goes There :
Source link
Comments
comments