The Peninsula Manila's Old Manila chef de cuisine Bertrand Charles and 210° Kitchen+Drinkery's chef William Mahi joined forces for the first time for an unforgettable one-night-only "FOURtaste, A Four Hands Wine Dinner." Through this dining event, the two chefs  paid homage to fine French flair and Asian flavors at Old Manila, the hotel's iconic temple of fine dining.
The dinner brought together the classic cuisine of Chef Bertrand and the Asian-accented cuisine of Chef William, two young chefs whose culinary philosophies are grounded in French cuisine but whose flavors and techniques remain distinct. The five-course dinner was complemented by AOC Chinon Le Domaine Bernard Audry Cabernet Franc and other fine wines.
Chef Bertrand prepared Brittany clams paired with wild gambas, Chardonnay jelly and tarragon; and white asparagus, spaghetti, morels and whisky. On the other hand, Chef William whipped up pearl oysters with hijiki seaweed, six-month ceps vinegar and caviar; Atlantic cod with pho consommé, cuttlefish, sea snail, piquillo, calamansi and Brussels sprouts. The main course of pigeon de vendée with roasted breast, confit leg cromesqui, and stuffed braised cabbage was a collaborative effort between the two chefs. And dessert was Bailey's cremeux with feuillantine praline, courtesy of The Peninsula Manila executive pastry chef Xavier Castello.
The evening coincided with the conferment of the red sash of Les Disciples d'Escoffier on Chef Bertrand and Chef William, an honor bestowed on exemplary culinary talents who espouse the development of French cuisine overseas. Part of the proceeds raised from the dinner will benefit chef Jisalle Ferrer, the lone Philippine delegate to the Young Talent Escoffier Competition 2017 in Hong Kong this September, and Training Kitchen for Le Club Disciples Escoffier (Junior Chefs).
(Watch out for more special dinners at The Peninsula Manila. For more information, visit www.peninsula.com.)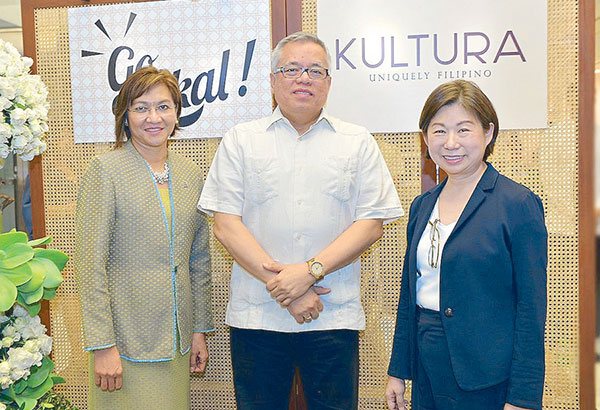 Trade Undersecretary Nora Terrado and Secretary Ramon Lopez with SM Investments Corp. vice chairperson Tessie Sy-Coson.
'Go Lokal!'
In an effort to showcase quality and innovative Philippine products crafted, designed and produced by the country's micro, small and medium enterprises (MSMEs), Kultura partnered with the Department of Trade and Industry (DTI) to launch Go Lokal! pop-up store at SM Makati.
Homepage ( Article MRec ), pagematch: 1, sectionmatch: 1
Trade Secretary Ramon Lopez, SM Investments Corp. vice chairperson Tessie Sy-Coson and Trade Undersecretary Nora Terrado led the ribbon-cutting ceremony.
Go Lokal!, which features home décor, apparel and fashion accessories sourced from all over the country, serves as a marketing platform for MSMEs to gain access to local consumers and, ultimately to the global export market.
Lopez said, "Kultura and Go Lokal! are complementary avenues to help our local MSMEs gain retail foothold in the Philippine domestic market. We are pleased to open a Go Lokal! together with Kultura as a testament of our collective thrust of inclusive growth and development of our MSMEs."   
Kultura SVP for operations Ivy Yap added, "Through Go Lokal!, we further our advocacy of providing a platform for businesses to gain retail and marketing experience. We aim to inspire our entrepreneurs to develop uniquely Filipino products that meet global standards and then provide a venue to promote and distribute what they have created."
The pop-up store's products are produced by regional and provincial suppliers and from the DTI's One Town One Product (OTOP) Next Generation program that offers value for money.  These are products made from indigenous materials but are modern in design with beautiful packaging and are competitively-priced. The manufacturers undergo extensive training and development from the Design Center of the Philippines to make their products suitable for retail and export.
(Kultura's  Go Lokal! pop-up store runs throughout the year at the second level of SM Makati.)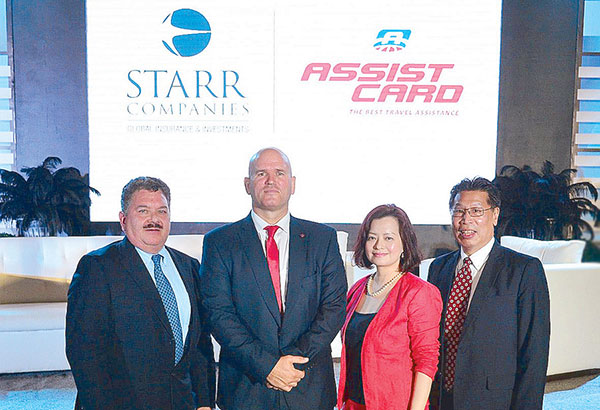 (From left) Starr International Insurance Asia Ltd. president and CEO Ross Matthews and Assist Card chief service officer Federico Tarling with Starr International VP Agnes Cheung and GM Gary Wong.
'Travel with the Starrs'
It is true that more and more Filipinos nowadays find time to travel and explore the world for business or leisure. But the rigors and challenges of modern travel are sometimes inevitable — lost passports, missing luggage, missed connections as well as medical emergencies. This is where global insurance and financial services organization Starr Companies steps in.
Recently, the company launched its Starr Assist Card Travel Insurance in Manila with an event titled "Travel with the Starrs." Seen gracing the event were guests of honor Starr International Insurance Asia Ltd. president and CEO Ross Matthews and Assist Card chief service officer of worldwide business development Federico Tarling.
The Assist Card offers a choice of short term or annual travel insurance coverage. This is complemented by real-time support through the largest network of service providers built and contracted directly (no third party providers) and has a strong presence in 197 countries. It also relies on a powerful network of 84 Assistance Centers strategically distributed across the globe offering service 365 days a year with a hotline offering 24/7 assistance. Major services include travel and medical assistance, concierge services, emergency medical evacuation, repatriation, compassionate visit and burns benefits.
Starr Assist Card is a service provided by Starr Companies, the worldwide marketing name for the services offered by the operating insurance and travel assistance companies and subsidiaries of Starr International Company Inc. and for the investment business of C.V. Starr & Co. Inc.
(For inquiries, call 689-6600 or visit  www.starrcompanies.com for more information.)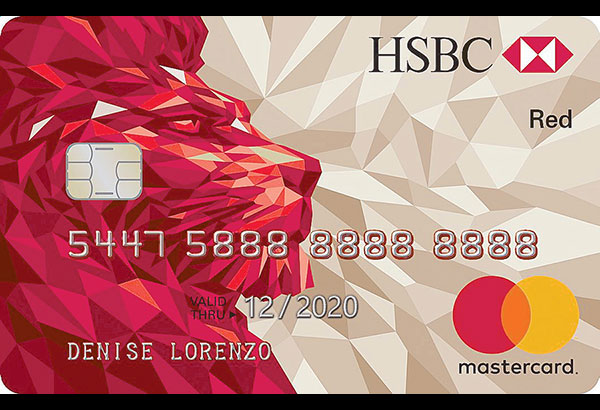 'The one card for home & away'
More and more people share the passion of exploring the world and trying new tastes and flavors. 
So, with the new and enhanced HSBC Red Mastercard that caters to everyone's passions and lifestyles, one is assured that one will be able to pursue all one's interests here and abroad. This card's strengthened rewards program, which is full of high-value benefits both here and abroad, including air miles redemption, makes it "the one card for home and away."
HSBC head of retail banking and wealth management for the Philippines Kris Werner said, "We created the new and enhanced Red Mastercard because we want to provide our customers with a card that not only matches their lifestyle, but also drives it to another level with better benefits and more satisfying rewards. This is the card you'd need to pursue all your interests, here and everywhere else." 
Mastercard vice president Judith Dayrit added, "The new HSBC Red Mastercard is the key to accessing offers and benefits that our cardholders are looking for." 
Red Mastercard has four times the bonus points, which one can use to redeem air miles from partners Cathay Pacific Asia Miles, Philippine Airlines Mabuhay Miles and Singapore Airlines KrisFlyer. Now, even just applying for a Red Mastercard gives one the opportunity to fly for free. A minimum spend of P5,000 using the new card gives one a free flight to a local destination via Philippine Airlines. This special promo runs until Sept. 22.
(For more details, visit www.hsbc.com.ph/red.)
(Follow me on Instagram @pepperteehankee.)
All Credit Goes There :
Source link
Comments
comments