At the rate Allen Dizon "harvesting" awards not only locally but also internationally, he badly needs another showcase (eskaparate) to accommodate them all.
Just recently, he bagged a Special Jury Prize for Bomba at the  33rd Warsaw International Film Festival (WIFF) together with Angeli Nicole Sanoy. Considered the Best Actor and the Best Actress, they beat nominees that included Mexican actor Gael Gabriel Garcia (star of Pedro Almodovar's Y Tu Mama Tambien and Alejandro Gonzalez Inarritu's Amores Perros).
In Bomba (The Bomb), Allen plays Pipo, a deaf-mute in his 40s having an affair with a 16-year-old girl (Angeli), compared to a "ticking bomb" being pushed over the edge by an unjust society. As is always the case, Angeli (17, a sophomore at STI who started as a child actress at GMA) proved to be the best (actually, the third) choice after the managers of two other actresses (Therese Malvar and Barbara Miguel) turned down the role deemed to be "not good for the (girls') image."
"I don't really mind being the third, or even fourth or fifth choice, as long as I am the one who gets the role," said Angeli who, at 11, was discovered by Allen's manager Dennis Evangelista and cast as Allen's sister in Patikul, a Cinemalaya entry directed by Joel Lamangan. "Si Vilma Santos ang peg ko kay Angeli," said Dennis. "She won for Best Breakthrough Performance from the Golden Screen Awards."
It was Dennis who charted Allen's career from a bold star to a serious actor, putting Allen in a class by himself. Allen didn't disappoint. He has proven his mettle by, that's it, winning awards (picking apples, as they would say) along the way.
Actually, Allen has lost count of his wins and Dennis said the Warsaw trophy is Allen's 28th.
Entertainment ( Article MRec ), pagematch: 1, sectionmatch: 1
Noted Dennis, "Aside from a Gawad Urian, Allen has won several Best Actor awards: 10 for Paul Laxamana's Magkakabaung; four for Mel Chionglo's Iadya Mo Kami; three for Joel Lamangan's Dukot; two for Lawrence Fajardo's Imbisibol; one for Mel Chionglo's Lauriana; and one for Vic Acedillo's Lando at Bugoy. And for Best Supporting Actor, one for Joven Tan's Paupahan; one for Sigwa; one for Migrante; and one Best Ensemble Award for Alvin Yapan's EDSA 1."
Bomba director Ralston Gonzales Jover (who shared the spotlight with Allen at the Warsaw event) is all praises for Allen.
"Allen has mastered the art of 'indie acting'," said Ralston. "he does it with absolute subtlety and profound intensity…effortless, subdued and heartfelt."
"Playing a deaf-mute was my hardest job so far," admitted Allen who dedicated his awards and success to his family (wife Crystle and their children Nella, 15, a good friend of Angeli; Ixia, 12; Lucas, 9; and Allene, 4). "I had to do it with only my eyes and hand gestures."
Allen has just finished doing Brillante Mendoza's TV series AMO and movie Right To Kill. He will resume shooting Ralston's Persons Of Interest.
Said Allen, "I may not be a big star but I am proud of my work. In international film festivals, I am on equal footing with world-class actors. It's a humbling experience for me."
Other winners, other events
While we are at it, we might as well congratulate other winners in other events — the "beauty" field, that is.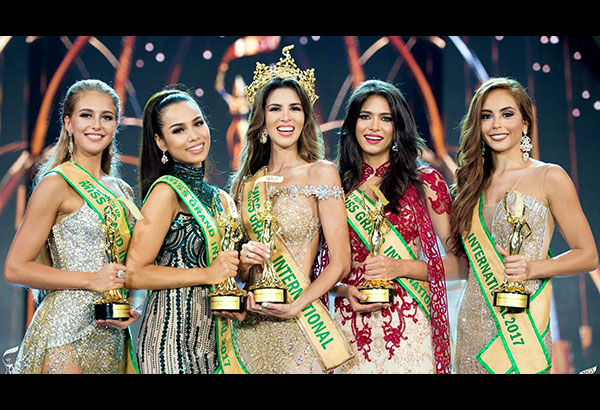 The Philippines' Elizabeth Clenci (second from left), second runner-up in the 2017 Miss Grand International, with (from left) Czech Republic's Nikola Ulirova (fourth runner-up), Peru's Maria Jose Lora (winner), Venezuela's Tulia Rosa Maria Aleman Ferrer (first runner-up) and Puerto Rico's Brenda Azaria Jimenez Hernandez (third runner-up)
1. Elizabeth Clenci, second runner-up in 2017 Miss Grand International pageant held in Vietnam on Oct. 25. Clenci also made it to the Top 10 in Best in Swimsuit and Best National Costume categories which were announced on Oct. 20, her birthday. Clenci's T-boli tribe-inspired ensemble was designed by Jear Sond Demavivas, a seasoned designer from Koronadal, South Cotabato.
Peru's María Jose Lora was crowned the winner in the pageant's fifth edition, besting 76 other delegates. She succeeded Indonesia's Ariska Putri Pertiwi. Other runners-up: Nikola Ulirová of Czech Republic (fourth), Tulia Rosa María Alemán Ferrer of Venezuela (first), and Brenda Azaria Jiménez Hernández of Puerto Rico (third).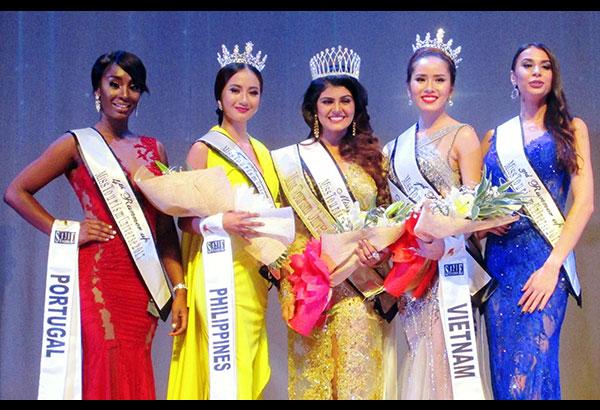 Julie Ann Tricia Manalo (second from left), second runner-up in the 2017 Miss Tourism Universe, with (from left) Portugal's Tessy Ramos (fourth runner-up), India's Nishita Purandare (winner), Vietnam's Mau Thi Hong Dung (first runner-up) and Romania's Teodora Saramet (third runner-up).
2. Julie Ann Tricia Manalo finished second runner-up to 2017 Miss Tourism Universe 2017 Nishita Purandare of India during the grand finals held in Tanghalang Pasigueño in Pasig City on Oct. 19. Purandare who succeeded Saba Moubarak of Iraq also won Miss Internet. Manalo bagged the Best in National Costume award.
Other runners-up: Tessy Ramos of Portugal (fourth), Mai Thi Hong Dung of Vietnam (first) and Teodora Saramet of Romania (third). — Reported by Celso de Guzman Caparas 
(E-mail reactions at entphilstar@yahoo.com. You may also send your questions to askrickylo@gmail.com. For more updates, photos and videos visit www.philstar.com/funfare or follow me on www.twitter/therealrickylo.)
All Credit Goes There :
Source link
Comments
comments