Seven years after they got secretly married in civil rites (on Aug. 16, 2010) at the Supreme Court, officiated by then Chief Justice Renato Corona, Quezon City Rep. Alfred Vargas and Jasmine Espiritu, his half-Filipino/half-Italian wife, are finally getting married in church on July 23 (a Sunday), at the Manila Cathedral. This time, the whole world will know.
"The date is significant to us," Alfred told Funfare. "The number 7 is good for us; it's our lucky number," added Alfred who proposed to Jasmine for the second time on his knees at exactly 7:25 p.m. on July 23, 2016, at the garden of a Q.C. restaurant where the surprised Jasmine, escorted by Alfred, walked on the roses-covered red carpet to the tune of Ngayon at Kailanman, The First Time I Loved Forever, I Will Be Here and Moon River.
"Check the numbers," said Alfred. "July is the seventh month of the year, 1 + 6 = 7, at 7 o'clock and 25 minutes (2 + 5 = 7)."  Now a mother of beautiful daughters, Alexandra and Aryana, Jasmine was clueless about Alfred's well-kept script, thinking they were simply having a quiet weekend dinner and wondering why the restaurant garden was dark…until the lights were turned on and the music started playing. They were both crying as they dissolved into a tight embrace.
"Up to now," added Alfred with a naughty wink, "I'm still courting Jasmine and I will continue courting her even after our wedding…until forever."
Their union was cemented in heaven. They were destined for each other, meant to be lifetime partners…to share, cherish and nurture a love to last. Their love story is one for the storybook, recounted in a STAR article in 2011, a year after their secret wedding.
A Fine Arts graduate, Jasmine, 29, was (and still is) a fan of Alfred, 37. She confessed that she had seen all of Alfred's movies and covered one wall of her room with Alfred's posters. She was on vacation from Milan (where she spent most of her growing-up years) and staying at her grandmother's home in Sta. Cruz, Laguna. Alfred was having a show in the town and Jasmine was in the audience. That was on March 16, 2008.
Entertainment ( Article MRec ), pagematch: 1, sectionmatch: 1
Excerpt from the STAR's June 26, 2011 story:
"I fell in love with her at first sight," recalled Alfred. "She stood out in the audience. I told myself at that moment, 'This is the girl I want to spend the rest of my life with.' I was hooked. It was fiesta time and a lot of people were watching the show. After the show, I approached her, 'Nagpo-photography ako. Baka naman puede ko makuha ang celfone number mo at baka puede kitang gawing model?' Bulok na style but it worked. Hindi ako tumigil hangga't hindi ko nakukuha yung number niya. Honestly, I told myself at that very moment, 'Sigurado akong siya na ang babaing pakakasalan ko, hindi nga lang ako sigurado kung pakakasalan niya ako.' Hahaha!!!"
That was also what Jasmine had in mind when she first saw Alfred in a TV show.
"He's the guy that I will marry," she told her lola in jest, admitting in another later interview, "he's my first boyfriend and my first love."
Jasmine was raised by a closely-knit conservative family. Alfred also had to court Jasmine's aunt who was her guardian during her vacation in the Philippines.
"Ito na siguro ang pinaka-mahirap na panliligaw ko," admitted Alfred who has had a few girlfriends (LJ Reyes among them) before Jasmine. "Her aunt told me, 'Kung talagang seryoso ka sa pamangkin ko, kailangan tatlong bundok ang tawirin mo para puntahan mo siya.' Natakot ako. But I never thought of backing down."
As you can see, Alfred won not just Jasmine but also her aunt without scaling seven mountains.
"When he proposed the first time," said Jasmine blushing. "He knelt, took out the ring and put it on my finger."
When they renew their vows on July 23, this time in Catholic rites, Jasmine in a Cary Santiago gown and Alfred in Francis Libiran suit, with their daughters as Flower Girls, the couple will be witnessed by Principal Sponsors (as they are identified in the invite) Manuel Roxas II and Her Excellency Ma. Leonor G. Robredo, Hon. Feliciano R. Belmonte Jr. and Hon. Vilma Santos-Recto, Manuel V. Pangilinan and Lilybeth G. Rasonable, Robert L. Tan and Lolita A. Solis, Victor Jose I. Luciano and Ameurfina D. Santos, Antonio R. Vargas and Adelaida J. De Guzman, and Francis Enrico M. Gutierrez and Kristina Bernadette C. Aquino. Cord Sponsors are Hon. Herbert Constantine M. Bautista and Hon. Ma. Josefina Belmonte-Alimurung.
Asked how soon he and Jasmine would start work on their third child, Alfred broke into an expectant smile.
"As soon as we go on our second honeymoon."
He didn't say where.
Kinky Boots wows audiences
Those who have seen Kinky Boots are one in saying, "Wow, entertaining!" Among them were (photo, above) Marichu 'Manay Ichu' Maceda (on wheelchair) and friends Dolor Guevarra (second from right) and Shirley Kuan who congratulated Christine Flores (also in photo, leftmost, with twin children Chesi and Quino) who is a member of the cast.
Directed by Bobby Garcia and choreographed by Cecille Martinez, Kinky Boots has two more weekend runs at the Carlos P. Romulo Auditorium of RCBC Plaza, Makati City.
Other members of the cast: Nyoy Volante (as Lola), Laurence Mossman (as Charlie Price), Yanah Laurel, Nel Gomez, Sarah Facuri, Steven Conde, Rhewyn Gabalonzo, Ron Gohel, Jill Pena, Japs Treopaldo and Juancho Escoto.
Catch Kinky Boots before it closes. For tickets, call Ticketworld at 891-9999 or visit www.ticketworld.com.ph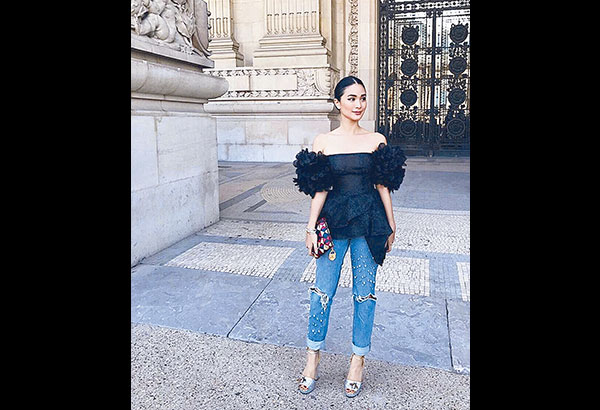 Heart shines at Paris Fashion Week
Heart Evangelista (photo, right) attracted wide attention when her photos taken at the Paris Fashion Week were posted on social media. Heart wore different outfits (by Dolce & Gabbana, etc.) described as "classy."
Heart was invited to the event by her friend designers including Hermes representative Michael Coste.
As soon as she comes back, Heart will start work on the GMA romantic-comedy series My Korean Jagiya. Some of the scenes will be shot in Seoul since Heart's leading man is a Korean actor (name withheld so far).
(E-mail reactions at entphilstar@yahoo.com. For more updates, photos and videos, visit http://www.philstar.com/funfare or follow me on Instagram @therealrickylo.)
All Credit Goes There :
Source link
Comments
comments