MANILA, Philippines — As the rainy season starts, it is so tempting to stay at home curled up in a ball covered by warm and fluffy comforters. But though Filipinos are experiencing "bed" weather, they do not always have the luxury of letting it get the best of them.
So, Filipinos get up—albeit begrudgingly—and do whatever they have to do to get through the gloomy day, be it taking a nice cold shower, listening to upbeat music, or drinking coffee or tea. Coffee and tea have always been there for those who want to stay focused and motivated despite the rains. Here are some ways to enjoy your favorite cup of brew.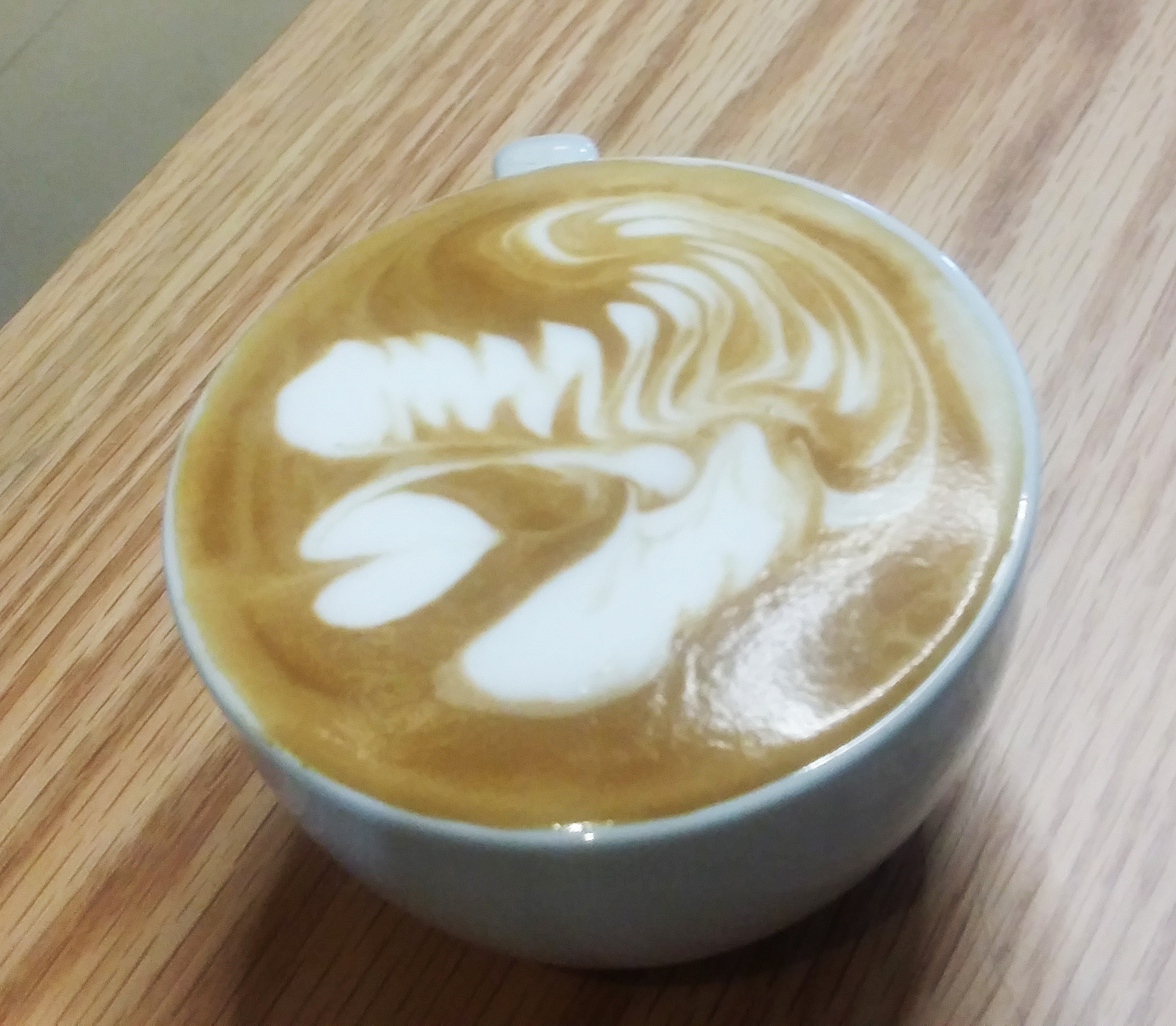 Latte art by barista Howard Herradura   Philstar.com/Maridol Ranoa-Bismark
Coffee from coast to Costa 
Members of media gasp as Howard Herradura balances a cup and saucer on the crook of his left elbow and pours cafe latte from an aluminum pitcher on it using his other hand.  
They cannot believe this good-looking barista from Costa Coffee did not skip a beat while pulling off his amazing act in full view of camera lights and media people who held their breath for what seemed an eternity. Howard then gets the cup and saucer from his elbow, lowers it on a nearby table, and shows a tulip design at the center of the brew.
"I practiced doing the elbow challenge twice a day for two minutes each in the store, and posted the video on my Instagram account. Then, Coffee World shared it in its Facebook page," Herradura said.
Today, his balancing act is a main attraction at the recently-opened Costa Coffee flagship store at the ground floor of Robinsons Galleria. Many are curious to see this man who seems so calm and cool as he pours the steaming brew on the cup and saucer on his elbow.
Howard's fellow baristas ask him pointers on how to do the balancing act, and he gladly helps them.
Sharing is a trait you see in the other baristas, who cheer for each other as they carefully mix brews using coffee machines strategically placed in areas for customers to see. This way, barista and customer can connect and interact with each other.
Faith Gokongwei-Lim, general manager of Costa Coffee Philippines, has reason to be proud.
"Our baristas are hired for passion and attitude, then rigorously trained for skill.  We take pride in having each hire go through the Barista Learning Journey cascaded to us by our training partners from UK. The Learning Journey guarantees that our baristas will embrace and observe international standards so that all customers can enjoy the same signature taste in every location worldwide. All our baristas are certified by accredited trainers prior to store deployment. This ensures that our baristas can hand-craft the perfect cup of Costa Coffee every single time," she says.
She is equally excited about the store's signature Flat White,  which consists of a shot of Cortissimo topped with textured milk. She adds that the texturing technique, is "a unique way of creating micro foam, perfect for creating latte art."
Those who go for  cappuccino, latte, Café Caramella, mocha, ice-blended drinks called Frostinos and coolers (cold drinks blended with fruits and flowers) can savor them in a London-like setting, complete with the iconic red phone booth that symbolizes the city.
Tiles and furniture remind you of a time and place where British royals make every commoner act with total respect.
So go there for the coffee, go there for the ambiance, or both. Just make sure you say "hi" to the baristas who are ready to prepare and serve your favorite coffee drink with a smile. Previous customers will tell you they did not regret it.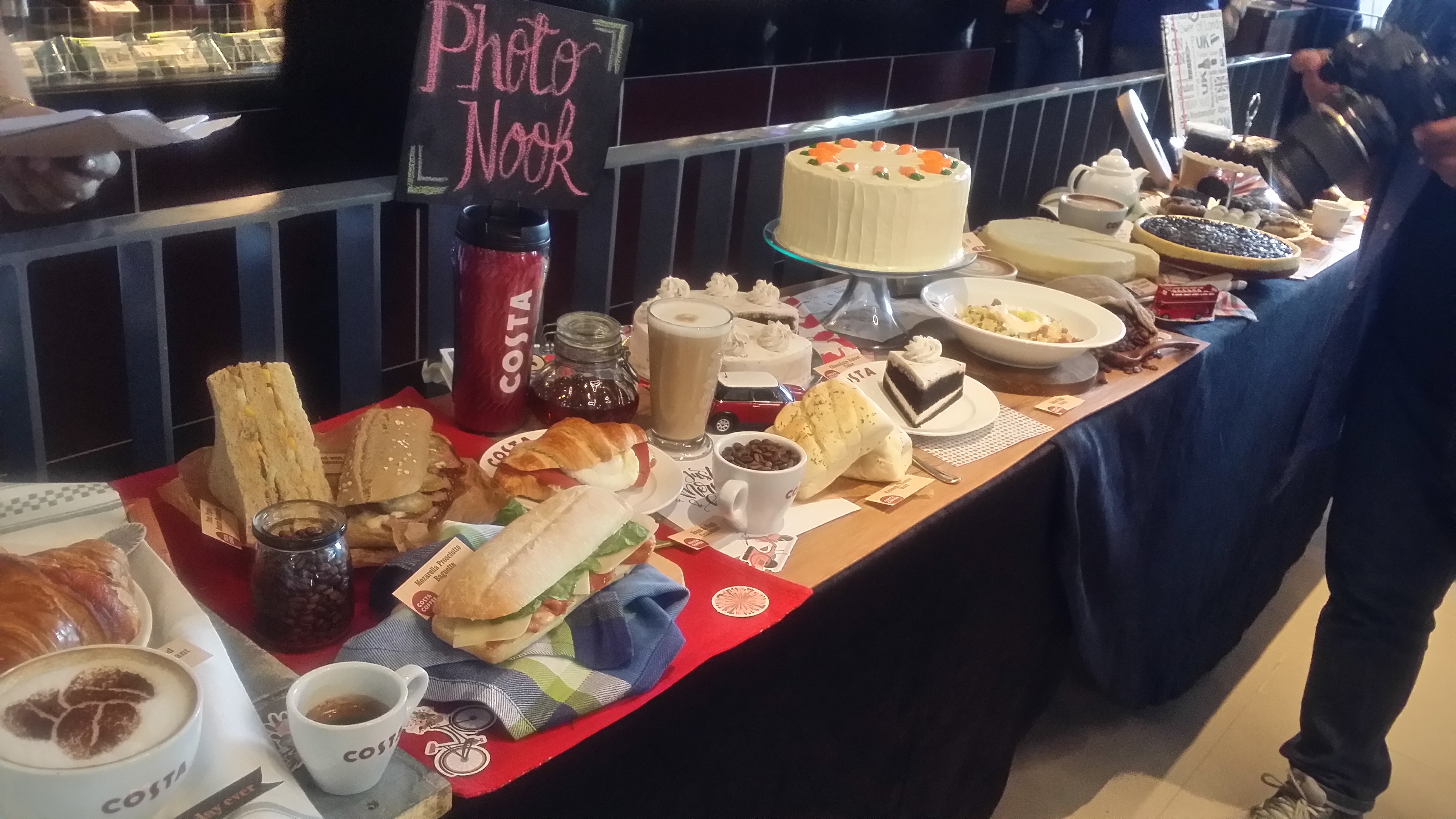 A sample spread from Costa Coffee flagship store at the ground floor of Robinsons Galleria. Philstar.com/Maridol Ranoa-Bismark
World champion barista visits Manila
Renowned World Barista Champion Hidenori Izaki recently visited the Philippines to judge the Latte Art Throwdown held at the Coffee Project, Pasay City, where baristas from all over the country showed their creativeness and enthusiasm for coffee.
The first ever Asian to win the premiere global barista competition from 60 countries, Hidenori shared his story, experiences and journey in being a barista.
Hidenori started his coffee journey and honed his skills with Maruyama Coffee, a cafe chain and roasting company known worldwide for buying top auction lots of coffee, especially Cup of Excellence premium varieties. Maruyama is one of the most dominant coffee companies in the world, having won the Japanese Barista Championship for 5 straight years.
Before going into barista competitions, Hidenori had his fair share of ups and downs. He was in and out of school. During his time abroad, he was able to learn the English language while interacting with people from different backgrounds. All his experiences both in Japan and abroad made him culturally-diverse, strong-willed and a passionate barista with an immeasurable thirst for coffee knowledge.
"I started working as a barista since 16 years old because it our family business. My father runs a special coffee roasting for 25 years. This is very natural to me being in a coffee industry. I quit high school basically because I hated everything at that time. And then my father said 'what are you gonna do in the future' and then he said 'if you want to work in the coffee shop, you can work with me' and that's it," Hidenori revealed to The Star.
Being fluent in English, Hidenori becomes confident to compete on the center stage of the barista world which requires not only coffee mastery but also great communication with the judges and the audience. "I was sure that I could communicate with people from different backgrounds and it helped me so much to get a more diverse point of view for who I am. Barista is not only making coffee but also to do communication really well with your customer."
Hidenori founded the Samurai Coffee Experience, a global coffee consulting company where he travels more than 200 days a year all over the world to educate people about coffee, conduct consultancy, professional barista training, coffee roasting and product development.
Hidenori advices aspiring baristas to better become polite. "Politeness is always making you become better. Second, respect the basic skills and train very hard. Making coffee is boring sometimes. You do the same thing all the time. But believe me, there are few barista that can make exact blend all the time so you need to improve the basic skills all the time."  
For his part, Allegro Beverage Corporation president Leo de Leon said "Hidenori opened the doors for many aspiring Asian baristas who compete in the global competitions. And that includes our very own Silvester Samonte who will compete later this year in Korea." Allegro is the preferred end-to-end coffee solutions provider in restaurants, hotel chains, and third wave coffee shops in the country. It is the exclusive distributor of world class espresso machines like the Victoria Arduino which is used during the World Barista Championships.
In partnership with Nuova Simonelli, the leading manufacturer of espresso machines used in the competition, Fly Ace Corporation, the exclusive distributor of Lotus Biscoff biscuits and Jolly Cow Fresh Milk, and Coffee Project, the newest cozy coffee shop chain the country, Allegro put together this event to showcase the barista skills and passion of a true champion, facilitate and exchange of ideas, and educate the public about serving specialty coffee. After all, De Leon said "Coffee is the nectar of the gods, the life blood of offices and a tonic drink for productivity."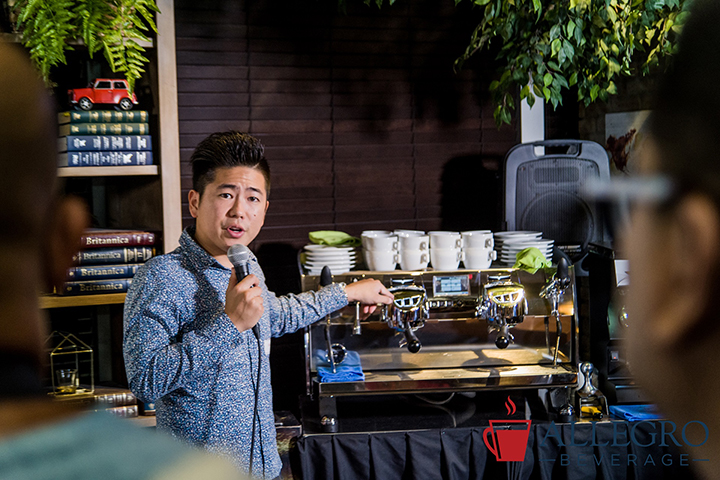 World Barista Champion Hidenori Izaki
Pairing coffee with cuisine
Foods are basically paired with cold drinks: Steak and wine, burger and cola, bagnet and beers and then you drink coffee as replacement to dessert or to lessen the alcohol in your blood. But there is a new craze in town that will let you enjoy coffee paired with delectable dishes, enhancing every bite and elevating eating experience.
Starbucks Philippines took select members of the media to an immersive coffee journey that took participants through a four-course coffee and food pairing lunch with the Coffee College.
"I'd like to think that the reason why we're focusing here is to make coffee more approachable because we're very passionate about our coffees. What I'd like to have Coffee College is that when you paired coffees with food they enhance each other. It shows that coffee does compliment with foods," said Keith Cole, marketing head of Starbucks Philippines.
The lunch started off with a refreshing Petite Mesclun and Raspberry Salad paired with Cold Brew Coffee. Since the salad had a variety of citrus notes, this made the coffee more refreshing. The first main dish is Sous Vide Angus Beef with Almond Gouda Crumbs paired with Kati-Kati Blend, followed by Grilled Cilantro Chicken with Lime Buerre Blanc paired with Rwanda Musasa to complement its lemon acidity.
"I think pairing coffee with food is growing. Our drive is showcase our coffee and bring more awareness around it being more than just a beverage but you can paired it with food as well. Our coffee is chosen not locally. We tried to offer array of coffees to the coffee drinkers. We are trying to cater for all the palates. That's how conceptualized our coffees," Cole said.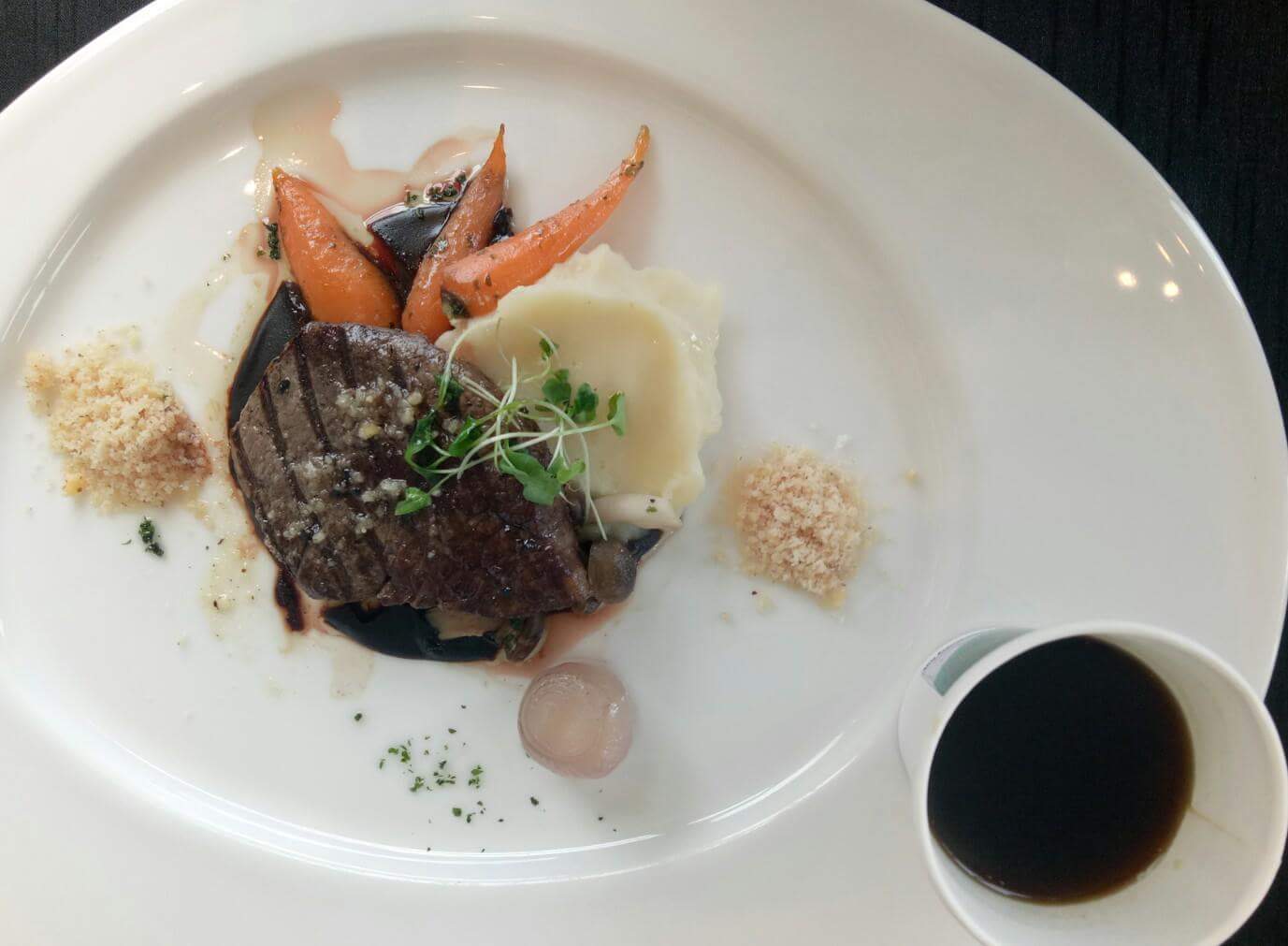 Sous Vide Angus Beef with Almond Gouda Crumbs paired with Kati-Kati Blend
More and more people are falling for the delicious flavor of matcha. It is a perfect treat any time of the day. Whether iced or hot, with or without milk, this traditional Japanese tea has become a Filipino favorite.
The flavors of matcha that you know and love can now be enjoyed at home with the Starbucks VIA Matcha.
"Inspired by the popular Green Tea Latte, we're bringing in the VIA Matcha so you can enjoy your favorite green tea anytime, anywhere" said Keith Cole, marketing head for Starbucks Philippines.
Perfect for moments at home when you just want to pamper yourself and enjoy some well-deserved alone time or even at the office when you need to take a quick break from the demands of work, VIA Matcha delivers a satisfying drinking experience. Pair it with a White Chocolate Cranberry Cookie or a slice of Blueberry-licious Cheesecake. 
The tea that helps local farmers
Still perfect for rainy season, fruits juices with fresh ingredients or a classic milk tea with pearl toppings are here to stay. 
Coco Fresh Tea & Juice general manager Larry Evans Tan said their company is keeping true to the brand's philosophy of "keeping it fresh," so they get ingredients to local farmers.
"Even though we're global brands, we are still connected to our local farmers. We are planning to increase the source of our product locally in able to help them and help us as well grow together," he said.
Filipinos are assured that every drink is fresh and retains the fruits' optimal flavor by using only fruits that are in season. Also, they study well what are the customers' favorite drinks to create a new drink.  
"Instead of having new flavors, what we did is we combine the favorites of our customers. By combining their favourites, we were able to combine the kind of milk tea they like. This is how we create new flavors," Tan said.
The ambiance of the stores in the different areas in metropolis is perfect "tambayan" for students who are studying or those employees who are stranded because the strong rains that are coming. Yet, they offer an affordable price.
"We were able to create a product that provides good value in an affordable price. If you look at our store, it is quite big and designed in a premium level but our product is not that really expensive. So we're able to combine affordability and luxury."
Beat the "bed" weather with a bottle of coffee latte
People can choose to get a brewed coffee, whip up some instant coffee, or buy the cold ready-to-drink coffee at the nearest store.
For students trying to get through an "all-nighter" and those who in a hurry to get to the office, the bottled coffee lattes are the best option, not only because it saves you the time of preparing a coffee, but also because it satisfies that thirst for a refreshing and recharging beverage.  
These bottled coffee lattes not only serve as a refreshment but also help give you get the much-needed boost you need during afternoons when you need to finish your tasks whether in school or at work on a lazy gloomy day. Bottled coffee lattes answer the Filipinos' need for a ready-to-drink cold beverage that can liven up their day.
Whether you are a student trying to focus for a presentation the next day or a professional working that dreaded night shift, a bottle of coffee latte will definitely help you get the job done so you can recharge and stay focused on your tasks. The best part is, it is available in your nearest convenience store which are open 24/7. And so, no matter what time of the day it is, if ever you need that extra boost, the cold bottled coffee latte is the drink for you.
Best served chilled, Kopiko 78°c is perfect for starting the day, getting through siesta time, and even when you need to pull off an all-nighter. Remember that just like any other beverage and any other thing, too much is bad so take coffee in moderation. It also gives you the unique on-the-go coffee experience that helps you recharge during the day wherever you are.
All Credit Goes There :
Source link
Comments
comments