MANILA, Philippines — People nowadays have their eyes on the prize. They are too busy traveling the road to success without seeing how much beauty life gives. Sometimes, to make the destination even faster to reach, people tend to work longer hours, sacrificing their health.
This coming long weekend, it is time to lace those shoes and hit the gym, have a few kilometers of running or biking, or join the Zumba craze in your neighborhood. Besides, it is for your own good.
Here are other healthy activities you can try.
Gardening in the city
Metro Manila is one of the busiest cities in the whole world. Its streets are full of vehicles, business centers are full of buildings while residential areas are too crowded. There are only limited places where you can see trees and plants. And for millennials, planting is for the province only.
Aiming to inspire more people to practice urban gardening in their respective homes to make Metro Manila healthier and greener, Cedar Hills recently held a planting seminar for media so that they can spread the word that urban gardening is a perfect hobby for millennials who want to have a cleaner air and a food to eat without needing a large space in their homes.
"For those people who don't have enough space in their houses, that's when urban gardening is entering. I urged them to plant in a container readily available in your backyard. Softdrinks bottle basta container na pwedeng mailagay sa harapan ng terrace. Sa maliit na paso, makakabuhay ka na ng lettuce, pechay, kangkong so basically that foods madaling buhayin basta mayroon ka lang component ng good soil, sunlight and water," Cedar Hills Sales Manager Erwin Arar told Philstar.com.
Lifestyle Feature ( Article MRec ), pagematch: 1, sectionmatch:
Urban Gardening is as easy as counting one to five. First, you need to soak the seed. "The latest discovery from scientists is that plants have brain cells. So upon soaking, pinapaalam lang natin sa halaman na ready na s'ya for planting," Arar said, adding: "'Pag naging seedling na sya ita-transfer na natin s'ya sa pot kung sa'n s'ya magandang tutubo."
After the transferring, Arar noted that the plants needed watering twice a day or more frequently if the temperature is too hot. With just proper care, water and sunlight, the plants will grow each day.
"Every one of us should know the benefits of having a plant inside of our houses. Plants emit oxygen, absorbs radiation and filters the air. Millennials should know how to plant kasi malaking tulong ito sa environment bukod dun may pagkain pa sila," Arar encouraged.
Arar suggested that for people who wants estethics, ornamental plants are the best for them. Meanwhile, for those people who love to cook, vegetables and herbs are perfect.
Urban Gardening is as easy as counting one to five. 
Inject simple workouts into daily walks or run
As a celebration for the wellness month, Robinsons Supermarket transformed the Eastwood Central Park into a mini city in which guests tried the Bicycle Tour or Pedestrian Rush, wherein participants needed to accomplish certain actions while crossing the street.
Celebrity fitness coaches Jim and Toni Saret led guests and shoppers in a series of four-minute workouts in an effort to show that it only takes a few minutes to get started on one's wellness journey. The event also presented an opportunity for the supermarket to pledge pounds to the Fit Filipino 1 Million Pounds National Weight Loss Challenge.
"We also have the 'Freshtival' because we believe that eating fresh food is part of the road to wellness. We also wants to illustrate that wellness is rewarding," Totanes said.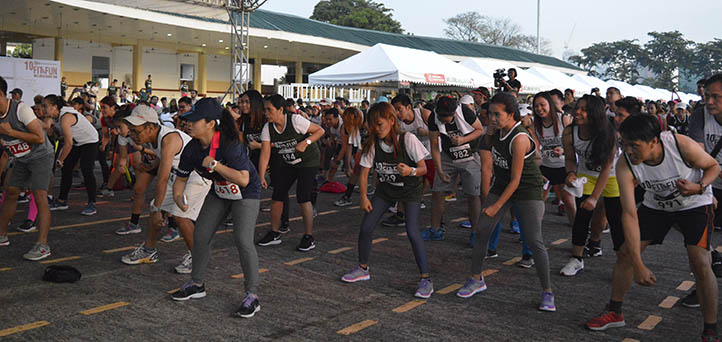 While waiting in line, you can do simple exercises such as punching or kicking – in the air, of course, and not on another person.
Yoga and meditation
Ananda Marga Monk Dada Jitendra said the essence of yoga is to find a very different level of happiness. He added: "You may enjoy happiness by getting a material thing, but yoga brings a state of satisfaction which no material thing can give us."
"Yoga means unification. For example, one glass of water mixed with sugar, matutunaw yung asukal. Yung identity ng tubig at asukal iisa na lang. Meaning, one plus one equals one. In this process of Yoga, it can be applied within yourself and into your collective life. So, if a society, if they have a unified mind, unified thoughts, unified thinking, unified feelings, unified love, it means they have this one mind, one love, with that concept, lahat ng problema sa mundo, we can solve it," Jitendra explained to Phistar.com. 
The international yoga group teaches beginner yoga poses that help the participants create a strong foundation and find a love for the practice such as Bridge Pose, Cat Pose, Chair Pose, Child's Pose, Cobra Pose, Corpse Pose, Cow Face Pose Downward-Facing Dog Pose, among others.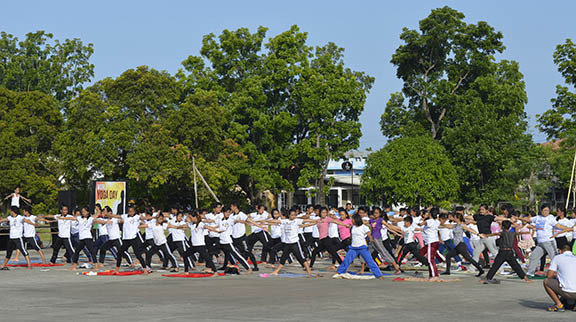 Hundreds of people from different walks of life took part in a yoga session at the Echague Municipal Hall quadrangle in Isabela to participate in the World Yoga Day. Philstar.com/Jan Milo Severo
All Credit Goes There :
Source link
Comments
comments